'Israel's aggression opens door to all possibilities' - Syrian Information Minister
Syria's information minister says that those who infringe on Syria's sovereignty must "study their choices carefully." He said that Israel has "proved its link to terrorist groups." Israel has reportedly launched two airstrikes against Syria in two days.
Omran al-Zoabi added that it is Damascus' duty to "protect the state from any domestic or foreign attack through all available means."
The minister's comments came after an emergency cabinet meeting organized to respond to what a Western source called a new strike on Iranian missiles bound for Lebanon's Hezbollah, Reuters reported.
The Arab League has condemned the alleged strike on Syria and urged the UN Security Council (UNSC) to "act immediately to end Israeli attacks on Syria," calling the alleged strikes a "dangerous violation of an Arab state's sovereignty."

This follows reports of condemnation from Egyptian, Lebanese and Iranian leaders.

Syria's Foreign Ministry sent a letter to the UN and the UN Security Council protesting "Israeli aggression" that killed and wounded several people and "caused widespread destruction." It also said the attacks aimed "to give direct military support to terrorist groups" fighting the government. It called the strikes a "flagrant violation of international law" that have made the Middle East "more dangerous."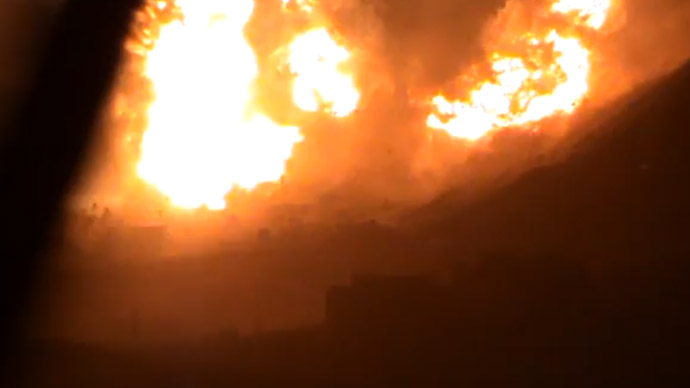 Syrian Deputy Foreign Minister Faisal Mekdad said the attack proved that there is an alliance between Israel and Islamists trying to topple the Syrian government. In an interview with CNN he said the airstrikes are a "declaration of war" by Israel and that Syria would retaliate in its own time and way.
Egypt has also condemned the attack, saying it complicated a crisis that Cairo was trying to help resolve. The Egyptian government said in a statement that the strike was a violation of international law and a threat to the regional security.
The Obama administration is fully supportive of Israeli airstrikes on Syria, US officials and diplomatic sources told NBC News.
UN Secretary-General Ban Ki-moon has voiced alarm over the reports, but said the UN was able to confirm whether the attacks took place.
"The Secretary-General expresses grave concern over reports of air strikes in Syria by the Israeli Air Force," Ban's press office said in a statement.
"At this time, the United Nations does not have details of the reported incidents," it said. "Nor is the United Nations in a position to independently verify what has occurred."
It added that Ban "calls on all sides to exercise maximum calm and restraint, and to act with a sense of responsibility to prevent an escalation of what is already a devastating and highly dangerous conflict."

'Israel is protecting its interests and will continue doing so'

Speaking for the first time since the alleged strike, Israel's Deputy Defense Minister Danny Danon told Army Radio, "The State of Israel is protecting its interest and will continue doing so. I am not confirming or denying the reports...we have said on various occasions in the past that we will do everything anywhere in order to protect those interests."

Senior correspondent for Israel's Haaretz newspaper, Amir Oren, said that Israel is "only trying to prevent and preempt further conflagration."

"While there are many reasons in other aspects to be critical of Israeli policy, it does seem that this time around it's quite balanced," he told RT. Oren added that Israel is merely trying to prevent another Lebanon war.

British Foreign Secretary William Hague agrees, saying that Israel has a right to defend itself.

"All countries have to look after their own national security, of course, and are able to take actions to protect their own national security," Hague told Sky News.
Hague added that the recent escalation in the conflict and Israel's airstrikes showed that the conflict risked spreading to the wider Middle East. He stressed once more that it was time to consider lifting the arms embargo on Syria's opposition.
You can share this story on social media: