Israeli troops kill Palestinian, injure several in West Bank clashes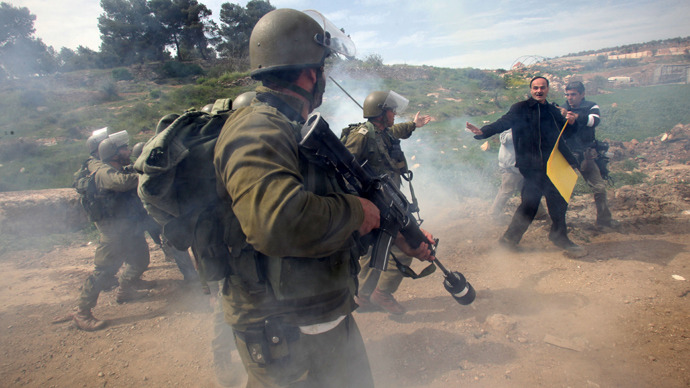 Israeli forces shot dead one Palestinian and injured several others as they fired at a crowd of protesters in a refugee camp near Hebron. The killing was the sixth Palestinian death by IDF fire in the West Bank since the beginning of the year.
The IDF has confirmed that its troops fired several shots at Palestinians who were throwing rocks, claiming that the soldiers feared a "threat to their lives."
Mahmoud Titi, 22, was fatally wounded in the shooting and later died in a hospital. At least eight others were injured in the violence. According to activists, Titi was a communications and journalism student and a founder of a youth movement supporting freed prisoners in Hebron.
Titi is the sixth Palestinian killed by Israeli fire in West Bank clashes since the beginning of the year, Palestinian officials said.
The incident comes a week ahead of a visit to Israel by US President Barack Obama, who will attend separate talks with Israeli Prime Minister Benjamin Netanyahu and Palestinian President Mahmoud Abbas.
Tensions in the region flared after the death of 30-year-old Palestinian  Arafat Jaradat, who died in an Israeli prison in February.

Jaradat, who was arrested for throwing stones at Israeli security forces, died from what Israeli medics identified as cardiac arrest. However, the Palestinians have claimed his body showed signs he was tortured.

Following Jaradat's death, crowds took to the streets in the West Bank to protest against Israel's imprisonment and mistreatment of thousands of Palestinians. On several occasions, the protests turned violent.
Every year, some 700 Palestinian teenagers are arrested, interrogated and detained by Israel, the United Nations Children Fund (UNICEF) said in a report released last week. In some cases, the organization described the treatment of children as "cruel and inhuman."

You can share this story on social media: