'Islamic Awakening': Morsi's Egypt turns to Iran - report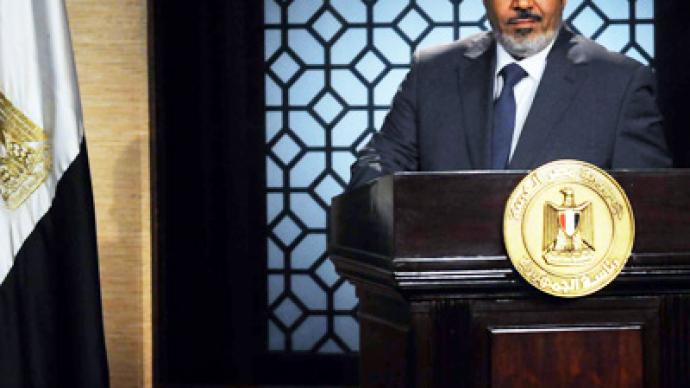 Newly-elected Egyptian President Mohammed Morsi will rekindle dormant ties between Egypt and Iran and re-consider his country's peace accord with Israel, according to a controversial interview with an Iranian news agency.
Tehran's Fars news agency distributed a set of quotes from an interview taken hours before Morsi was proclaimed victor in the presidential poll after a prolonged vote count.The views expressed by Morsi contradict his official stance that he will adhere to Egypt's international obligations. Instead, he reportedly promises to radically adjust the country's international role.A day after the interview was published, Morsi's spokesman denied that it ever took place."We must restore normal relations with Iran based on shared interests, and expand areas of political coordination and economic cooperation because this will create a balance of pressure in the region," Morsi allegedly told Fars.The two countries broke their diplomatic ties in 1980, following the Islamic Revolution in Iran, and Egypt's recognition of Israel.Whether or not the interview took place, Iran has welcomed the outcome of Egypt's election.The country's Foreign Ministry called Morsi's victory over his secularist rival Ahmed Shafik "an Islamic Awakening" and said the country was entering a "new era.""The historic Egyptian nation, with their responsible participation in the momentous election, have again proved their determination to realize the noble and justice-seeking ideals of the great revolution of Egypt with a splendid vision of democracy," read an official statement.Shiite Iran and Sunni Egypt are not historic allies, but Iran's spiritual leaders and Egypt's Muslim Brotherhood, to which Morsi belongs, are united by their belief that Islam should play a key role in governance, not to mention a common adversary – Israel.
Israel alarmed
Several news agencies also reported that Mohammed Morsi intends to review the Camp David accords.  Camp David was the site for key meetings between Israeli and Egyptian leaders that climaxed in Egypt becoming the first Arab state to recognize Israel's right to exist in 1979.The Israeli media struck a uniformly funereal tone in response to Egypt's choice of leader."From our standpoint, when the presidential palace in Cairo is painted for the first time in Islamic colors, this is a black and dark day," wrote commentator Smadar Peri in the popular daily Yediot Aharonot."Israel should be prepared for every eventuality," wrote analyst Alex Fishman, conjuring the possibility of "an Islamist intelligence minister, a re-examination of the peace accords, a collapse of the economic agreements and lack of security coordination."Several other commentators in Israel and in Europe sounded more sanguine, however, noting that while Morsi may wish to change his country's foreign policy vector, he will have to establish legitimacy in his divided and economically-troubled country before asserting himself internationally."What he wants tio do is one thing, what he is able to do is another" Professor Daoud Khairallah of Georgetown University told RT.