Israel violated laws of war targeting media, civilians in Gaza - HRW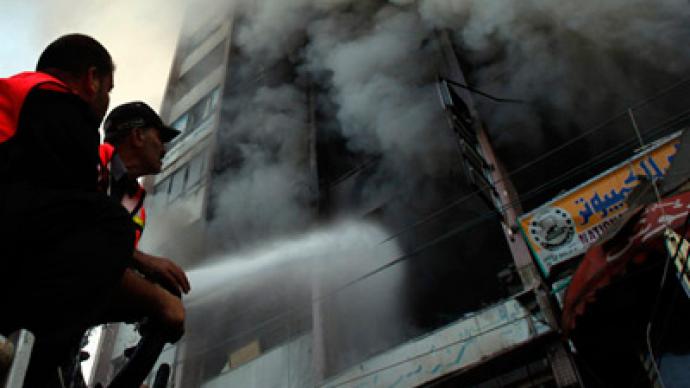 Israeli army attacks on journalists and media centers in Gaza during last month's military operation violated the laws of war, Human Rights Watch has said.
Two Palestinian cameramen were killed and at least 10 media personnel were wounded during the conflict. Four media facilities and four private companies were also damaged, and a two-year-old boy who lived across the street from one of the buildings was killed by the IDF attacks, the organization said.After examining the targeted sites and interviewing witnesses, HRW concluded that there were no signs that any of the journalists and media sites hit were valid targets. The Israeli government has maintained that the attacks were against belligerents engaged in combat, claiming two of the cameramen were "Hamas operatives" and the media buildings were Hamas "operational communications infrastructure."The New York-based rights group stated that those injured and killed were not legitimate military targets, as claimed by the Israeli government following the IDF strikes.Israeli officials' justifications for targeting the media facilities showed a direct intent to hit these sites, and reflected the unlawful nature of attacks, HRW argued."Just because Israel says a journalist was a fighter or a TV station was a command center does not make it so," HRW Middle East director Sarah Leah Whitson said in a statement. "Journalists who praise Hamas and TV stations that applaud attacks on Israel may be propagandists, but that does not make them legitimate targets under the laws of war." According to international law, journalists and media workers are considered civilians and are "immune from attacks attack unless they are directly participating in hostilities," HRW explained.A radio station would only be a valid target if it were being used directly for combat operations, such as transmitting orders. Messages supporting an organization and its attacks do not qualify as military involvement.Hamas-run media and its staff are therefore protected under the laws of war, unless they are directly engaged in military operations, which Israel failed to prove, HRW said.Deliberate targeting is a violation and the law requires the offending state to investigate, and to adequately compensate the victims.About 170 Palestinians, including 103 civilians, as well as two IDF soldiers and four Israeli civilians died during the offensive on Gaza from November 14 to 21. Israel launched the conflict with the stated aim of reducing cross-border rocket fire.
You can share this story on social media: