Islamists slam US for 'interference in Egyptian affairs'
Published time: 3 Apr, 2013 01:29
Edited time: 4 Apr, 2013 05:31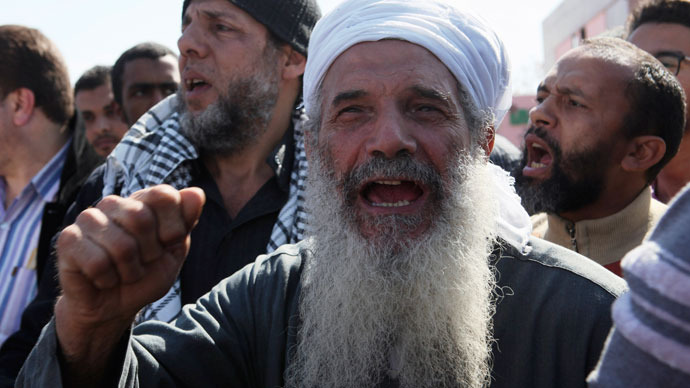 Allies of Egyptian President Mohamed Morsi accused the US of interference in national affairs on Tuesday. The statement came after Washington criticized the arrest of an Egyptian political satirist who allegedly insulted Morsi and Islam.
Bassem Youssef, who is known as Egypt's Jon Stewart, was detained and grilled in court for five hours on Sunday. He was released on a $2,200 bail.

The comic was arrested after Egypt's investment authority received complaints about Youssef's show, including "mockery" of "state symbols and prominent personalities" and "sexually suggestive" language, state-run Ahram Gate reported.

The move prompted the US Department of State spokeswoman Victoria Nuland, to criticize the decision saying it raised concerns about the Egyptian government's commitment to basic freedoms.

"This coupled with recent arrest warrants issued for other political activists is evidence of a disturbing trend of growing restrictions on the freedom of expression," she said at the State Department's daily press briefing on Monday. "So there does not seem to be an evenhanded application of justice here."

Nuland added that Egyptian authorities seemed selective in their prosecution, accusing them of cracking down on offenders such as Youssef, while ignoring or playing down attacks on anti-government protesters and cases of "extreme police brutality."

The Justice and Freedom Party, the political wing of the Muslim Brotherhood, condemned the comments and said the government was committed to freedom of expression.

"Nuland's statements are...blatantly interfering in Egypt's internal affairs," a party statement said.
But Youssef was less critical about the situation than Nuland.
"Going to jail is a risk that we have to go through," he told CNN. "
But you know, with big shows and big programs comes creative responsibility and maybe bigger risks. So I think we just have to accept that this could happen any time." In addition to charges of insulting the president and defaming Islam, Youssef has also been accused of undermining national security.
The comic expressed his frustration that the laws used to try and silence him date back 200 years.
Youssef says that another investigation had been started against him for his most recent show. The "
Accusations include spreading rumors and disturbing the 'Peace'," Youssef said on Twitter.
"It seems they want to drain us physically, emotionally and financially ," he added.
The US has raised concerns over potential threats to basic freedoms since Morsi's election last June.
US opinion of Egypt has been deemed highly important, due to the fact that Washington provides $1.3 billion per year in military aid to the country.
Having backed the pro-democracy uprising that toppled the long-serving ruler Hosni Mubarak in February 2011, Washington now has to deal with an elected Islamist government that is often accused of employing the same policies as the ousted regime.