Al-Qaeda breakaway group re-enters Damascus refugee camp, 'abused' Palestinians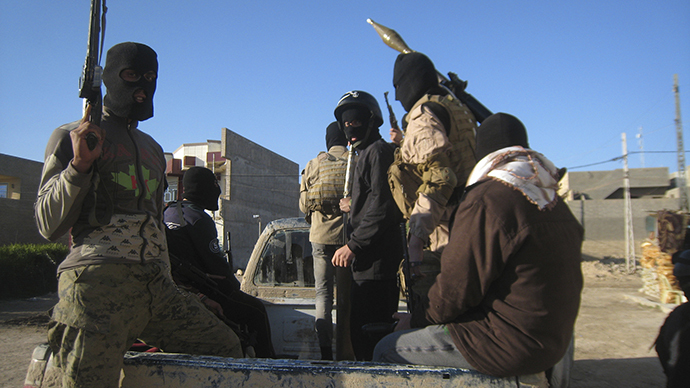 Islamic State of Iraq and the Levant militants detained and "abused" Palestinians at the Yarmouk refugee camp near Damascus, a group allied with the Syrian government said. The militants returned to Yarmouk days after Al-Nusra re-entered despite a truce.
A spokesman for the Popular Front for the Liberation of Palestine - General Command (PFLP-GC), said the Islamic State of Iraq and the Levant (ISIL) – an Al-Qaeda breakaway group – returned to the besieged mostly-Palestinian Yarmouk refugee camp on Thursday. The action follows the violent reemergence of Al-Nusra, the Islamic group in Syria endorsed by Al-Qaeda, in the area just days earlier.
PFLP-GC spokesman Anwar Raja said in a statement that the ISIL militants detained and "abused" several Palestinians upon the group's return to Yarmouk, Ma'an News Agency reported Friday.
Raja said ISIL's move back into the camp is fueled by Saudi Arabia "to pressure Syria, and ruin the reconciliation by abusing the Yarmouk camp and endangering its citizens." PFLP-GC has been in Syria for decades and has fought with Assad's forces since 2012.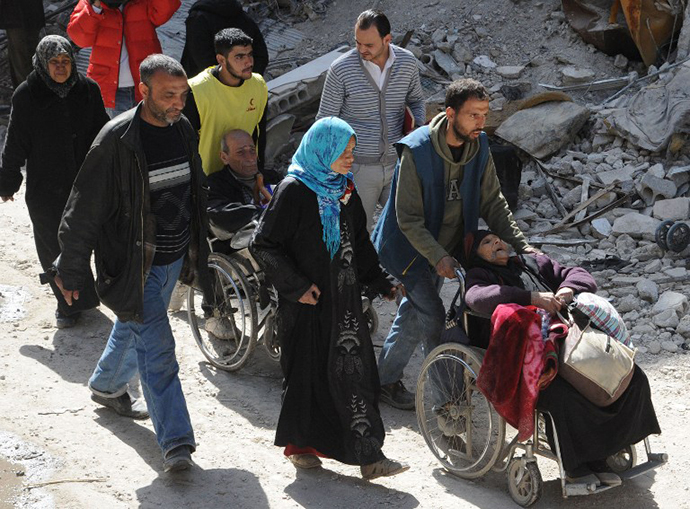 Saudi Arabia has not acknowledged ties to ISIL, which was condemned by Al-Qaeda leadership last month for its rift with the more moderate Al-Nusra Front.
ISIL "is not a branch of the al-Qaeda group...does not have an organizational relationship with it and [Al-Qaeda] is not the group responsible for their actions," Al-Qaeda's General Command said in a statement at the time.
The intra-opposition rivalry between Al-Nusra and ISIL led to battles beginning in early January. Activists believe over 3,000 people were killed in the clashes, AP reported.
An ISIL spokesman said Friday in a 22-minute audio clip posted online that ISIL became a target for other opposition groups "when they saw [ISIL] was getting more powerful.''
"They resorted to force and thought that they would be able to wipe it within a few days or hours. They prepared for a military campaign all over Syria and accompanied it with a propaganda campaign to harm the image of [ISIL] and turn the people against it,'' said Abu Mohammed Al-Adnani, AP reported.
"They then launched the campaign of betrayal and treason but they were surprised that [ISIL] was more solid than they expected and they failed in breaking it."
Al-Nusra's leader, Abu Mohammed Al-Golani, said last week that ISIL should agree to arbitration talks with Muslim leaders, lest ISIL be pushed out of Syria and "even from Iraq."
Adnani said in the online clip that ISIL had not rejected the arbitration offer, but he did criticize Al-Nusra's top Islamic cleric.
In Syria's northern town of Markada, fighting on Friday between ISIL and Al-Nusra led to the deaths of 23 fighters, according to the British-based Syrian Observatory for Human Rights.
Around 20,000 people at the Yarmouk camp are suffering from widespread starvation, malnutrition, and health problems, as they have been blocked from food, drinking water, and medical help for months now. A truce established and put in effect on Feb. 10 by Russia and the United States sought to quell fighting between the rival rebel groups and open Yarmouk to outside aid, led by the United Nations. Yet the UN has admitted it has not been able to deliver to the camp nearly as many food parcels necessary for the struggling population.
Located just five miles south from the middle of Damascus, Yarmouk was established in 1957. It is still the largest Palestinian refugee camp in the country. Conditions eventually improved in the area over time, yet Yarmouk has been a scene of considerable violence since the outbreak of civil war in Syria.
Situated near rebel-dominated suburbs, Yarmouk became a valuable supply line for rebel fighters once it was seized by groups fighting the government in December 2012. The area soon became a popular target for government artillery shelling that has destroyed large swaths of the district.
The Syrian conflict, which began with peaceful protests against Assad's government nearly three years ago, has led to the deaths of 130,000 people and spurred millions to seek refuge.
You can share this story on social media: