​Iraq PM Maliki calls on Fallujah to expel Al-Qaeda-linked insurgents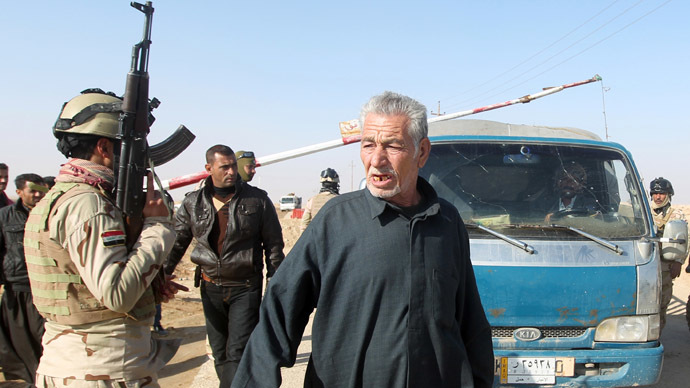 Iraqi Prime Minister Nuri al-Maliki urged those in Fallujah Monday to help expel Al-Qaeda-linked militants in the city ahead of a military offensive government officials say could occur within days. Islamic insurgents seized the city in recent days.
Maliki, whose Shiite-led government has at best tenuous influence in the majority Sunni city of Fallujah, said via a statement on state television that tribal leaders should lead the effort to force fighters of the Islamic State of Iraq and the Levant (ISIL) from the town.
"The prime minister appeals to the tribes and people of Fallujah to expel the terrorists from the city in order to spare themselves the risk of armed clashes," read the statement, according to Reuters.
Insurgents took control of much of the city following a bloody battle with security forces in which more than 100 people were killed, AFP reported. Some of the city is also controlled by Sunni anti-government tribal militias, according to NPR.
Government troops, with help from the local allied tribesmen, carried out an assault in Fallujah, firing heavy artillery rounds at a location where up to 150 ISIL fighters were positioned, an anonymous military official told AP, adding that troops also advanced into the city of Ramadi.
A provincial official said Iraqi forces had reclaimed Ramadi, the capital of Anbar province, on Monday, pushing fighters east where air raids would be used to draw them out of hiding places, he told Reuters.
"The air force will end this battle in the next few hours," said Falih al-Essawi, of Anbar. He said government workers and students in Ramadi were told to return to work and school on Tuesday.
Tribal leaders in Fallujah, 25 miles west of Baghdad's main airport, said clerics and community actors were to meet to discuss methods of persuading ISIL fighters to exit and not provoke further violence.
Iraq has launched multiple airstrikes against fighters in the past week, though Maliki has agreed to momentarily hold on the use of force as local leaders attempt to reach a more peaceful resolution, security officials told Reuters.
"No specific deadline was determined, but it will not be open-ended," a special forces officer said of the impending attack.
"We are not prepared to wait too long. We're talking about a matter of days only. More time means more strength for terrorists."
Maliki has ordered his army, now surrounding Fallujah, to spare residential areas during the upcoming offensive.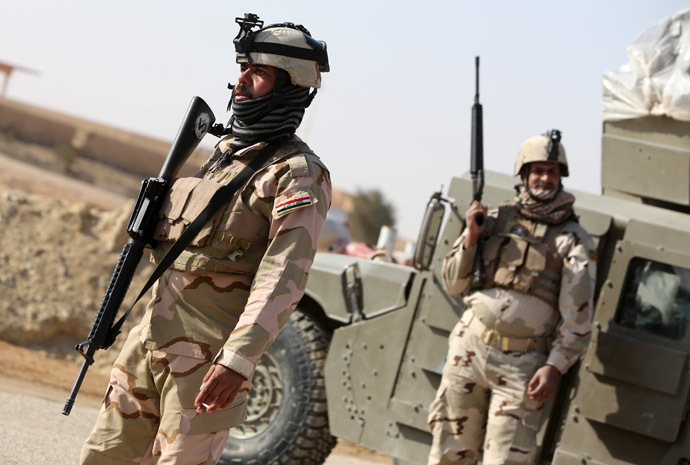 From Syria to Iraq
ISIL's move into Anbar province, in central Iraq, was the first time the Sunni fighters had taken and held parts of the province's major towns along the Euphrates River.
ISIL is active in neighboring Syria's civil war, working with other Sunni Muslim militants - while fighting others - in efforts against President Bashar Assad's regime.
Sunni brigades fighting in Syria - most supported by Saudi Arabia and allies, as well as western powers like the United States - have battled the government of Assad - an ally of Shiite Iran as well as Russia - for three years in a civil war that has exacerbated sectarian animosities.
Some invading militants have received aid from tribesmen in Fallujah, an area quite hostile to the Shiite government.
Sectarian tensions were enflamed last week, as Iraqi police broke up a Sunni protest in Ramadi, sparking confrontations across Anbar. The area was the heart of the insurgency following the 2003 US invasion of Iraq, which installed Maliki's Shiite-led government.
Anbar tribes worked with the US to beat back Al-Qaeda militants in the region around 2006. Fallujah, the "City of Mosques," was subject to two major offensives by US forces against insurgents in 2004. After denying the charge that it used white phosphorus in the city, the US military later recanted and admitted using the chemical weapons.
"This is the worst [Iraq has] been since the American occupation," political analyst Said Arikat told RT in an interview. "It bodes ill for the unity of the government, and it is predicated on pure sectarian lines aided by the Syria conflict. So all the elements make it a very bad situation."
Arikat said the current situation in Anbar province can be explained by a number of issues, including poorly equipped and trained Iraqi security forces, a recent Al-Qaeda-led prison break in Iraq that bolstered militant morale and, not least, the Syrian civil war.
"The border [between Syria and Iraq] is so porous, it is really elastic," he said. "There's been an influx of weapons and money under the guise of aiding the Syria rebels, so that's finding its way to Iraq. All these things come together," including the lackluster Iraqi forces left without American military assistance on the ground, to deteriorate conditions in Anbar.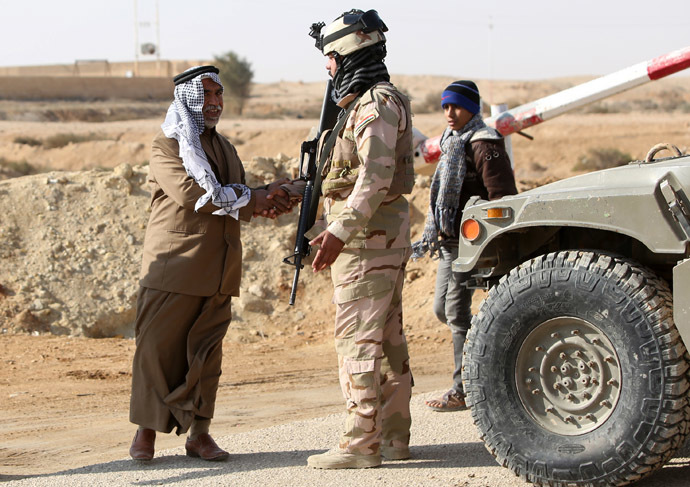 'Tribal warfare'
The White House said Monday it would hasten delivery of aid to Iraq in its fight against Al-Qaeda. The shipments, to arrive in coming months, will include 100 Hellfire missiles, 10 ScanEagle surveillance drones and, later this year, 48 Raven surveillance drones. Yet the US said Sunday that it would not send troops to Iraq.
Iran has also offered military assistance to help quash the militant uprising.
Al-Qaeda's resurgent influence in Anbar has again divided the population. Yet despite sectarian differences, locals have offered to help the government reclaim control of the area.
"We are going to have an important meeting this evening and that will include some Al-Qaeda fighters in Fallujah to convince them to leave the city and deprive Maliki of a pretext to push his army inside the city," said one tribal leader, according to Reuters.
"We should make Al-Qaeda fighters understand that their staying in Fallujah will create rivers of blood."
Still, many residents are fleeing the city en masse ahead of the planned offensive. Power outages and food and water shortages are also leading many to exit.
"The situation in Fallujah is getting worse. There are gunmen everywhere," said Doctor Mohammed al-Nuaimi, a resident of the city interviewed by Reuters.
"We can't tell who's a friend and who's an enemy. I lost my elder brother in 2005 - he was killed by the Americans - and now I see same scenario happening. I'm not ready to feel the pain again."
Political analyst Gerald Cellente told RT the United States and its Iraq-invading allies are ultimately to blame for the violence and chaos in not only Iraq, but throughout the Middle East.
"The United States and the Coalition of the Willing have destabilized the entire region," Cellente, publisher of The Trends Journal, told RT. "This isn't just about Iraq. Let us not forget the Libyan 'humanitarian' mission - or better yet, the 'time-limited, scope-limited kinetic action' - started by Sarkozy, Cameron and Obama. So the entire region is being destabilized by the wars the imperialist, colonial powers have waged in that area."
Cellente said local residents' chances of staving off the insurgents are "slim and none."
"We have to understand what the numbers are, depending on whose you look at," he said. "It's estimated that a million Iraqis have been killed since the United States and the Coalition of the Willing invaded. So these people have no will to fight anymore. It's tribal warfare."
You can share this story on social media: