Al-Qaeda fighters take Iraqi city in bloody clash with security forces
Al-Qaeda-linked fighters have taken control of the Iraqi city of Fallujah following a bloody battle with security forces in which more than 100 people were killed. The insurgents have announced the creation of an Islamic state in Fallujah, AFP reports.
Government troops with the help from the local allied tribesmen carried out an assault in Fallujah, firing heavy artillery rounds at a location where up to 150 Qaeda-linked fighters from the Islamic State of Iraq and the Levant (ISIL) were positioned, an anonymous military official told AP, adding that troops also advanced into the city of Ramadi.
At least 32 civilians and 71 ISIL fighters died as the results of clashes, officials told AFP, adding that they did not know how many police and tribesmen were killed.
Iraqi security forces killed 55 Al-Qaeda-linked fighters near Ramadi, the agency reported on Saturday, citing the commander of the ground forces.
Parts of Ramadi and Fallujah, a stronghold of the insurgency during the US-led invasion, have been held by militants since Wednesday.
Local witnesses report that hundreds of gunmen, some with the black jihadist flag, gathered in central Fallujah, with one fighter shouting "We announce that Fallujah is an Islamic state and call you to stand by our side," AFP reported.
The insurgents also announced via loudspeakers, "We are your brothers from the Islamic State in Iraq and Levant. We are here to protect you from the government. We call on you to cooperate with us," AP quoted.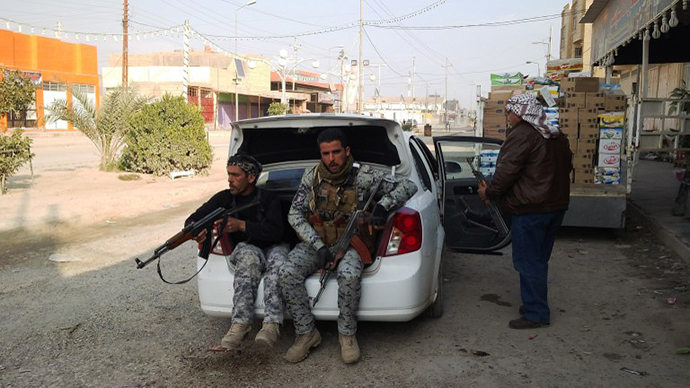 The latest battles in the Ramadi started on Monday, after authorities removed the main Sunni anti-government protest camp set up in late 2012.
At least 14 people were killed on Monday and Tuesday in and near Ramadi, while the toll from the following two days remains unclear.
The clashes then spread to Fallujah, where Islamist fighters in the region on Wednesday took over police stations, freeing prisoners, stealing ammunition and security forces' vehicles.
The attacks were caused by deeply-rooted sectarian tensions between Iraqi Sunni groups and the Shiite-led government of Prime Minister Nuri al-Maliki.
Maliki ordered reinforcements to the province, but expressed the government's readiness to listen to Anbar residents to address their needs in his weekly televised speech. He also called on all Sunni tribes "to come together" and to team up with security forces to fight the militants "for the sake of Anbar".
Robert Naiman, policy director for 'Just Foreign Policy' organization, told RT that the West was effectively encouraging the increase in Al Qaeda activity in Iraq by supporting the militants in Syria.
"One of the causes, clearly, for the resurgence of Al-Qaeda in Iraq is the Western support for armed jihadists in Syria, because it's generally acknowledged it's largely the same people on both sides of the border. The US, Saudi Arabia, Qatar, France are all implicated in the funding, recruiting, arming jihadist militants in Syria. That's creating a base for jihadists' actions in Iraq… Remember the justification for the US war in Afghanistan: "We can't tolerate these ungoverned areas being a breeding ground, training camps, an organizing space for Al Qaeda." That's exactly what the West is tolerating in Syria! Not just tolerating, but helping to finance, facilitate, and encourage."
You can share this story on social media: