18 dead in Iraq attacks, including army general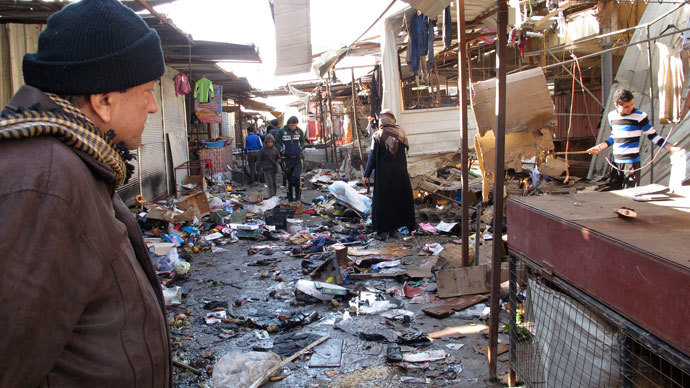 At least 18 people died in attacks across Iraq on Sunday, including a military general, according to police and medics.
RT has been following the deadly violence that swept the country in 2013 in a special project.
A suicide bomber blew himself up in the northern city of Mosul, killing at least eight soldiers, along with a brigadier general and three other officers, Reuters cited police and medical sources as saying.
Another four soldiers were killed and ten others wounded when gunmen invaded military barracks in the town of Garma, located 30 kilometers (20 miles) northwest of Baghdad.
Four members of the government-backed "Sahwa" Sunni militia were killed at checkpoints in the Abu Ghraib district, police and medics stated. A bombing in another district in western Baghdad killed two people and injured six others.
Violence in Iraq intensified in 2013, making it the deadliest year in Iraq since 2008. More than 8,000 people have been killed this year, according to the United Nations.
Since the departure of US forces in 2011, Al-Qaeda has been able to re-establish its presence in Iraq by feeding off Sunni resentment towards Maliki's Shiite government. Through its base in Syria, insurgents are able to deploy nearly 40 suicide bombers a month against Iraqi Shiites and Sunnis unwilling to fall under their rule.
You can share this story on social media: