5 senior officers among 18 killed in western Iraq ambush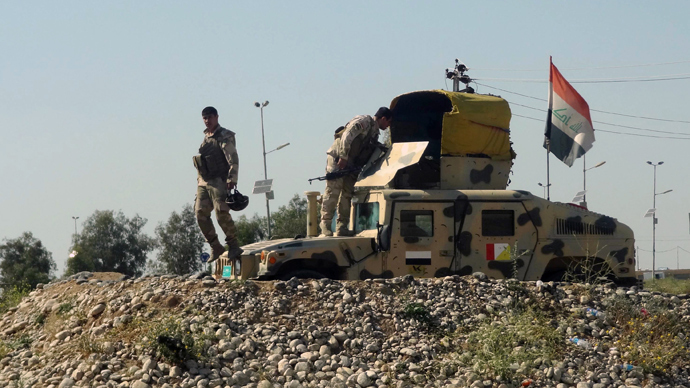 At least 18 troops have been killed and another 32 soldiers wounded in an ambush in western Iraq, Reuters reported military sources as saying. Five high-ranking officers were among those killed.
Five senior officers were among those killed, including commander Major General Mohammed al-Karoui and his aide, in the attack in the Sunni-dominated province of Anbar.

The assistant commander of the Seventh Division, the commander of its 27th Brigade, and several other high-ranking officers were also among those killed, according to Reuters.

The circumstances of Saturday's attack remain unclear. There are several versions of what happened.

The Defense Ministry has told Reuters that al-Karoui, commander of the army's Seventh Division, and several other high-ranking officers were killed by a roadside bomb as they were pursuing militants at an Al-Qaeda training camp.

At the same time Al-Jazeera reported that a convoy of the 7th Army Division was attacked by the fighters of the Islamic State of Iraq, an al-Qaeda terrorist group.

However, according to another version, the senior officers were killed in a suicide bomb attack as three attackers wearing explosive belts detonated themselves in the western town of Rutba, 360 km (225 miles) west of Baghdad.

"All that we know so far is three suicide bombers wearing explosive vests came from nowhere and detonated themselves among the officers," a military source said.

According to AFP, when the assault began, the soldiers were hit by suicide bombers, and when they entered buildings booby traps exploded.

No group has claimed responsibility for the attack.

Militant Islamists have responded to the attack saying online that al-Karoui's death is retribution for the killing of more than 40 people in a raid on a Sunni protest camp that he oversaw back in April, according to Reuters.

Over 8,000 people have died in Iraq this year, according to Iraq Body Count's estimates – making it the bloodiest year for the country since 2008. In November alone, 948 people were killed as a result of violence in the country.

In December, at least 352 people have died in attacks across the country so far, according to AP.