Iraq death toll tops 700 in February – UN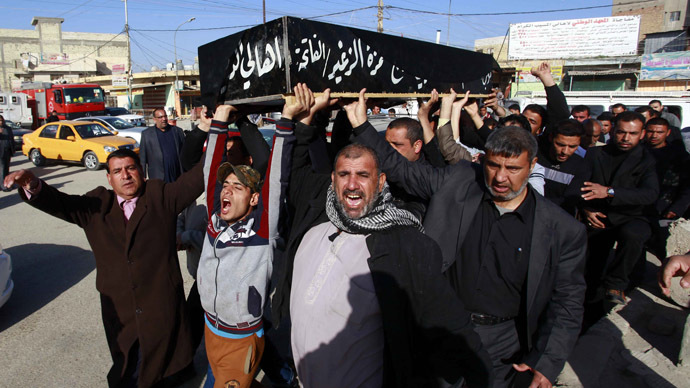 Over 700 people were killed in violence in Iraq this February with the capital city of Baghdad worst affected by the wave of violence.
Iraq has been hit by a surge of violence over the last year, the worst since 2008. The Iraq government put the total of dead in February at 790, while the UN said that 703 people perished in the bloodshed.
The UN figure excludes the province of Anbar, where government forces are still trying to oust a militant group that seized control of the city of Fallujah in Anbar Province. So far the violence in the Fallujah has seen over 370,000 people flee their homes.
The number of deaths in February is significantly less than January when more than 1,000 people – mostly civilians – were killed in the most deadly month since April 2008.
"The political, social and religious leaders of Iraq have an urgent responsibility to come together in the face of the terrorist threat," UN envoy Nickolay Mladenov said in a statement Saturday.
A large proportion of the violence is concentrated in the six central and northern provinces, with the worst bloodshed happening in the capital, Baghdad, where 239 people died, according to UN figures.
January's death toll topped 1,000, in the most deadly month for the country since April 2008.
The violence stems from sectarian conflicts between Shiite Muslims and Iraqi's Sunni Arab minority. The Sunnis claim they are being discriminated against and unfairly targeted by heavy-handed security measures.
The Iraqi government has introduced a number of measures in the hope of curtailing the violence that grips the country. Last month, Prime Minister Nuri al-Maliki visited the embattled province of Anbar and promised training for tribesmen in the city of Ramadi who fight for the government.
Furthermore, Baghdad announced a 72-hour ceasefire in Fallujah in February, opening the door to possible negotiations with the militants controlling the city.
US troops completed their withdrawal from Iraq in December 2011, with President Barack Obama hailing the campaign as an "extraordinary achievement." However, since the US withdrawal Iraq has failed to get back on its feet and has plunged steadily deeper into inter-ethnic violence that killed over 7,000 people last year.
You can share this story on social media: