Thousands of women illegally detained by Iraq, facing torture, abuse - HRW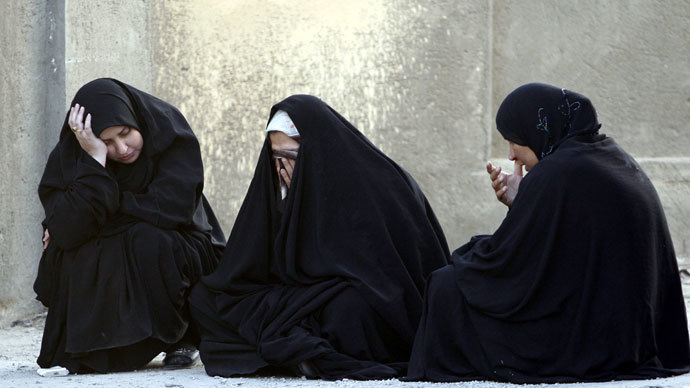 Iraqi authorities are holding thousands of women illegally, subjecting many to torture, abuse, threats to their family and rape, according to a Human Rights Watch report released Thursday. The findings come amid Baghdad's promises of judicial reform.
"When I insisted that I am not guilty, he tied me up to a column. Then they started using electricity on me. I was blindfolded but it felt like an electric baton," a former detainee and journalist going by the name of Fatima Hussein told Human Rights Watch (HRW). She stood accused of involvement in the murder of a parliamentarian's brother and being married to an Al-Qaeda operative. "When they finally untied me, I collapsed," she recalled.
A man she identified as 'Colonel Ghazi' invited her to sign a blank piece of paper, and after she asked whether they would add other charges, her feet were tied up and hit with cables containing high-voltage wire. She continued to refuse.
"He put out cigarettes on my arms and hand. The whole time he was calling me, 'Bitch, whore, slut,'" she stated. She was then violently raped. "There was blood all over me. He would relax, have a cigarette, and put it out on my buttock, and then start again," she said.
'Fatima' chose a false name in order to remain anonymous. She said that her daughter was threatened with similar treatment by Ghazi, and she even fielded a phone call from her child as proof they could identify her, forcing Fatima to confess to a crime she did not commit. "I filed a complaint, but so far I have not seen any results," Fatima stated, adding that she was still afraid. In September 2013, seven months after meeting with HRW, she was executed.
The 105-page document, entitled "'No One Is Safe': Abuses of Women in Iraq's Criminal Justice System," was released on Thursday and explored the extent to which cases such as Fatima's occur. Some women have been held for months, and even years without charge before seeing a judge, according to the document.
In the "vast majority of cases", women had no access to a lawyer before or during interrogation, contrary to Iraqi law, according to the group.
HRW's research spanned interviews with a cross section of 27 women and seven girls, both Sunni and Shia, between December 2012 and April last year, while further interviews with their families and other officials, including lawyers, medical service providers in prisons and UN staff in Baghdad. "We also reviewed court documents, lawyers' case files, and government decisions and reports" stated HRW.
Many of the women who spoke to the US-based human rights advocacy group described beatings, being kicked or slapped, hung upside down, electrically shocked or subject to rape or threats of sexual assault.
"They called me daughter of a bitch, daughter of a whore. They pointed a gun at my head and threatened to rape me and continue the electricity if I didn't agree to everything the judge read from his papers." Stated 70-year-old Ibtihal Ahmad (also not her real name), in another interview with HRW.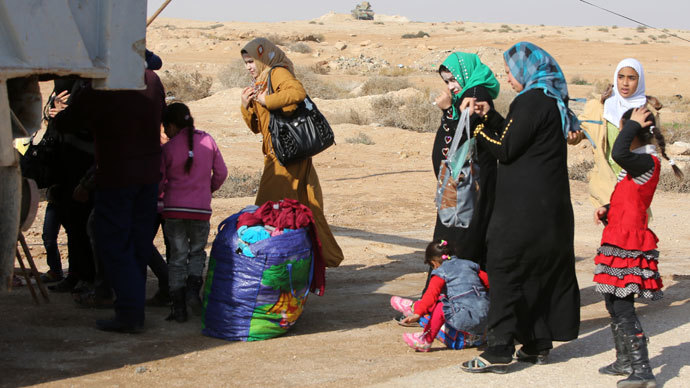 Girls as young as 11 were held under suspicion of terrorism or covering up terrorist acts, and one boy, only six years old, was forced to watch his mother be beaten and suffer electric shocks, according to an interview with his sister. One child of unspecified age, who was imprisoned with his mother – on death row - remained incarcerated himself for several weeks after her execution.
Ibtihal Ahmad's daughter, Sundus Abd al-Razzaq, was interrogated over her husband's activities, and was told "Yes, say it, even if it's a lie," when she asked if that was what they wanted – for her to be dishonest.
"Iraqi security forces and officials act as if brutally abusing women will make the country safer," said Joe Stork, deputy Middle East and North Africa director at HRW. "In fact, these women and their relatives have told us that as long as security forces abuse people with impunity, we can only expect security conditions to worsen."
Islamist militants have frequently alleged that the mistreatment of women is a justification for their attacks. The release of those who are detained was a main demand of demonstrators who protested throughout predominantly Sunni-populated areas in Iraq for most of last year.
The group called for judicial and security reforms in the battle-scarred country.
"Iraq's weak judiciary, plagued by corruption, frequently bases convictions on coerced confessions, and trial proceedings fall far short of international standards. Many women were detained for months or even years without charge before seeing a judge," stated HRW in a release which accompanied the report.
Failure by the courts to investigate allegations of abuse and torture, holding those complicit completely responsible just serves to perpetuate abuses and the falsification of confessions, HRW added.
Prime Minister Nuri al-Maliki promised to reform the criminal justice system in January last year. However, just one month past the anniversary of his statement, the tactics of the security forces appear to remain very similar, and hundreds remain illegally detained.
"The vast majority of the more than 4,200 women detained in Interior and Defense Ministry facilities are Sunni, but the abuses Human Rights Watch documents affect women of all sects and classes throughout Iraqi society," said the organization, adding that while both men and women suffer injustices, women suffer twice on account of their second-class status.
"We don't know who we fear more, Al-Qaeda or SWAT," one Fallujah resident told the group, referencing the special forces unit that undertakes counterterrorism operations. "Why would we help them fight Al-Qaeda when they'll just come for us as soon as they're done with them?"
You can share this story on social media: