Blood sanctions: Iranian boy dies from medicine shortage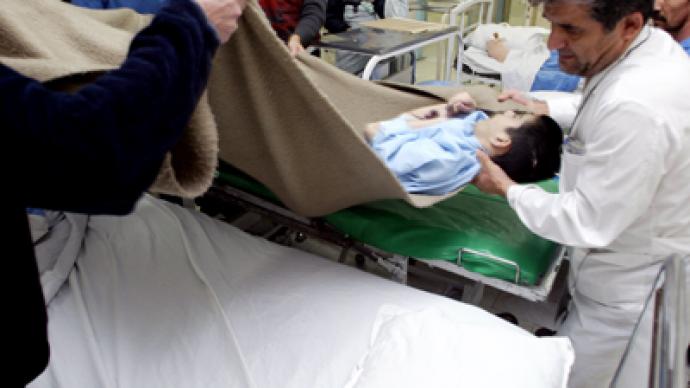 Western sanctions on Iran have affected not only the nation's oil revenues, but also human lives. A teenage boy has died from hemophilia due to a shortage of medicine caused by strict EU and US sanctions on the Islamic republic.
Fifteen-year-old Manouchehr Esmaili-Liousi died in hospital after his family failed to find the medicine needed to treat his disease, Iranian news agencies reported.It is the first civilian death believed to be directly linked to economic sanctions from the US and the EU, The Guardian reports.Although the sanctions are not directly targeting the pharmaceutical and medical sectors, the measures have affected banks and trade restrictions – making it difficult for patients to get access to vital medicine."This is against human rights…Even in wars, women and children and patients are protected by some impunity based on international treaties…But sanctions hitting medicine in Iran are causing a silent death and are a ploy to hurt the health of Iranian people," the director of Iran's hemophilia society, Ahmad Ghavidel, said, as quoted by Irna news agency. Hemophilia patients seem to be among the hardest hit because, according to Ghavidel, 75 per cent of medicines for the treatment of hemophilia are made in the US and EU. He said hemophilia medicines have reduced to a third of the former level supplies since the sanctions took effect.In October, a medical charity warned that a shortage of medicines caused by sanctions was putting millions of lives at risk. "More than anything else, we have a lack of medicines for patients suffering from cancer and multiple sclerosis," head of Iran's Charity Foundation for Special Diseases, Fatemeh Hashemi, told news website Tabnak at the time.However, the US and EU did not make any changes or amendments to the sanctions.Two large Iranian plants that produce medicine have recently been closed because it has become nearly impossible to import the chemical compounds needed for drug production. Overall, officials estimate that around 6 million patients are potentially affected by the shortages – including many with cancer.Every day, patients line up at special pharmacies in Tehran, where those suffering from cancer, hemophilia, thalassemia, kidney problems, and other diseases wait to hear good news – that their required medicine is available. However, more often than not, they are told the pharmacies no longer have any of the foreign-made drugs. Small infants are among those affected by the sanctions because the availability of baby milk has been affected, too. Iran cannot produce certain types of infant milk, so it relies primarily on imports. But because of the sanctions, the country is seeing less milk on the shelves. Those fortunate enough to find milk are paying nearly double what they used to pay. Children have been hospitalized as a result of the milk shortages, although there have been no reports of deaths. If the sanctions continue, Iran could also face a huge food shortage because the country relies on significant imports of wheat, rice and other products. Opponents of the sanctions say the shortage – as well as the death of Manouchehr – proves that the measures negatively affect ordinary Iranians instead of their rulers."My mom, us, other patients, we are all caught in the middle of this political battle…we don't have any influence on nuclear policies. We are victims," Ali, a 26-year-old Iranian whose mother has cancer, told the New York Times. 
No end in sight
Washington and its allies have long accused Iran of using its nuclear weapons capabilities to build atomic weapons – a claim Tehran adamantly denies.US President Barack Obama has stated that the crippling sanctions against Iran must continue until Tehran complies with international obligations on its nuclear activities.Just days after he was reelected, Obama rolled out a new set of sanctions aimed at senior Iranian officials and related entities. The US tightened its already strict sanctions on Iran in July. The new sanctions target the country's energy and petrochemical industries and restrict exchanges with Iranian banks.Earlier this year, the EU announced that it was prohibiting transactions between European companies and Iranian banks, limiting areas of trade "in order to choke off revenue that Iran is using for its nuclear program."
You can share this story on social media: