Election mandate in hand, Obama readies more Iran sanctions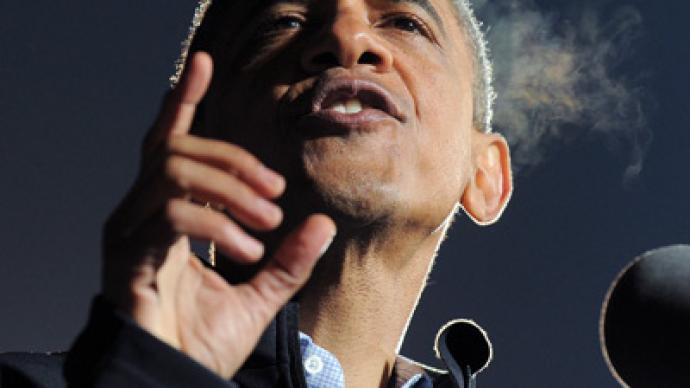 Only days after President Obama won reelection, the US rolled out a new round of sanctions against Iran and accused it of attempting to shoot down an American drone in international airspace.
The US State Department and Treasury announced on Thursday that the sanctions are aimed at senior Iranian officials and several related entities. US State Department spokesperson Victoria Nuland said they are "responsible for the abuses carried out against their own citizens." The alleged abuses include the jamming of international satellite broadcasts, blocking Internet access to services like YouTube, eBay, Facebook and Gmail, and monitoring online activities to identify "users who published material insulting government officials," a US Treasury statement said. Tehran is also accused of attacking foreign websites, shutting down newspapers in Iran and detaining journalists.Other countries in the region, including US allies, have blocked Internet users from accessing services and materials they deemed impropriate. Turkey blocked YouTube over videos insulting its first president, Mustafa Kemal Atatürk. Pakistan blocked YouTube for "blasphemous web content." The United Arab Emirates did the same, taking offense at 'adult content' on the video-sharing site.The four individuals targeted by the sanctions include Tehran's Communication and Information Technology Minister Reza Taghipour, deputy commander of the Basij militia Ali Fazli and Iranian police chief Esmail Ahmadi Moghaddam. The five entities include the country's Ministry of Culture and Islamic Guidance, the Press Supervisory Board and the Center to Investigate Organized Crime.Iranian software companies AmnAfzar Gostar-e Sharif and PeykAsa – which are involved in monitoring and blocking Internet traffic – and the companies' founder Rasool Jalili were also targeted by the sanctions.Tehran is engaged in a campaign to curtail freedoms and "prevent the free flow of information both into and out of Iran," Nuland said. "Countless activists, journalists, lawyers, students and artists have been detained, censured, tortured or forcibly prevented from exercising their human rights."The US and some of its allies have leveled increasingly harsh sanctions against Iran. The restrictions have crippled Iranian oil exports, a major source of income for the country, by targeting any organizations worldwide that buy crude from the Islamic Republic.Western countries are pressuring Iran in a bid to force it to stop enriching uranium. They allege that Tehran is trying to stockpile the material to produce a nuclear weapon. Tehran insists that it produces enriched uranium for civilian purposes only.
Drone debacle
On Friday, Tehran confirmed that two of its fighter jets shot at a US drone for violating Iranian airspace. Iranian Defense Minister General Ahmad Vahidi said that the US aircraft had traveled within 12 miles of the Iranian coast, breaching Iran's territory and making it a legitimate target. Washington claims that the Predator drone was in international airspace.On Tuesday, the Pentagon said that Iranian warplanes shot at one of its Predator drones over the Gulf region, but had failed to take it down. The encounter reportedly took place on November 1, about 16 nautical miles off the Iranian coast – and in international airspace.Pentagon spokesman George Little said it was the fist time the Iranian military had fired on an American drone. The incident initially went undisclosed because the US military does not discuss classified surveillance missions, he explained. The attack was officially confirmed only after it was reported in US media.Two Iranian Sukhoi Su-25 jets intercepted the unarmed drone as it was performing a routine – but classified – patrol over Persian Gulf waters.The aircraft shot "multiple rounds" at the Predator, and after it moved away from the Iranian border they shadowed it "for some period of time before letting it return to base," Little said.The American military claimed the Iranian pilots intended to shoot down the drone."Our working assumption is that they fired to take it down. You'll have to ask the Iranians why they engaged in this action," Little said. He did not explain why the Iranian jets failed to hit their target, as drones are incapable of performing elaborate evasive maneuvers.He said that the American drone "was never in Iranian air space," which begins 12 nautical miles from the country's coastline.Following the incident, Iran vowed to confront any foreign military craft in its territory or airspace by giving a "decisive response to any aerial, ground or sea aggression," FARS news agency quoted Iranian Revolutionary Guard General Massoud Jazayeri as saying.In December 2011, a CIA RQ-170 Sentinel stealth done was monitoring Iranian nuclear and military facilities when it was brought down and captured in eastern Iran. The US said it malfunctioned, while Tehran claimed its forces had downed the aircraft. The Iranian government later published photos of the captured drone, which appeared undamaged."The United States has communicated to the Iranians that we will continue to conduct surveillance flights over international waters over the Arabian Gulf, consistent with longstanding practice and our commitment to the security of the region," Little said.