Iranian elite units rumored to be in Syria to advise Assad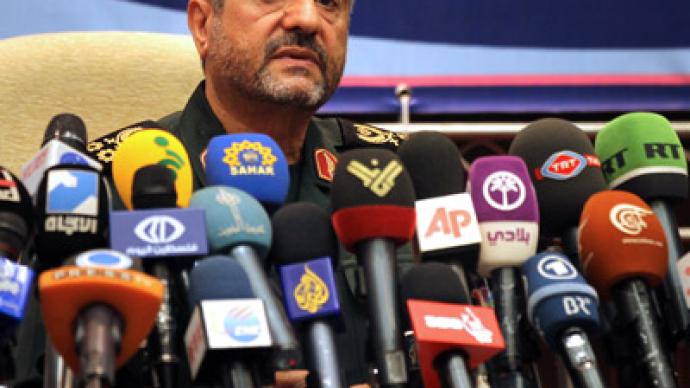 The elite special unit of Iran's Revolutionary Guards is in Syria to advise on non-military matters, but could get involved militarily if Damascus is attacked from the outside, General Mohammad Ali Jafari has reportedly confirmed.
The commander of Iran's Revolutionary Guards said that the Quds Force is present in Syria and Lebanon, but only to provide "counsel.""A number of Quds Force members are present in Syria and Lebanon… we provide [these countries] with counsel and advice, and transfer experience to them. But it does not mean that we have a military presence there," Iranian news agency ISNA quoted Jafari as saying.The question of military involvement in Syrian affairs will "depend on the circumstances… I say specifically that if Syria came under military attack, Iran would also give military support," he said.Jafari did not indicate how many members of the elite unit were present in Syria.Some media outlets have denied that Jafari gave the statement. A source in the Quds told Al Arabiya that the reports were "fictional and absolutely untrue," stressing that the Revolutionary Guard does not interfere in the internal affairs of any country.The Islamic Republic has supported Syrian President Bashar al-Assad since the crisis began last year, and sees his rule as a key support center in countering the policies of the US, Israel and regional Sunni Arab states.There have also been speculations that a number of Western and Gulf states have elite units on the ground in Syria to train and support the rebels' cause in fighting government forces.Meanwhile, Iraq's fugitive vice president, sentenced to death for allegedly running death squads, has claimed that Iraq is "becoming an Iranian corridor" to support Assad's regime. "It is not only the airspace," he told Reuters. "It is thousands of militia now inside Syria."However, a senior adviser to Iraqi Prime Minister Nuri al-Maliki rejected the accusations, saying "that Iraq will not allow any state to use its airspace to transport arms to Syria."Clashes have meanwhile intensified in Syria as government troops fight with the rebels in the cities of Damascus, Aleppo, Daraa, Hama and Homs. Some report the use of aerial bombardments and heavy artillery. On Sunday, state media reported that the Syrian army had eliminated all armed insurgents in the Midan district of Aleppo, while scores of other armed men were killed in the Fardous district. SANA also reported that at least eight civilians have been killed and 25 others injured in a separate incident after a bomb exploded in Daraa.The latest violence comes as the new school term starts in Syria, with the UN saying that over 2,000 schools have been damaged and hundreds more are being used as temporary shelters.Eighteen months into the crisis, international action is at a stalemate, with Russia and China fearing a repeat of the Libya scenario as the West, the Gulf Arab states and Turkey call for Assad's removal from power without considering potential crimes committed by the Syrian insurgency.
You can share this story on social media: