Iran 'has evidence' CIA masterminded nuke scientist murder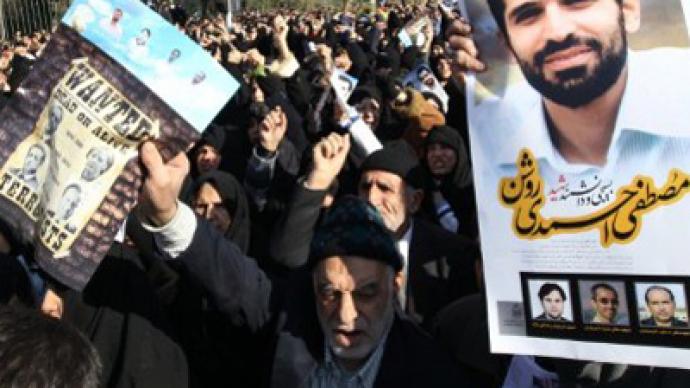 Iran has sent two "letters of condemnation" in the wake of Wednesday's killing of yet another Iranian nuclear scientist. Tehran is demanding a response from Washington and London for the attack, which was "guided" by the CIA and "assisted" by MI6.
"We have reliable documents and evidence that this terrorist act was planned, guided and supported by the CIA," the Iranian foreign ministry said in a rare letter handed to the Swiss ambassador in Tehran, according to state television.The Swiss Embassy has represented the USA in Iran since ties between the two countries were severed shortly after the 1979 Islamic Revolution.Another letter was sent to the British Embassy, claiming the British Foreign Intelligence Service, MI6, aided the CIA-led operation. The letter notes that the assassination of Iranian nuclear scientists "started exactly after the British official John Sawers declared the beginning of intelligence operations against Iran," as quoted by the official Iranian Republic News Agency. In 2010 John Sawers, the head of MI6, declared diplomacy was not enough to curb Iran's nuclear ambitions. "We need intelligence-led operations to make it more difficult for countries like Iran to develop nuclear weapons," he said.Earlier this week, Iran's supreme leader, Ayatollah Ali Khamenei, also blamed Israel's Mossad for the death of Mostafa Ahmadi Roshan, 32, who died on January 11 in Tehran after a magnetic bomb was attached to his car.Tehran has urged the UN Security Council and Secretary-General Ban Ki-moon to condemn this latest killing. US Secretary of State Hilary Clinton summarily dismissed the charges, while Israeli President Shimon Peres said that Israel had no role in the attack.Roshan is the fourth Iranian scientist to be killed since 2007. Iran insists this is an international conspiracy, led by the US and Israel who want to disrupt Iran's nuclear program. Tensions over Tehran's nuclear plans surged in November, when the International Atomic Energy Agency said it had gathered intelligence showing Tehran had tried to develop miniaturized nuclear warheads for ballistic missiles as well as the detonators necessary to trigger a fissile reaction. The US, UK, Israel are among the countries concerned that Iran would use this potential to build nuclear weapons. Tehran has rejected the charges and denies their nuclear program has any military goals.
You can share this story on social media: