Iran's president on nuclear issue: 'Problem won't be from our side'
Iran's new president has said his country will never attempt to develop nuclear weapons and that, two months after being elected, he has the stature to make a deal with Western leaders regarding Iran's atomic program.
President Hassan Rouhani told NBC News on Wednesday that Iran has stated multiple times that "under no circumstances would we seek any weapons of mass destruction, including nuclear weapons, nor will we ever."
"In its nuclear program this government enters with full power and has complete authority," he said. "The problem won't be from our side. We have sufficient political latitude to solve this problem." 
Since succeeding the polarizing Mahmoud Ahmadinejad this summer, Rouhani indicated a reluctant willingness to meet and negotiate with US leaders. He told NBC that he traded letters with US President Obama in which the two discussed "some issues" after decades of political hostility between the two nations.
"From my point of view, the tone of the letter was positive and constructive," Rouhani said of a congratulatory note from Washington after the election. "It could be subtle and tiny steps for a very important future. I believe the leaders in all countries could think in their national interest and they should not be under the influence of pressure groups. I hope to witness such an atmosphere in the future."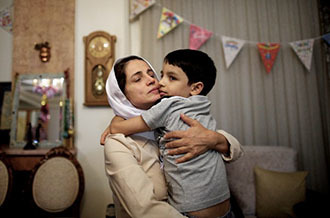 Iran releases political prisoners
Rouhani also ordered the release of Nasrin Sotoudeh, an Iranian human rights lawyer, and a number of other political prisoners on the eve of a visit to the United Nations. Sotoudeh was in the midst of a six-year prison sentence for allegedly endangering national security and misusing her duties as a lawyer. Obama specifically mentioned her case during his annual message to Iran in 2011, saying she had been jailed "for defending human rights." 
Several journalists were also freed, although dozens remain imprisoned for their roles in a 2009 anti-government protest. 
"Psychologically, my condition is very good but my experience – with all the psychological pressure, the tense security atmosphere, and not have access to make phone calls – was very tough," she told AFP following her release.  
Whether the White House will be receptive to Rouhani's gestures remains to be seen. 
"We should hear him out but see what the actual deal is on the nuclear dossier and Iranian support on Syria. We will judge Iran on its actions, not just its words," a diplomatic source told The Telegraph. 
'We consider war a weakness'
Rouhani was also questioned on his stance regarding a possible military strike against Syria, a close ally to Iran. 
"We are not the government of Syria," he told NBC. "We are one of the countries of this region which is asking for peace and stability and the elimination of all weapons of mass destruction in the entire region." 
Rouhani did not explicitly voice his support for Syrian President Bashar Assad. However, he did respond when asked whether he viewed Obama's decision to back away from an air strike as a sign of weakness. 
"We consider war a weakness," he said. "Any government or administration that decides to wage a war, we consider a weakness. And any government that decides on peace, we look on it with respect to peace."
Peace for Middle East?
In a change of tone to his predecessor, Rouhani took a softer line on Israel, stressing that Iran wanted peace for the Middle East. However, when asked over Israeli Prime Minister Benjamin Netanyahu's statements that he was "a wolf in sheep's clothing," he answered that Israel "shouldn't allow itself to give speeches about a democratically and freely-elected government."

Rouhani also sidestepped questioning over the Holocaust which his predecessor had claimed was a "myth."

"I'm not a historian. I'm a politician," he replied. "What is important for us is that the countries of the region and the people grow closer to each other, and that they are able to prevent aggression and injustice."

President Hassan Rouhani has sought to emphasize his position as a moderate since his June election, looking to open dialogue with the US over Iran's alleged nuclear program. Previous President Mahmoud Ahmadinejad had become notorious for his controversial speeches, threatening to wipe Israel from the map and calling the Holocaust "ambiguous and dubious."

You can share this story on social media: