New US sanctions on Iran target currency and automobile industry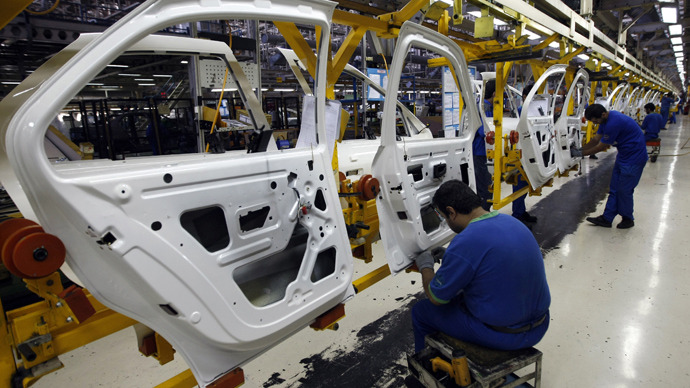 President Barak Obama has announced new economic sanctions against Iran, targeting the country's currency and its automobile industry in a bid to force Iran to abandon its pursuit of nuclear weapons.
The new economic sanctions were announced Monday, following demands from the Congress to increase pressure on Tehran in reply to the State's unwillingness to compromise with the West's demands to pull out its nuclear development program.
The latest sanctions are aimed to weaken Iran's economy by devaluing its currency, so that the country will have to seriously consider abandoning their nuclear developments, which Iran claims are peaceful.
The new sanctions will stop large transactions involving the Iranian currency in foreign banks. It is expected to further lessen the value of rial, which has already slid by two-thirds since June 2011. Foreign financial institutions that do business in Iran's currency outside of Iran, will be banned from keeping large amounts of the money, and also from conducting derivative or swaps deals based on the rial's value.
"The idea here is to make the rial essentially unusable outside of Iran," a senior administration official said following the announcement.
According to the Iranian parliament's deputy speaker Mohammad Reza Bahonar, the authorities can stabilize the rial. "The government has no lack of currency and can inject it into the market for a long time," he is quoted by the Mehr news agency as saying.
The rial was trading at about 37,500 to the US dollar in the free market on Tuesday, having slid from around 34,200 at the close on Monday, Reuters reports referring to a foreign exchange trader in Tehran. Other traders, who preferred to remain unnamed, spoke of 38,000 or even 40,000 marks.
New sanctions will also strike Iran's auto industry, which is seen by the US as a cover to supply the nuclear infrastructure.
The new sanctions that will come into effect on July 1, are being imposed just a month before the presidential election in Iran, due on July 14. The US did something similar in 2009, when it presented the world with a package of sanctions just weeks before the previous presidential election in Iran.
"This is a significant step up in the force and reach of our sanctions, but there is more to come," LA Times quotes a senior Obama administration official who preferred to remain anonymous.
According to the Los Angeles Times, US experts do not believe that the new sanctions will influence the election, which will see eight conservative candidates running for the top post.
BBC News reports that all eight approved candidates are "considered hardline conservatives". All reformist candidates, including former president Ali Akbar Hashemi Rafsanjani, have been barred from the race by Iran's supervisory electoral body.
You can share this story on social media: