Iran reinforces nuclear rights, OKs atomic merchant ships
Published time: 16 Jul, 2012 07:56
Edited time: 16 Jul, 2012 11:56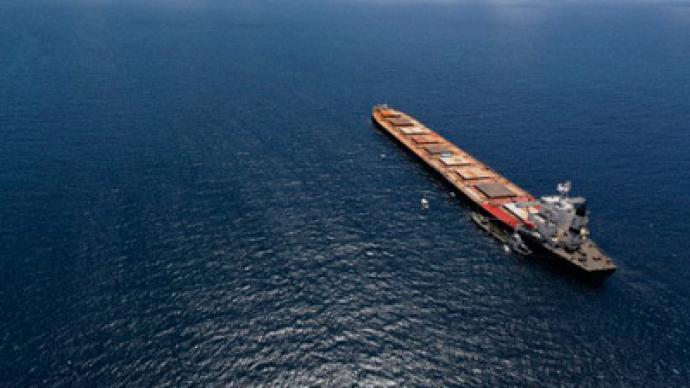 Iranian lawmakers have given the green light to design and construct atomic-powered merchant ships. The move underlines Iran's argument that its nuclear activities are for civilian purposes, while the West suspect it of building atomic weapons.
A parliamentary committee has pushed through a bill approving the nuclear merchant ships project, reported semi-official Iranian news agency Mehr.
Mehr quoted MP Mohammad Bayatian as saying that the international sanctions placed on Iran for its alleged nuclear weapons program have forced the country to look for alternative fuel sources. As part of the sanctions many countries now refuse to sell fuel to Iran.
"Given the sanctions that enemies have imposed against our country, the bill must be enacted," Bayatian said.
Iran categorically denies Western allegations that it is developing atomic weapons and defends its right to a peaceful nuclear weapons program.
The International Atomic Energy Agency says that nuclear-powered merchant vessels are rare and uneconomical and there is some speculation as to whether Iran has the funds or resources to construct such vessels.
­
'Too expensive to operate'
Nuclear-powered commercial vehicles are very rare because of high costs. There have only been four attempts to construct commercial nuclear vessels. The first one was America's "NS Savannah" (operated 1962-1972), then German-built "Otto Hahn" (operated 1968-1979), a cargo ship that sailed some 650,000 nautical miles without any technical problems, and Japanese-made "Mutsu" (operated 1970–1992), which never actually carried any commercial cargo.
All three ships were eventually decommissioned because they were too expensive to operate and are now on display in showrooms. The only commercial ship that still operates is Russia's Soviet-made "Sevmorput" (1988–present), currently stationed in the Arctic.
The bill follows an announcement by a senior Iranian naval official, claiming that Iran has taken the "initial steps" in designing its first nuclear-powered submarine.
Admiral Abbas Zamini told Iranian news agency Fars that the first stages of designing a nuclear propulsion system were underway. Zamini said such advances were necessary in order to carry out long-distance missions.
"All countries have the right to use peaceful nuclear technology, including for the propulsion system of its vessels," he stressed.
Western nations have voiced fears that Iran may be using the construction of nuclear submarines as a pretext to produce enriched weapons-grade uranium. Many US military submarines are powered by uranium fuel enriched to more than 90 percent, the same grade that is used in atomic bombs.
­
Nuclear stalemate
The International Atomic Energy Agency (IAEA) has been attempting to gain access to Iranian nuclear facilities to assess the validity of allegations of atomic weapons production.
The United States, France, Russia, Germany, Britain and China have called on Iran to immediately halt any nuclear activity that could aid in the development of a nuclear bomb. They have implemented heavy financial sanctions on the Islamic Republic with a view to pressuring Iran's government into complying.
In order to break the political stalemate "a grace period with no adverse consequences in case their full transparency with IAEA inspectors reveal past wrongdoing," said former Chief UN Nuclear Inspector Pierre Goldschmidt.
Iran seeks international recognition of its right to refine uranium and an end to the sanctions that are crippling its lucrative oil industry.