Iran 'indicts' 18 suspects over multiple nuke scientist murders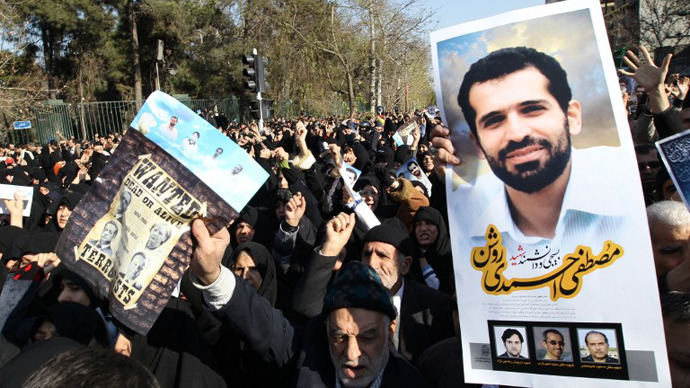 The Iranian judiciary has indicted 18 suspects on charges of involvement in the assassination of the country's nuclear researchers, Iranian media report. They are expected to stand trial in the coming months.
The latest information on the case comes from the semi-official Mehr agency, which quoted Tehran chief prosecutor Abbas Jafari.

"Eighteen suspects have been charged and indicted [over the nuclear assassinations]. We will see them on trial next year," Press TV quotes an Iranian judicial official. Next year - on the Persian calendar - starts on March 21, 2013.

The official added that the Prosecutors' Office collaborated with the Intelligence Ministry to bring in and indict those 18 suspects.

No other details have been reported so far.

Several Iranian nuclear scientists have been assassinated in recent years, with Iran blaming Israel and the US for both the murders and attacks on its nuclear research sites. The two countries deny the accusations.

In the fifth attack in two years, on January 11, 2012, 32-year-old Iranian scientist Mostafa Ahmadi Roshan was killed, together with his driver. A year before that, a University professor and nuclear scientist Massoud Ali Mohammadi were killed in a bomb attack in Tehran.

Another university professor, Majid Shahriari, was killed in a similar bombing in November 2010. His colleague, Fereidoun Abbassi Davani, survived that attack and later became the head of Iran's Atomic Energy Organization.

In July 2012 the Islamic Republic announced that an investigation had led to all of the suspected terrorists, responsible for the assassinations, being identified and arrested.

In December, the Islamic Tehran issued indictments against 18 unnamed current and former American officials on charges of involvement in "crimes against Iran."

Back then it was unknown if any of the men were present in Iran. It was only reported that that charges against the Americans included involvement in terrorist attacks.

You can share this story on social media: