Inside Syria: Govt forces 'apply step-by-step tactics to reduce civilian casualties' (Op-Ed)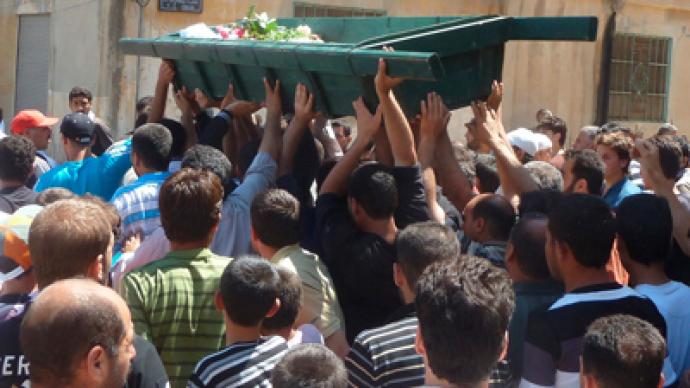 Fighting in cities along the Syrian coastline continues. The government forces are reported to be trying to cut insurgents from their arms and stock supplies and reduce civilian casualties in the fighting.
Consultant and peace activist Christoph R. Hörstel told RT that his information "is directly obtained from Syrian security personnel of various origins personally taking part in battles and other operations, and/or close relatives of such personnel – some are even well-known people."The information reaches me through a partner in Turkey. I counter-check all information obtained this way as best as possible under the circumstances," Hörstel said.He gives an outline of the military's activities from Syria.
Homs
Home-to-home insurgent or terrorist searches have been going on since noon, as announced yesterday.Tanks and heavy artillery moved to surround the northern part of Homs, called Khaldiyeh, on Tuesday.Weapons stocks, mainly rocket-propelled grenades (RPG), mines, chemicals, mortars and huge amounts of bullets and hand grenades were destroyed yesterday by helicopter, tank or artillery fire. However, today 14 more of those stockpiles have been discovered at the basements of buildings.The Syrian army appears to have learned from previous mistakes and applied better tactics: To avoid heavy losses, snipers are sent to occupy the rooftops directly after tank, artillery and helicopter fire has stopped.Step-by-step tactics are carried out to reduce civilian casualties. Terrorists are estimated to be several hundred strong. They keep the civilians in neighboring buildings or flats, where they also stockpile their supplies. Newly-discovered weapon stockpiles are therefore being blown up only after the areas close by are evacuated.Fugitive terrorists are in small numbers. They try to run to the mountain ranges close by, forcing kidnapped civilians to join them. Those who refuse to come along or appear physically unable to do so are killed.Thus, among the civilian casualties, mostly the elderly, babies and small children with their mothers or other women can be found. Men are being forced to fight against the Syrian army lest they too be killed.
Al Khaldiyeh
According to sources, military operations follow a simple formula: Firstly, artillery fire is applied for a warning, then helicopter fire, and after that tank fire. Finally heavy artillery is shelling according to the coordinates given from the helicopters and human intelligence in the area.All communication is being monitored and tracked by the Syrian army. Because all power lines are cut off, the army is in a hurry to complete "sectoral searches" during daylight.Khaldiyeh is especially important, because in this sector insurgents have stockpiled communication devices, carried out training and planning. It is located between Rastan and Homs. Weapon stockpiles and consequently, clashes between insurgents and army forces are not as heavy as in Homs or in Hama.Rastan is a countrywide hub for insurgent logistics and transportation. For this reason the Syrian army destroyed all highways leading in and out of the sector. Before the siege, tanks destroyed all possible unsealed escape routes. Fighting tactics here are same as in Homs and Hama.Buildings are burning intensely not because of ammunition used, but because of stockpiles of chemicals stocked, which are used for improvised explosives manufactured in the areas of Rastan and Khaldiyeh.The Syrian army does not have the capability to take in all the fugitives and civilians who are being tugged along by terrorists. That is why from time to time nearby villages are also suffering from clashes. But generally the army is mainly concentrating on areas with insurgents' supply stockpiles.The Syrian Army knows fully well, that they will be strongly criticized for the urban warfare tactics, taking all the risk of being blamed when civilians get hurt in places that were officially declared "safe".The army allows civilians back into siege areas to bury the dead. They move cautiously, to the outskirts of the cities from the rural zones where they had previously taken refuge.Soldiers are killed and wounded mostly by anti-tank RPGs, mortar and hand grenade attacks.Remaining insurgent forces are now trapped in Khaldiyeh and Rastan. Attack operations are expected to continue all day tomorrow. House-to-house searches will start the day after tomorrow. Fighting in Rastan takes time.
Christoph R. Hörstel for RT
Сhristoph R. Hörstel is managing director at Hörstel Networks, Government & Business Consulting. http://syria-help.blogspot.de/