Assad on Houla: 'Not even monsters would carry out such an ugly crime'
Published time: 3 Jun, 2012 12:30
Edited time: 3 Jun, 2012 22:56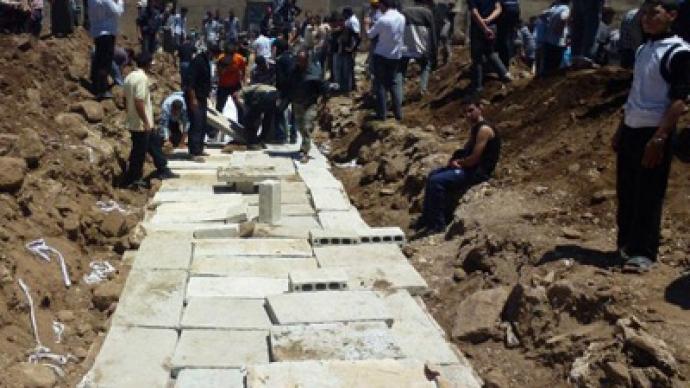 Syria's president announced his country is facing a "real war" and blamed terrorists and outside forces for the violence. The defiant speech comes a day after the UN special envoy warned that the specter of all-out civil war grows daily in Syria.
Speaking to the newly-elected parliament in his first speech since January, Bashar al Assad promised he will not be lenient with the terrorists he believes are behind bloodshed in the country.
Assad also announced his government has nothing to do with the Houla Massacre, which claimed the lives of more than 100 people, nearly half of them children.
"What happened in Houla and elsewhere (in Syria) are brutal massacres which even monsters would not have carried out," he said.
The UN Security Council has strongly condemned the killing of civilians in Houla and demanded that the Syrian government immediately cease the use of heavy weapons in population centers and pull back its troops.
In a recent resolution, the UN Human Rights Council has called for "a special inquiry" into the massacre and emphasized the continued failure of the Syrian authorities to protect and promote the rights of all Syrians.
Russia voted against the resolution and on Sunday the Russian Foreign Ministry stated that its text is unbalanced as the responsibility over violence in the country is only put on the Syrian government, without mentioning armed opposition forces.
Moscow demands that no conclusions be made about who is responsible for the violence until the UN Supervision Mission in Syria finishes its investigation into the Houla killings.
Russia also says the UN Human Rights Council has exceeded its mandate as its resolution contradicts the statement made by the Security Council.
Following the last week's shelling of Houla, many Western countries expelled Syrian diplomats and further international isolation of Assad's government.
The president blamed the crisis in his country on outside forces.
"The masks have fallen and the international role in the Syrian events is now obvious," he said in a rare televised speech delivered in parliament.
Violence broke out after the Assad's government responded with crackdown on peaceful protests, and the conflict morphed into a military uprising in March 2011.
Fourteen months of armed standoff have left 9,000 people dead, according to the toll put by the UN few months ago, though hundreds more reportedly have died since.
"A battle was forced on us, and the result was this bloodshed that we are seeing," Assad told the parliament.
His defiant speech comes just day after UN and Arab League special envoy on Syria Kofi Annan warned, "The specter of all-out civil war, with a worrying sectarian dimension, grows by the day."
Kofi Annan's plan is the only chance for "any potential peaceful solution", Sara Marusek, a Middle East researcher at Syracuse University, told RT.
"It is really only the Kofi Annan plan that is allowing the Syrian people to voice their own desires for Syria's future," she said.