Expulsion of Syrian ambassadors counterproductive – Moscow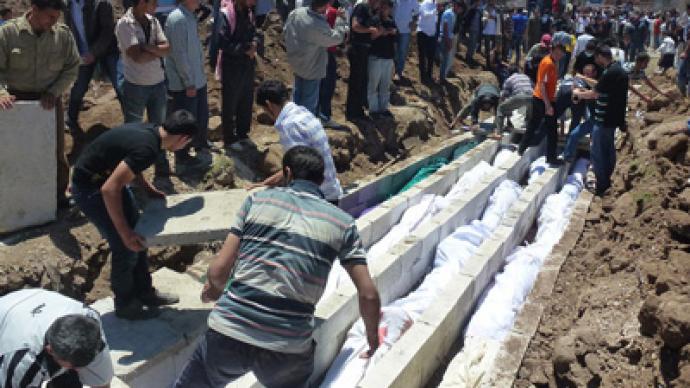 The Russian Foreign Ministry has said the expulsion of Syrian ambassadors from Western capitals over the Houla Massacre shuts down crucial channels for constructive dialogue with Damascus.
"We can comment on this decision only in view of international efforts to promote a peaceful settlement of the Syrian crisis," the ministry's spokesman Alexander Lukashevich said on Wednesday. As countries – members of the so-called Friends of Syria group – kick out Syrian diplomats "the most important channels, which could be used to share views and exert a constructive influence on the Syrian government for its encouragement to further steps to fulfill Kofi Annan's peace plan, turned out to be sealed off," he stated. Lukashevich pointed out that the West does not want to listen to Damascus, which is harmful for the situation in current circumstances. The official reiterated that Russia's approach regarding the issue is based on different logic. "We do everything possible to reduce the degree of the confrontation between the Syrian sides. In this respect we maintain intensive contacts not only with the Syrian government, but also with various opposition groups," Lukashevich stated as cited on the ministry's official website. Moscow believes it is necessary to act strictly in compliance to Kofi Annan's peace plan, "to which we see no alternative at the moment." Earlier, Syrian envoys in capitals across the globe – ranging from Washington to Tokyo and from London, Paris, Berlin to Canberra – were declared personae non grata and ordered to leave. The move followed the massacre in the town of Houla that killed 108 people, many of whom were women and children. The West blamed President Bashar al-Assad's regime for the tragedy. Meanwhile, official Damascus denies any involvement in the bloody events. "The Houla Massacre is the doing of armed terrorist groups," Syrian Ambassador to Moscow Riyad Haddad told Interfax. According to the diplomat, there were citizens of other countries among the attackers, including Tunisia, Libya and Turkey. "We believe Al-Qaeda is also involved in this tragedy," Haddad said.Commenting on the expulsion of Syrian diplomats, he pointed out that the countries that made these decisions acted "injudiciously.""There are no investigation results yet. What makes them think that the government is fully responsible for this tragedy?" he said. The diplomat believes that these countries decided for themselves long ago who to blame for the Syrian conflict and are simply following that course now.
You can share this story on social media: