Inquiry launched over UK train derailment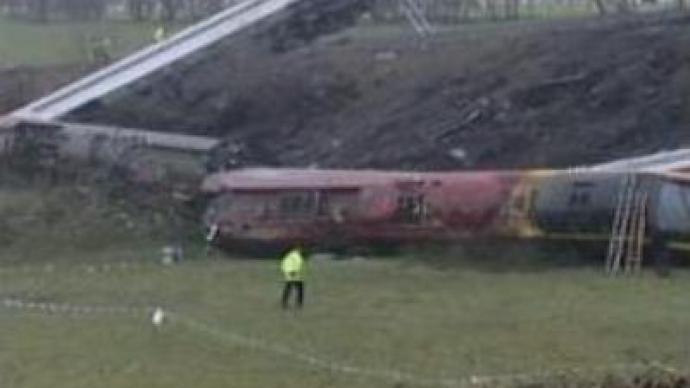 An inquiry is underway in Britain after a high-speed train derailed in the north of England, killing one person and seriously injuring five others. The train was traveling from London to Glasgow, when it came off the tracks in Cumbria.
Early indications suggest a set of points could be to blame.Only one of the nine carriages remained on the track. Most rolled down a steep embankment, ending up on their sides.A 80-year-old woman died at the scene. Rescuers say they are amazed more people weren't killed.120 passengers and staff were onboard the Virgin train at the time. 77 of those were injured. The train's driver is among five people seriously hurt.
"My carriage went onto its side. It came off the rails and went onto its side and rolled down, so you sort of came to and you didn't know quite where you were as the world turned upside down,"
one of the passengers said.Rail officials are all-but ruling out vandalism or a stray animal as the cause of the derailment. Transport Police say the inquiry is focusing on a set of points – the mechanical switches that guide a train from one set of tracks to another.
"All I'm prepared to say at this moment in time is that our inquiries have led us to believe that a set of points could be significant in this inquiry, but we have a lot more work to do to be done, and we won't be releasing any more details on that, until much later in the inquiry,"
said Martyn Ripley, a Chief Superintendent of the British Transport Police.Police confirmed maintenance work had been carried out on the points recently.Train operator Virgin says the derailed train was inspected in the last two weeks, and given a clean bill of health.Virgin introduced Pendolino tilting trains three years ago. They have a top speed of just over 200 kilometres an hour. West Coast Rail services between London and Lancaster have been suspended, and are not expected to resume for another week.
You can share this story on social media: