US indicts Indian diplomat, asks her to exit country amid growing scandal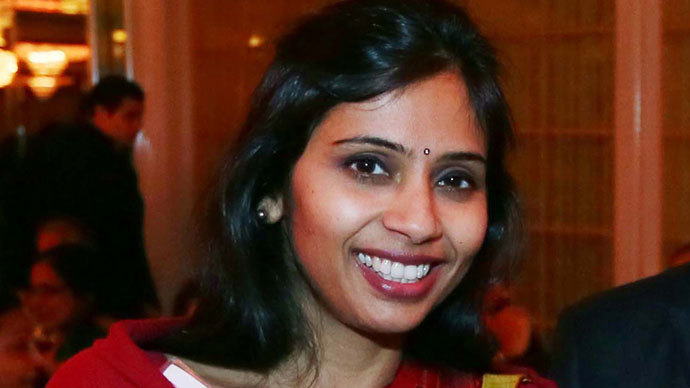 The US has asked an indicted Indian diplomat to leave the country, according to American government officials.
The Indian Foreign Ministry says Devyani Khobragade has been transferred to New Delhi. It stressed that the diplomat has reiterated that she is innocent, according to Reuters.
The news agency also cited a UN source as saying: "Khobragade is no longer in the US, as of around 10 p.m. (0300 GMT on Friday)."
Washington approved India's request to accredit Khobragade at the United Nations and then requested India to renounce the diplomatic immunity. After India rejected the request, Washington asked the diplomat to leave, Reuters quoted officials as saying.
New Delhi also asked the US embassy in India to "withdraw an officer of similar rank to Devyani [Khobragade] as reciprocal action," an unnamed Indian government official told Reuters.
The official added that the US diplomat was involved in the case relating to Khobragade.
Khobragade was handcuffed, arrested and stripped searched in December following accusations of grossly underpaying her nanny and fraudulently setting up a work visa for her.
Federal prosecutors announced the indictment on Thursday, adding that she was granted diplomatic immunity status and left the US the same day, the AP reported.
The story generated outrage in India and angry reactions by its government leading to the worst escalation of tensions between Washington and New Delhi in years.
The diplomat's arrest and the strip search part in particular incensed Indian politicians, who believe that a woman representing their country was insulted by law enforcers.
The standoff resulted in the closure of the US Embassy Club, a locale that for decades has served as a mecca for Americans working in India. The country has ordered the cessation of any commercial activities within US Embassy compound in New Delhi, where the club is located, by January 16.
New Delhi further reacted by downgrading privileges for US diplomats. US immunity has been limited, and diplomats' families were stripped of diplomatic ID cards.
Meanwhile, US Energy Secretary Ernest Moniz has announced the cancellation of an official visit to India, which had been scheduled for next week and had been considered a high priority event.
"In view of the importance of these matters to the overall bilateral relationship, we look forward to holding the Energy Dialogue at a mutually convenient date in the near future that will permit both sides to deliver concrete outcomes for both governments and our two peoples," Reuters cited an Energy Department official as saying on Wednesday.
You can share this story on social media: