Duty free alcohol freeze: India swipes back at US as spat over diplomat widens
India has announced a freeze on duty free alcohol in tit-for-tat tactics over a high-profile diplomat spat with the US. The scandal began when an Indian official complained of a humiliating arrest and strip-search including "cavity searches" in New York.
Devyani Khobragade, a deputy consul general at the Indian Consulate in New York, was arrested in the US, accused of visa fraud and false statements on payments.
"I broke down many times as the indignities of repeated handcuffing, stripping and cavity searches, swabbing, in a holdup with common criminals and drug addicts were all being imposed upon me despite my incessant assertions of immunity," Khobragade said in an email statement published in India media on Wednesday, almost a week after her arrest.
India's foreign minister, Salman Khurshid, called her treatment while in the US "completely unacceptable."
A flurry of retaliatory measures did not take long to follow.

Initially, all ID cards issued by the Ministry of External Affairs to officials at US consulates across India were withdrawn, a senior ministry source told AFP.

Shortly afterwards, Indian police removed concrete 'safety' barriers which prevented the movement of traffic around the US embassy.

Then a freeze on duty-free alcohol and food imports followed topped with promises to review work conditions and salaries of Indians working in US consulates.

"It is no longer about an individual, it is about our sense of self as a nation and our place in the world," Khurshid said as he reined in the privileges of US diplomatic staff.
"The case has caused a lot of outrage in India because the diplomat was actually humiliated…this was a very unusual incident," Brahma Chellaney, Professor of Strategic Studies at the Center for Policy Research told RT. They have also warned of the possibility of future actions, he said. "It hasn't shared those possible steps with the public yet, but there is a lot of pressure on the government in India."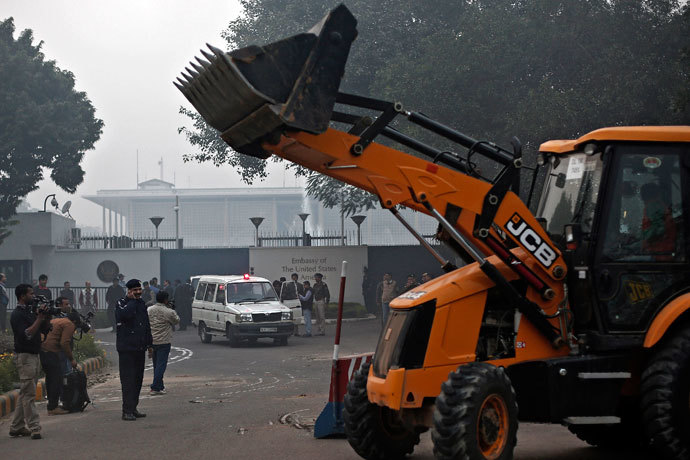 India is apparently furious with the heavy handed treatment of Khobragade, as overbearing police treatment is usually imposed upon the poorer echelons of society and considered unimaginable for an educated upper-class woman.

A small group of right wing opposition protesters gathered outside the US embassy in Delhi on Wednesday, garbed in American flags and wearing Obama masks as they demanded an apology.

"It was very good that the government removed the barriers yesterday. Until the USA says sorry, we should not give any security at all to the Americans," protester Gaurav Khattar, 33, told Reuters.
US State Department has been downplaying the controversy.
"The United States and India enjoy a broad and deep friendship, and this isolated episode is not indicative of the close and mutually respectful ties we share," spokeswoman Marie Harf said in a statement released Tuesday. Harf added that Khobragade had consular immunity which is separate from diplomatic immunity.
"We are looking into the intake procedures surrounding this arrest to ensure that all appropriate procedures were followed," Harf added.
US Secretary of State, John Kerry, expressed regret over the incident on Wednesday.

"As a father of two daughters about the same age as Devyani Khobragade, the Secretary empathizes with the sensitivities," he said. Kerry also displayed both regret and concern, stating his hope that the US's "close and vital relationship with India" would not be affected.
However, New Delhi does not seem ready to be easily pleased.
"We have put in motion what we believe would be effective ways of addressing the issue but also in motion such steps that need to be taken to protect her dignity," India's foreign minister told reporters.
You can share this story on social media: