India retaliates against US diplomats over 'unacceptable' NY consular arrest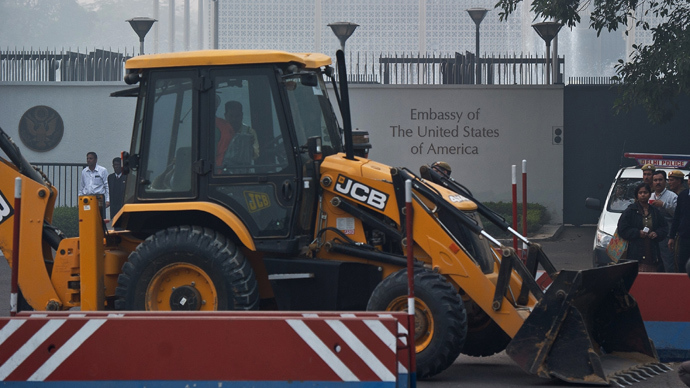 Outraged by the "humiliating" detention and strip search of a female Indian deputy consul in New York last week, New Delhi has ordered a series of retaliatory measures against the US diplomatic corps in India.
The Indian government had taken measures in response to the arrest, with foreign minister Salman Khurshid calling the treatment of Devyani Khobragade "completely unacceptable."
"We have put in motion what we believe would be effective ways of addressing the issue but also in motion such steps that need to be taken to protect her dignity," Khurshid told reporters in New Delhi.

"We have ordered the withdrawal of all ID cards that are issued by the Ministry of External Affairs to the officials at the US consulates across India," a senior ministry source told AFP on condition of anonymity.

In addition, local media reports that the government is also considering imposing a ban on import clearances for the American diplomats as well as canceling airport clearances for US officials in India.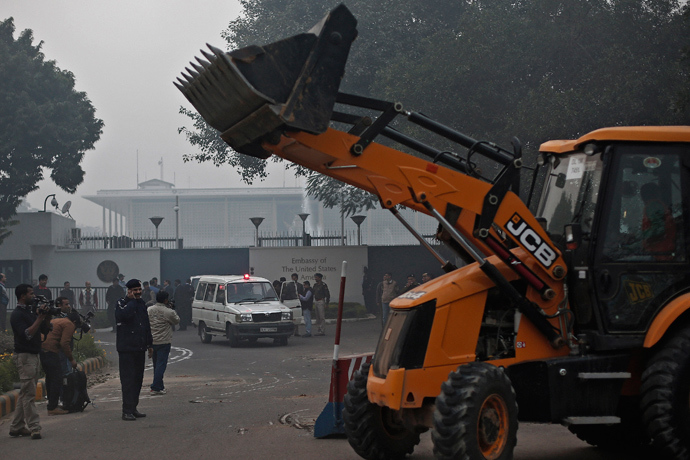 Authorities are also requesting salary information of Indian staff in US missions across the country as well as visa details of teachers employed in consulate-run schools, the Hindu reports.

On Tuesday police removed all security concrete barricades outside the US embassy and consulates that provided an extra layer of protection on public land for American diplomatic premises. The police and government employees did not officially comment on why the barricades were taken away.
Delhi Police removing barricades from outside US Embassy pic.twitter.com/7TwWjc8kmK

— ANI (@ANI_news) December 17, 2013

The government's reprisal measures were supported by the Bharatiya Janata Party (BJP), that called on the authorities to "match each and every step of the US, to take serious action in this matter to establish Indian sovereignty and prestige of its diplomatic community,'' the Hindu Times quotes.

The US actions do "not accord to the level of friendship that the Indian government claims to have with the US,'' BJP leader Ravishankar Prasad said.

"The media has reported that we have issued visas to a number of US diplomats' companions. Companions means that they are of the same sex. Now, after the Supreme Court ruling (on gay sex), it is completely illegal in our country. Just as paying fewer wage was illegal in the US. So, why doesn't the Government of India go ahead and arrest all of them! Put them behind bars, prosecute them in this country and punish them?" Prasad was quoted by local channels.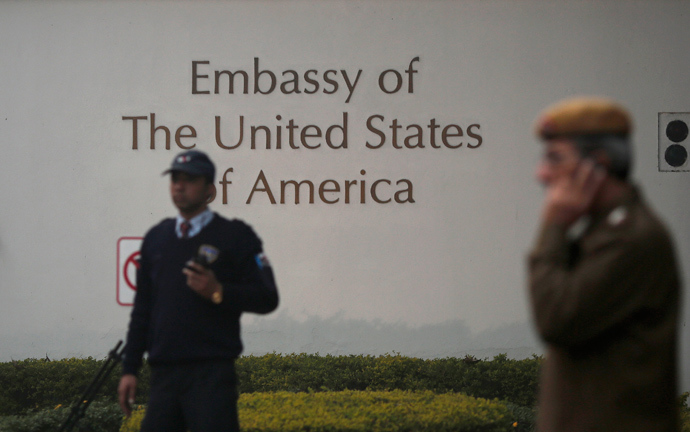 "If they are downgrading what we are entitled to as diplomats, they will also get the same treatment. This way we will both be going strictly by the rules,'' another Indian diplomat told the Hindu Times.

The scandal is also resonating at the top political level. On Tuesday, the country's Home Minister Sushil Kumar Shinde cancelled his meeting with a senior US Congressional delegation calling the treatment of the arrested diplomat unacceptable.

Vice-President, Rahul Gandhi, and BJP prime ministerial candidate Narendra Modi also cancelled the meeting with American representatives.
Refused to meet the visiting USA delegation in solidarity with our nation, protesting ill-treatment meted to our lady diplomat in USA.

— Narendra Modi (@narendramodi) December 17, 2013
On Monday Lok Sabha Speaker Meira Kumar and National Security Advisor Shiv Shankar Menon also refused to meet the US team, with Menon describing Khobragade's treatment as "despicable and barbaric."
India's deputy consul general in the US, 39-year-old Devyani Khobragade, was arrested on Thursday while dropping her daughter to school. She was handcuffed in public. Later, local tabloids read that she was "subjected to a humiliating strip search and kept in a cell with drug addicts."

The US Marshals Service confirmed Tuesday that she had been subject to strip-search.

"Yes, Devyani Khobragade was subject to the same search procedures as other USMS arrestees held within the general prisoner population in the Southern District of New York," the statement said, as cited by MSN.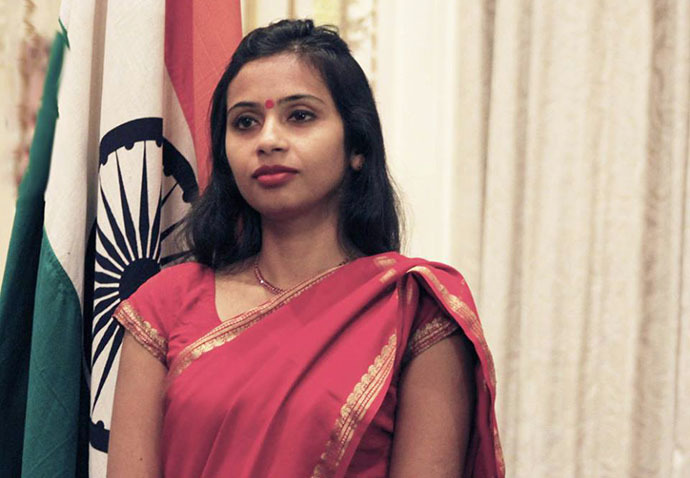 A US court has released the diplomat on a $250,000 bail. The next hearing has been set for January 13. On Friday, New Dehli called in the US ambassador to protest against such treatment.

Khobragade is accused of falsifying a visa application for an Indian national who was employed by her from November 2012 to June 2013 allegedly for less than four dollars an hour, an offence which carries maximum sentences of 10 years in prison.

On Tuesday, US State Department deputy spokeswoman Marie Harf said Washington was reviewing the incident "to ensure that all appropriate procedures were followed and every opportunity for courtesy was extended."

"The United States and India enjoy a broad and deep friendship, and this isolated episode is not indicative of the close and mutually respectful ties we share," she said in a statement.
A day earlier Harf noted that US authorities "followed standard procedures" during the arrest claiming that Khobragade did not have full diplomatic immunity as it only applies to duties performed as a consular official.
The father of the diplomat, Uttam Khobragade, claimed that the Indian government supports Devyanmet after he met with the Union Home Minister Sushil Kumar Shinde on Tuesday.

"The home minister has said the government is answerable for her security and liberty. The whole government is supporting us and that she was on duty, and hasn't committed any crime. What happened was absolutely atrocious. She is liable for diplomatic immunity," Khobragade was quoted by dnaindia.com as saying.

"The government will try to get the charges against her dropped. He also assured us that no harm will be done to her," he added.
You can share this story on social media: