Journalist killed as India gripped by anti-rape and anti-molestation protests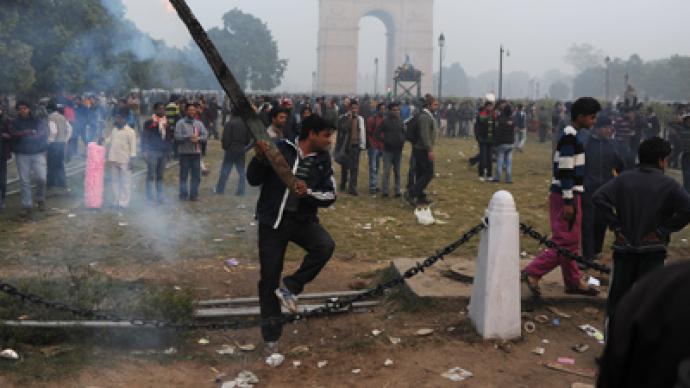 A reporter was killed in eastern India as police fired on a violent rally which called for the arrest of a man accused of molesting a film star. In New Delhi, police used tear gas to disperse thousands of protesters angered over a recent gang-rape.
For a second consecutive day, India was gripped by protests over widespread violence and abuse against women in the country. The rallies continued despite a government-imposed ban on gatherings of five or more people in areas of unrest.In India's eastern state of Manipur, local reporter Nanao Singh, 26, died at a hospital after sustaining deadly wounds from police gunfire. Security forces fired tear gas and rifles to break up a strike called by a film union, India's NDTV reported. The strikers torched a police car, lit tires on fire, hurled stones at police and obstructed roads in a popular Christmas shopping area.News of the death sparked further unrest across the state, and more vehicles were set ablaze. Authorities responded by re-imposing a just-lifted curfew.Demonstrators in Manipur called for the arrest of militant Livingstone Anal, who allegedly molested local film star Momoko right on the stage as she performed at a concert on Tuesday. The strike began on Saturday and resulted in a curfew being imposed until Sunday morning.In the capital New Delhi, thousands gathered for a second day of protest after police arrested six men who brutally beat and gang-raped a 23-year-old student.Police used tear gas, water cannons and batons to hold back the swelling crowds, which consisted mostly of students and women. Around 35 people were injured in the New Delhi protests on Sunday, including several police officers.
Protesters and police faced a standoff after ralliers attempted to march to the president's mansion but ran into barricades and a wall erected by hundreds of law enforcement officers. The demonstrators tried to break down the barriers with steel rods and stones, but were eventually dispersed. Rioters also torched several cars and made bonfires, police said.
The protesters demanded that authorities take steps to protect women's rights; some also called for the rapists to be given the death penalty. The crime took place a week ago, when the victim and her friend were attacked on a charter bus by a group of six drunken men armed with iron rods. After raping the girl for an hour, they dumped her and her beaten friend on the side of the road at high speed. The victim's condition is still critical, but stable, doctors said.Initial protests began on Saturday and continued into the night, prompting Indian National Congress President Sonia Ghandi to personally address the demonstrators short after midnight. Home Minister Sushilkumar Shinde also promised to consider the protesters' demands for the death penalty for all six men.
Following the incident, Indian authorities pledged to ensure better police patrolling, install GPS on public transport, dispatch more buses at night and to speed up court proceedings for rape crimes.Slow courts remain one of the reasons why rape is underreported in India. The major reason, however, is that families fear the stigma that might follow the victim and her relatives. Sky News interviewed a girl whose father committed suicide out of shame after her rapists posted pictures of their crime around her home village.Crimes against women are on the rise in India, and public anger is growing at the authorities' apparent inability to stio them, analysts said.
You can share this story on social media: