Anti-rape rage in India: Rail stations, roads blocked in weeklong protests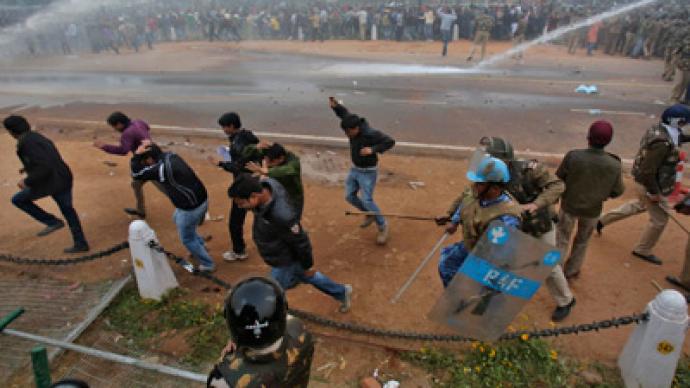 Authorities have shut down roads and railway stations in the Indian capital in a bid to halt weeklong protests over the brutal gang-rape of a young woman. The country's Prime Minister has called for calm amid the public outrage gripping India.
Thousands of armed police and soldiers blocked off roads, railway and metro stations in the center of New Delhi to prevent protesters from marching on the presidential palace. Demonstrators shouted slogans such as, "We want justice," "Don't teach us what not to wear. Teach your sons not to rape girls," and "Government belongs to us, not to anybody's father." The capital is currently experiencing massive traffic jams due to the barricades.
Indian Prime Minister Manmohan Singh has come under fire for his slow response to the incident; he gave an unusual televised address in response only a week after the crime. "There is genuine and justified anger and anguish at this ghastly incident, but violence will serve no purpose," Singh said. "I feel deeply sad at the turn of events leading to clashes between protesters and police forces. I assure you that we will make all possible efforts to ensure security and safety to all women in this country. As a father of three daughters myself, I feel as strongly as you. We will ensure justice is delivered."The premier's calls for calm were echoed by the raped girl's father, who told local network News 24, "Please pray for my daughter and do not resort to any violent activity."Police clashed with protesters during several days of demonstrations, firing tear gas and water cannons and bludgeoning protesters with batons. The protests continued despite repeated assurances by Home Minister Sushilkumar Shinde he would consider the demand that all six suspects face the death penalty.The minister also said that the Indian government would press for day-to-day hearings in similar cases, and would ask the governor and chief minister to activate committees of home guards and civil defense personnel at every police station.The largest protests were in New Delhi on Saturday, which saw security forces cordoning off areas around government buildings. Fresh clashes erupted on Sunday, during which more than 100 people were injured, including 60 policemen, AFP reported.New Delhi is infamous for its high rates of sexual violence – police record a rape once every 18 hours. However, most sex crimes go unreported.
You can share this story on social media: