'90 percent of Indians idiots': Press watchdog goes on rant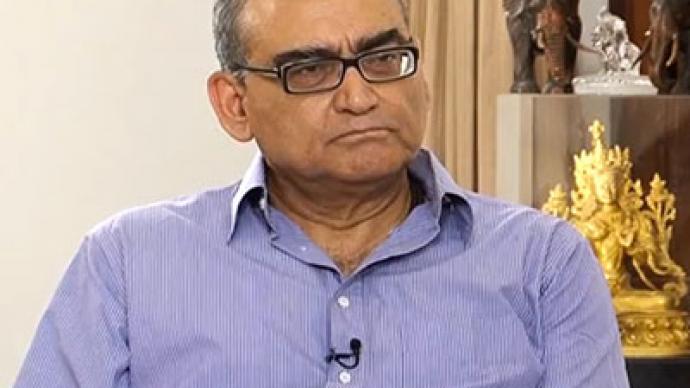 Press Council chief Markandey Katju has said that 90 percent of Indians are "idiots" who are easily taken advantage of by the country's religious factions.
­"I say 90 percent of Indians are idiots. You people don't have brains in your heads… It is so easy to take you for a ride," local media quoted Karju as saying during a seminar. Katju is the head of a quasi-governmental organization that acts as a watchdog of the country's print media.

Katju argued that it is very easy to ignite a religious riot in the country, claiming that one can simply show disrespect in a place of worship to spark a conflict. He also blamed colonial-era UK policies of discrimination towards India's Muslims and Hindus as a reason for the country's alleged current social woes.

"Today 80 [percent of] Hindus are communal and 80 [percent of] Muslims are communal. This is the harsh truth, bitter truth that I am telling you. How is it that in 150 years you have gone backwards instead of moving forward because the English kept injecting poison. The policy that emanated from London after the mutiny in 1857, that there is only one way to control this country, that is to make Hindus and Muslims fight each other," Katju said.

The official also claimed that divisions had arisen from the language propaganda that decreed Hindi and Urdu to be the native tongues of Hindus and Muslims, respectively.

"The cause of the Kashmir problem is the partition of India on a totally bogus basis – the two nation theory, that Hindus and Muslims are separate nations," he said.
The Kashmir conflict is nearly 60 years old, and involves a territorial dispute between India and Pakistan over the Kashmir region, which is partly controlled by the two countries.
Katju justified his remarks as part of his intent to educate the Indian people, and explain the causes behind religious conflict in the country.