Gunboat diplomacy: Indian navy ready to set sail to South China Sea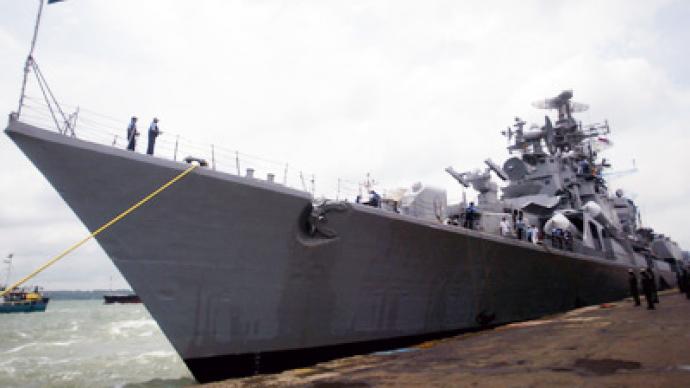 India will deploy warships to the South China Sea if the country's regional interests are compromised, the Indian Navy commander said. As China bolsters its military, the region has witnessed rising tensions over unresolved territorial disputes.
India is not directly involved in any of the disputes, but its national interests are tied to the turbulent region, Admiral D K Joshi said on Monday, a day ahead of India's Navy Day. Delhi may deploy its forces to the region if the situation deteriorates."Are we preparing for it? Are we having exercises of that nature? The short answer is 'Yes,'" Joshi said.India's prime concerns in the dispute are freedom of navigation for all countries, and the extraction of oil by a subsidiary of the Indian Oil and Natural Gas Corporation (ONSC) off the Vietnamese coast, he explained.The Indian Navy's military actions are a bit late, but meant to defend the country's interests in the region, Sreeram Chaulia, the dean of the Jindal School of International Affairs, told RT."It's seen as a belated but necessary move by the Indian military to be able to say that if our interests are now so widespread, then we will also need to show our capabilities to defend our interests come what may. And of course, the situation in the South China Sea has been deteriorating in terms of security and a high level of competition and bickering between some ASEAN countries and China," said Chaulia.
ONSC Videsh operates three oil exploration blocks in the region. The company announced its possible withdrawal from one of the blocks this year over difficult drilling conditions and unclear prospects on returning a profit, but eventually stayed after Vietnam offered to extend the contract.However, the territory is contested by China, which claims ownership of the area. Beijing has objected to India's drilling program, but Delhi dismissed the concerns."Should there be a need for some protection [to the ONGC], the Navy will be called upon and we will do that," Joshi said.Joshi made his remarks as Indian national security advisor Shiv Shankar Menon visited China to for talks with Beijing's new leadership. Delhi aims to bolster its military forces to counter a similar buildup in China."We have 44 warships and submarines on order, 42 of them in Indian shipyards. Over the next five years, we expect to induct five to six warships/submarines per year," Joshi said.In spite of this fact, India's naval forces are not strong enough to challenge Beijing, Chaulia told RT. "I think that India's naval chief's statement is more about enhancing on capabilities. He's saying that we're trying to be more prepared. Certainly the eastern command of the Indian Navy is no match to the People's Republic of China Navy… There is no comparison," Chaulia said.Vietnam will set up civilian patrols, backed by marine police and a border force, beginning January 25 to stop foreign vessels from violating fishing laws in Vietnamese waters. The move is seen as a response to Chinese media publishing new rules stating that police in the southern Chinese province of Hainan can board and seize foreign vessels in the disputed territories.The oil-rich South China Sea has seen a number of territorial disputes between nations in the region, including China, Japan, Philippines, Indonesia, Taiwan, Singapure, Vietnam, Cambodia and Malaysia.The Chinese naval buildup, which includes the ongoing sea trials of the nation's first aircraft carrier, have troubled its neighbors, who say that Beijing's military superiority gives China undue leverage in the disputes.Joseph Cheng, a Hong-Kong based political analyst, said the latest tensions are about showcasing military might: "Because of domestic nationalism, the Indian government can't afford to be seen to be weak in dealing with China. Chinese authorities, on one hand, have to satisfy domestic nationalist sentiment, and at the same time, it would like to avoid serious conflict, an escalation of tension with its neighbors."