China 'sharpens response', starts military exercises near disputed islands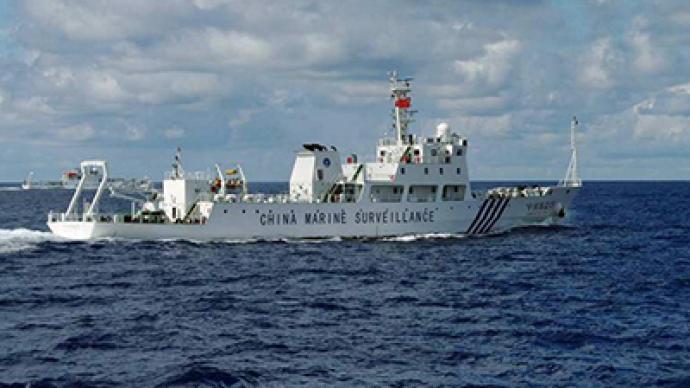 The Chinese navy is set to begin joint military exercises on Friday in the East China Sea. The exercises will take place on the doorstep of the islands at the heart of the recent tensions between Japan and the mainland.
The exercises were announced on Thursday, and will include vessels from the Chinese fishing agency and maritime surveillance. China's Xinhua news agency reported that a total of 11 navy vessels and eight naval aircraft will participate in the maneuvers, "improving coordination between the navy and administrative patrol vessels and sharpening their response to emergencies in missions to safeguard territorial sovereignty and maritime interests," according to a Chinese navy statement. The latest round of saber-rattling comes amid high tensions in the East China Sea following the Japanese acquisition of several disputed islands in September. The islands, called Senkaku in Japan and Diaoyu in China, have long been administered by the Japanese, but are claimed by China, as well as Taiwan. After the Japanese government purchased the islands from a private owner on September 5, tensions in the region escalated dramatically. Chinese and Taiwanese flotillas immediately set sail for the islands, only to be pummeled by Japanese water cannons.Xinhua also quoted the Chinese fleet statement as saying that fishing patrol vessels in the area had been "stalked, harassed and even intentionally interfered with by foreign vessels, greatly challenging their duties."Chinese fishing boats have repeatedly claimed territorial fishing rights in the region.Adding weight to the conflict over the uninhabited islands are the suspected large natural gas reserves in the surrounding waters.
Exercises 'legitimate', economics in play
Japanese TV channel Fuji TV first reported that Chinese vessels were maneuvering towards the disputed islands on Tuesday, and that Japanese military surveillance aircraft had been dispatched to monitor them, citing government sources.  In response, China's Ministry of Defense issued a statement stating the "Chinese navy vessels' routine training and navigation in the waters in question is justified and legitimate."If the Chinese ships attempt to breach Japanese-controlled waters, it would inflame a situation which is unstable at best. The past month has seen violent anti-Japan demonstrations across China, while several Japanese companies and manufacturers have hoisted anchor, closing their stores and factories on the mainland in response. Dr. Joseph Gerson, an expert in Asia-Pacific affairs and programs director at the American Friends Service Committee, told RT that although the islands remain a dangerous flashpoint for the two nations, the importance of China-Japan economic ties may outweigh the consequences of full-scale war."They're both competitors and partners in trade," he said. "During the last crisis over these islands, the Chinese, at least for a period of time, embargoed the sale and trade of rare earth, which is essential to Japan's high-tech economy. At the same time, China needs Japanese investment, so a war would cost both, and I think that's one reason why it didn't happen," Gerson said.Gerson added that while the situation had calmed somewhat after a short period on the brink of crisis, it could still "flare up at any time that it meets the interest of political leaders seeking to manipulate the situation."
You can share this story on social media: