Deadly clashes trigger 10,000 'preventative arrests' in rural India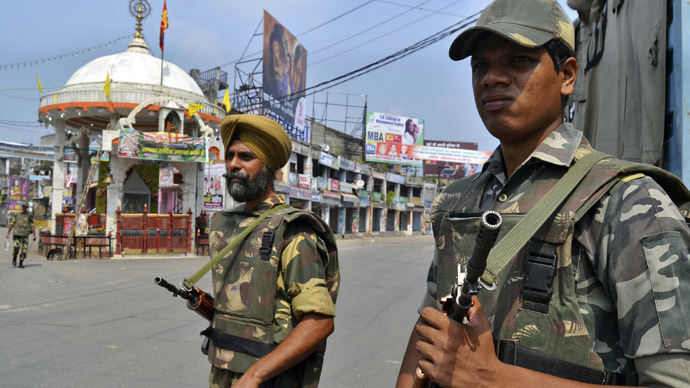 Indian authorities have arrested 10,000 people in the northern state of Uttar Pradesh in an attempt to curb religious violence that has claimed 38 lives, local media reports. Thousands of villagers are leaving the area after five days of violence.
Clashes erupted in the Muzaffarnagar district of Uttar Pradesh on Saturday when tensions between Hindus and Muslims in the area spiraled out of control. As a result of the violence, at least 38 people were killed and 93 injured, while a further 10,000 people have fled the area and taken refuge in relief camps in the region.

"A staggering 10,000 – mostly poor villagers – have been displaced in the communal flare-up, some of who have found their way to 10 state relief camps," Uttar Pradesh's Home Secretary Kamal Saxena told The Times of India.

Poor villagers are living in fear after attackers torched properties and attacked children and law enforcement officers.
To bring the violence under control, local authorities enforced a curfew until Wednesday and put 10,000 people under preventative arrest, New Dehli TV reported Thursday. They have also confiscated over 2,000 weapons and initiated seven cases under the National Security Act.

Tensions have been building in one of India's poorest provinces ahead of next year's elections that are expected to be held in May. Frictions between Muslims and Hindus dominate local politics with candidates seeking to curry favor by promising protection to various religious groups.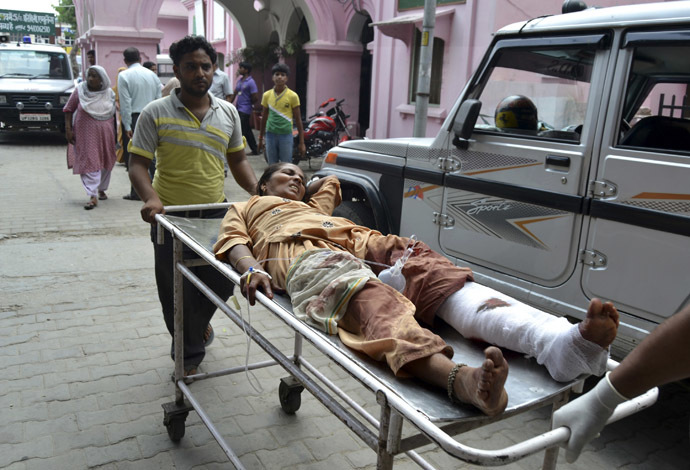 Professor Sudha Pai from Jawaharlal Nehru University told Reuters that something must have happened to trigger the wave of violence and upset the balance between the region's religious groups.
"On the whole, these communities have lived side by side. This has been fomented. There is no doubt about it," Pai said.
Several politicians were barred from entering the Muzaffarnagar area on Monday by police, who said their presence would only aggravate tensions in the area.
Minister for Uttar Pradesh, Sushilkumar Shinde, laid the blame for the rising violence at the feet of local politicians, who, he said, were not doing enough to help curtail the violence.
Akhilesh Yadav, whose Samajwadi Party relies on Muslim votes, pointed the finger at the Hindu nationalist Bharatiya Janata Party (BJP).
"A minor scuffle between two individuals has been blown into a riot simply because of being fueled by BJP leaders ... who have nothing else to bank on at a time when general elections are not far away," Yadav said.
Police accused six local politicians of making inflammatory speeches on Saturday at a political rally. According to some reports violence erupted when an angry mob attacked a vehicle following the event.
You can share this story on social media: