Zombies vs Humans: Let the race begin
Pine forests surrounding the serene Spanish town of Chiloeches have been invaded by zombies as some 400 "human racers" took part in a 5 kilometer run through various obstacles as they were randomly attacked by brain hungry zombies.
This is the third time the Spanish town has hosted over 1,000 participants to participate in "Run for your life" race. This type of an event is the only race that combines horror and sport in Spain.
Before the race "human" participants stretched and prepared for the run while professional makeup artists helped their rivals transform into full-scale zombies.
Each "human" was given three lives, which are represented with three red ribbons hooked to runner's belt.
Then the 5 kilometer obstacle course begins to test your speed, strength and endurance through miles of man-made and natural obstacles—all while being chased by merciless zombies.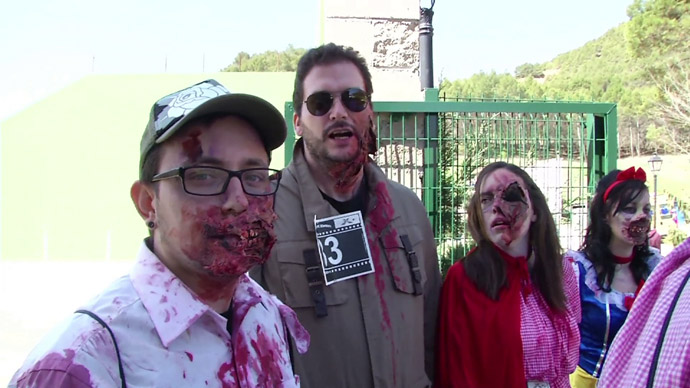 Zombies can be grouped into hordes that create strategies to try to deceive the runners and steal their lives. But the zombies cannot attack or push or riders.

To participate, humans must pay 18 euros while zombies only pay 10 euros. This year, there are more zombies than humans. Usually, according to the organizers there are 30 zombies per 100 runners with each horde consisting of 25 zombies.

All participants will receive a T-shirt with a backpack and food supplies while the winners will receive a sweatshirt.

The idea to host zombie vs. human race was borrowed from the successful "Run for Your Lives" outing held monthly in the US and brings together around 45,000 people per occasion. Started in 2005, today, the game is regularly played in 650 colleges and universities across the world.