Freedom of thought: Russian human rights watch gets Sakharov Prize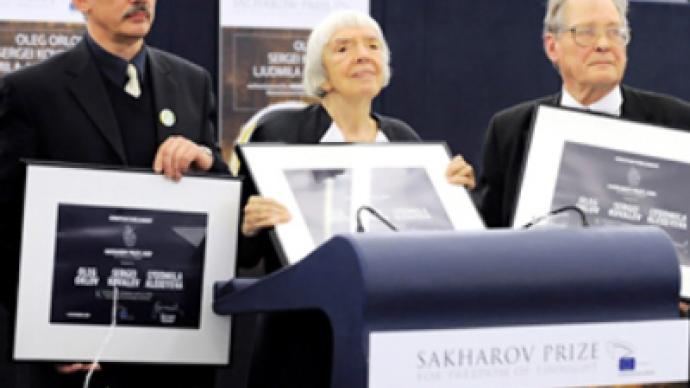 The Russian human rights defense organization Memorial and its three leaders have received the European Parliament's 2009 Sakharov Prize for freedom of thought, named after the late physicist-turned-dissident.
Oleg Orlov, Sergei Kovalev and Lyudmila Alekseyeva received the prize in Strasbourg. Jerzy Buzek, the president of the EU Parliament, handed over the award and the prize money of 50,000 euros ($73,000).
Memorial, which was founded in 1988, campaigns for the protection of basic human rights in states such as Russia, Ukraine and countries in the South Caucasus. Refugees and victims of discrimination are among those it helps.
Recent years have taken a heavy toll on the organization. During the ceremony, one of Memorial's founders, Sergei Kovalev, paid tribute to soldiers of conscience, "This prize is theirs by right. The first is Natalia Estemirova, human rights defender and fellow member of Memorial, shot in Chechnya. Among others I should also mention Stanislav Markelov, a lawyer; Anna Politkovskaya and Anastasia Baburova, journalists killed in Moscow; Nikolai Girenko, an ethnologist shot in St-Petersburg; Farid Babaev, killed in Dagestan, and many others. Sadly this list could go on."
The prize was established in December 1988. The EU parliament's political group leaders decided on this year's winner. It coincided with the twentieth anniversary of Sakharov's death. The first father of the Soviet hydrogen bomb, he became one of the Soviet regime's most courageous critics.