Test of shame! Lebanese protest against anal probe for suspected gays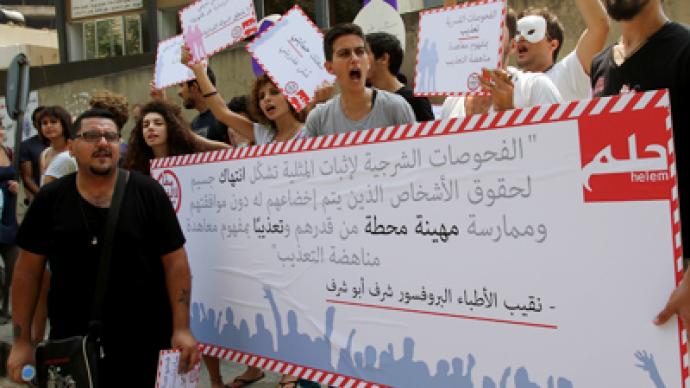 Lebanese are protesting in Beirut against the use of anal examinations on men suspected of homosexuality and "virginity tests" for women. Same sex relations in the Arab country are considered a crime and punishable by up to one year in jail.
Lebanese demonstrators gathered outside the law courts in the capital holding banners that read "United to abolish the tests of shame".  Lebanon-based HELEM, considered the Arab world's first and leading lesbian, gay, bisexual and transgender rights group, called for the rally under the slogan: "Stand up against the tests of shame, vaginal or anal."One sign read: "The cost of forensic rape: 125,000 Lebanese lira" (about $85), pointing out that the men subjected to the anal probes were being charged for the procedure, AFP reports. "This test is completely stupid, but mostly it is a rape, and it has psychological consequences for the victims," LGBT activist, who took part in the protest, told RT. 
Protesters, supported by human rights organizations, are demanding that Lebanon's Justice Ministry issues a directive ordering an end to the tests. The demonstration follows the arrest of 36 men during the July 28 raid on a movie theater suspected of screening pornographic movies in the Burj Hammoud district of Beirut. The men detained were transferred to a police station, where they were subjected to anal examination, which is intended to prove whether a person engaged in homosexual sex.All men were later released several days later, but three of them got homosexuality-related charges under article 534 of the Lebanese Penal Code on the basis of the examinations.The article, which sparked mass outrage, considers sexual relations "contradicting the laws of nature" illegal and violators may be punished by up to one year in prison.The Helem members say that Article 534 is used by the Lebanese ruling classes to criminalize homosexuality.The raid sparked fierce criticism from physicians, politicians and human rights groups. The latter insist the government should take steps to repeal the article of the Lebanese penal code. As an argument, human rights groups say the test violates international standards against torture, including the Convention Against Torture and the International Covenant on Civil and Political Rights, which Lebanon ratified in 2000. Activists say the tests are also carried out in violation of professional medical principles, including those of the World Medical Association and resolutions adopted by the UN.  On Tuesday, Lebanon's Order of Physicians issued its own letter, telling doctors they will face disciplinary measures if they carry out the exams.
You can share this story on social media: