Vietnam hosts first-ever LGBT parade: Same-sex marriage law to follow?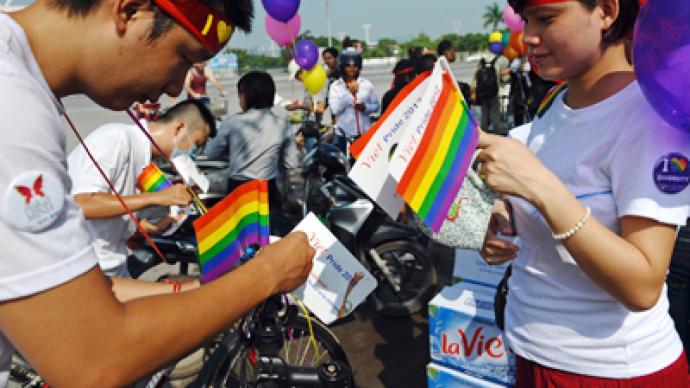 Rainbow flags streamed through the streets of Hanoi on Sunday as the city hosted Vietnam's first-ever gay pride parade. The event is seen by many as a step toward Vietnam becoming the first Asian state to legalize same-sex marriage.
The parade, organized by the city's small but growing Lesbian Gay Bisexual and Transgender (LGBT) community, went without incident. Police made no attempt to stop the colorful procession of around 100 participants despite the marchers not having a permit for the event.The event followed a surprise proposal by the country's Justice Ministry in July to amend Vietnam's marriage laws to include same-sex couples. The country should consider passing a law to formally recognize same-sex marriage, Justice Minister Ha Hung Cuong said.
"I think, as far as human rights are concerned, it's time for us to look at the reality," he said. "The number of homosexuals has mounted to hundreds of thousands. It's not a small figure. They live together without registering marriage. They may own property. We, of course, have to handle these issues legally."The law was proposed to clarify disputes between same-sex couples living together, and to address issues such as owning property, inheriting assets and adopting children. The same-sex marriage amendment has not been drafted yet, and is likely several years away from passage. The Justice Ministry will consider public opinion and consult government agencies before it submits the proposal to the National Assembly next year in May.If adopted, the law will make socialist Vietnam the first Asian country to officially recognize same-sex marriage, which is currently prohibited. Homosexuality was labeled a social evil a few years ago, alongside drug addiction and prostitution.
You can share this story on social media: