Greenwald to publish more revelations, claims threats from US and UK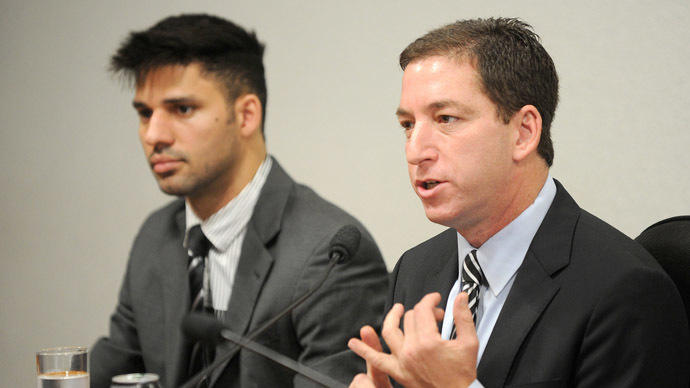 "The more the US and UK threaten, the more I will publish," Glenn Greenwald has told French radio. The Guardian journalist revealed the scope of US spying on France was "enormous," but the French government is also complicit in US espionage.
In an interview with Radio France Internationale (RFI), Greenwald spoke candidly about the threats he had received from the US and UK and his intention to publish all the documents handed to him by former CIA worker Edward Snowden.

"I intend to publish all the documents I have. The more threats I get from the US and UK, the harder I will work to publish this information," said Greenwald, adding that the previous revelations on the NSA's spying activities had fed the debate on internet privacy.

He told French radio that he was aware he is under constant surveillance and has taken measures to protect himself.

"I don't use my phone to talk about important things. I know that my emails are being spied on so I use encrypted messages to communicate with my sources, colleagues and even my friends," he said.

In addition, Greenwald revealed that the NSA had spied extensively on France and the French government also collaborates with Washington in its espionage programs.

"The scope of US spying on the French is enormous," said Greenwald. "But the NSA also spies with the cooperation with the French government."

Hinting at the subject matter of possible future revelations, Greenwald stressed "the American government spies indiscriminately on Africa" and that many of the continent's governments collaborate with the US.

Following the first revelations regarding the US' global spy network, Glenn Greenwald's partner, David Miranda, was detained under the terrorist act at a London airport for nine hours. The UK authorities confiscated his phone, laptop and memory storage devices and threatened him with imprisonment.

Greenwald decried Miranda's detention as an act of "intimidation" by the UK government and an "abuse of power." His arrest also drew the ire of the Brazilian government, which claimed the UK had acted outside their jurisdiction, detaining a Brazilian national with no charges against him.

Moreover, Brazil has demanded the US and Canada account for their spying activities in the Latin American country. Greenwald divulged documents handed to him by Edward Snowden revealing how the NSA had penetrated the highest levels of the Brazilian government and state oil company Petrobras with its covert surveillance programs. Furthermore, Canada was found to have carried out spying on the Brazilian Ministry of Energy.

In response, Washington has said it has launched a probe into spying activities, but warned it will take several months. While the Obama Administration denies it engages in "economic espionage," it maintains that its spying activities are in the interests of American national security.

You can share this story on social media: