Thousands of Greeks join strike against public sector staff cuts
Tens of thousands of Greeks have abandoned their workplaces on Tuesday and rallied in front of parliament in the capital Athens against government plans to satisfy foreign lenders by firing public sector employees.
It is the third and the largest general strike the crisis-hit country has experienced since the start of the year.

The 24-hour walkout came a day before the Greek MPs vote on a series of unpopular reforms, which the European Union and International Monetary Fund say are obligatory if Greece want more financial aid.

"The public sector still composes a major part of the Greek economy. These jobs are protected by the constitution since the end of the 19th century," RT's correspondent, Egor Piskunov, reports from Athens.

Over 30,000 demonstrators, including municipal police and teachers targeted in the lay-off scheme, gathered in central Syntagma Square.  

The protesters were beating drums, blowing whistles and chanting: "No more sacrifices."

They also displayed banners, reading "Fire the troika" in reference to the trio of European Commission, European Central Bank and IMF propping up Greece with over €200 billion in aid.

"It feels like Greece is dead and now the vultures are fighting over its corpse," Eleni Fotopoulou, a retired teacher and mother of two, told Reuters. "I'm not angry anymore, I am disgusted. We have to fight back."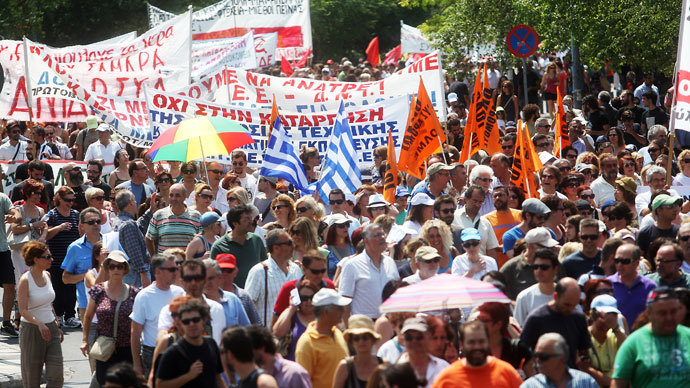 Domestic flights were disrupted after civil aviation unions staged a four-hour work stoppage as part of the strike.
The main tourist attraction of the Greek capital – the Acropolis – closed early. City transport was also affected by the walkout, with bus and trolley bus drivers holding work stoppages in the morning and in the evening.
Tax offices and municipal services were shut, with railway traffic also stalled. Garbage collectors, bank employees and journalists were among other groups, who joined the protest.
The EU must find new ways to tackle the financial crisis as austerity measures aren't working, Vasilios Xenakis from ADEDY trade union, which organized the strike together with GSEE union, told RT.   
"We're three years on the street, trying to explain to everybody, to the government and to the lenders also that it's not an effective policy,"
he said.
"Let me just say, that the public debt was €281 billion three years ago and – they promised that it should be a recovery – but instead of that, after the haircut, we now owe €321 billion… At the same time, they said that everything in the market should be OK. But as we can see the market is still frozen. There's no growth. Instead of this, we have unemployment in the private sector, unemployment in the public sector, for the first time. What's needed is a new policy – a new policy not only in Greece, a new policy in the EU and Eurozone."   

Greece's lenders, who have bailed the country twice with €240 billion worth of aid since it slid into a debt crisis in late 2009, are unhappy with how their money is being used.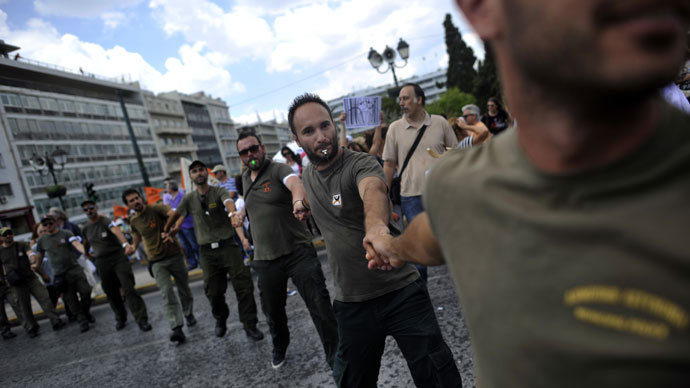 The Greek government has so far been unable to present any significant progress in reforming its 600,000 strong public sector, which is widely criticized for being inefficient and corrupt.
After missing several deadlines, Athens have put together a list of 12,500 state workers slated for a 'mobility pool,' in which they are given eight months to find work in another department or get fired.
"The Troika is demanding from the government to cut up to 25,000 jobs, which have to be reduced before the end of this year,"
RT's Egor Piskunov said.
The plans sparked outrage across the country where unemployment currently stands at an all-time high of 27 per cent.
More protests are expected in Greece on Thursday as German Finance Minister, Wolfgang Schaeuble, is expected to arrive in Athens for talks.
Many Greeks blame Germany, which is the leading sponsor of economic austerity in the EU, for their economic troubles, labeling Chancellor Angela Merkel as a modern day Nazi.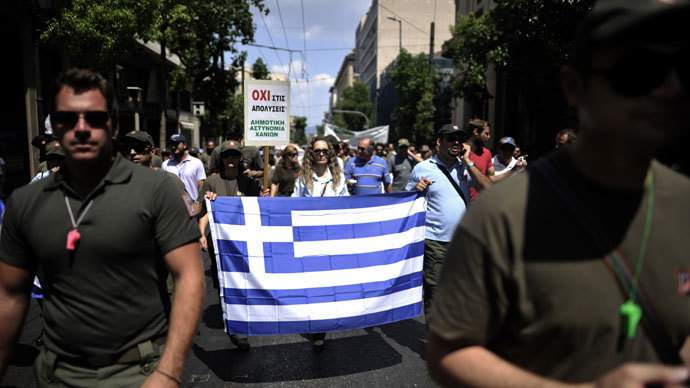 You can share this story on social media: