'All blacks out!': Human Rights Watch condemns 'racist' Greek police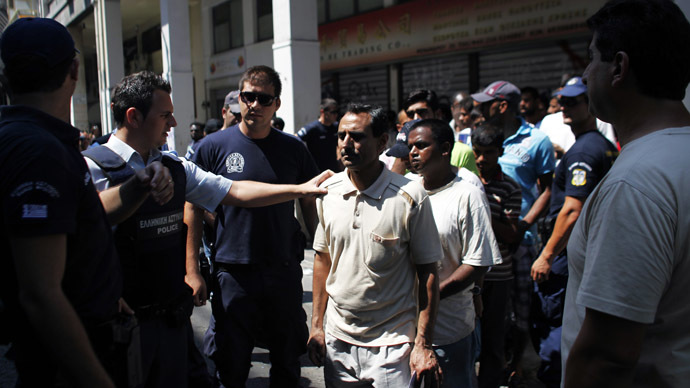 Human Rights Watch has accused Greek police of racial profiling, arbitrary detention and physical and verbal abuse of immigrants in a scathing new report. All are in violation European Union regulations, and disobey international human rights conventions.
The report by the international advocacy group, titled 'Unwelcome Guests', focuses on Operation Xenios Zeus, a radical police initiative commenced in August last year under which 85,000 suspected illegal immigrants have been detained and taken to police stations to have their visas checked.

It says the operation is not only illegal, but also ineffective, with only 6 per cent of those detained found to be in breach of immigration law.
"Police mistreatment of migrants and asylum seekers is a longstanding, serious problem in Greece," said Eva Cossé, the author of the report.
"Official statistics and our research demonstrate that the police are casting an extraordinarily wide net, and subjecting individuals with a legal right to be in Greece, including tourists, to treatment prohibited by international law."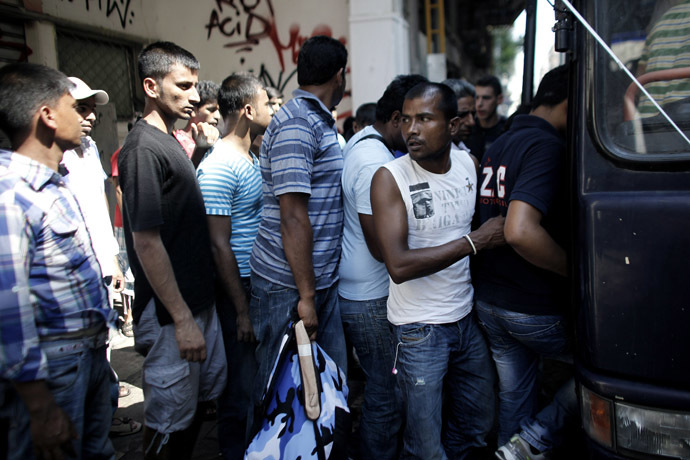 Due to its geographical location, Greece is the first country through which two thirds of illegal immigrants enter the European Union, according to its border agency Frontex.
As a result of the influx, which has been bolstered by conflicts in Iraq, Afghanistan, and more recently in the Middle East, a virtual immigrant ghetto has sprung up in an Athens district and the port city of Patras.
The Greeks government estimates that there are up to a million illegal immigrants in the country – nearly 10 per cent of the population.
Operation Xenios Zeus aimed to re-seal the country's borders, and weed out the illegal aliens, while bringing order to troublesome neighborhoods.
But HRW says police are simply using it as a pretext to terrorize mostly innocent immigrants on the streets.
In a typical story from one of the 50 immigrants they interviewed, police simply stopped a public bus at a central Athens station, and said "All blacks out!" before marching the suspects to the nearest station for document checks. Many say they were strip searched and shouted at by the officers, even before they were asked for any papers.
Most immigrants whose appearance varied from those of ethnic Greeks said they had been stopped and asked to show their ID up to several times a day, and many accused them of overt racism.
"Investing so many resources just to catch the wrong people and release them afterward is a huge waste," Cossé said.

"If the authorities are serious about improving security on the streets of Athens and controlling irregular immigration, they should focus on real criminals and base police operations on evidence and intelligence, not stereotypes."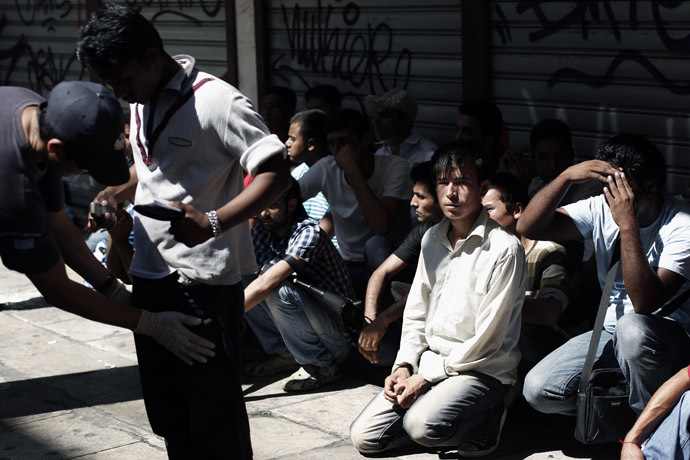 When faced with the accusations of human rights violations from HRW, Greek police has defended the effectiveness of Xenios Zeus, and its procedural methods.
"When an operation is ordered in the center of Athens it is reasonable for a police officer to bring to the station whoever they can who has the characteristics of an immigrant," said an official at the Hellenic Police Guards Union of Attica.
A representative of the Police Association of Border Guards of Attica, another police union, said ethnic profiling during spot checks was also justified. He said it was acceptable to detain and verify the documents of "all persons who don't look Greek. Many times we also check Greeks too who don't look Greek."
A report from another respected advocacy group Amnesty International in December last year came to similar conclusions, but elicited no response from the Greek authorities, which have prolonged Operation Xenios Zeus indefinitely.