Greeks miffed at Merkel's musings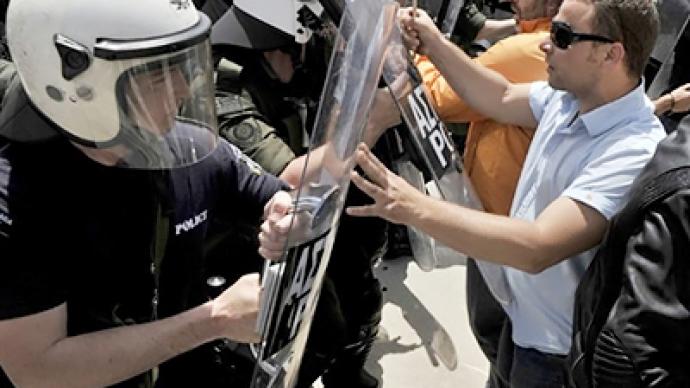 As the Eurozone economic crisis deepens, Greece is being criticized for not doing enough to help itself. The country is facing fresh ultimatums from EU members, as its debt continues to spiral out of control.
Greece needs to step up its economic reforms to raise billions of euros to help reduce its national deficit.But the Greek prime minister admitted the country is unlikely to be able to meet their obligations and hit back at the EU for its impatience.Anti-government protests have become commonplace and there are growing rumors that the country may leave the euro altogether, as a way out of the crisis.As famous Greek businessman Aristotle Onassis once said, "To be successful, keep looking tanned, live in an elegant building (even if you're in the cellar), be seen in smart restaurants (even if you only nurse one drink) and if you borrow, borrow big."Greece certainly borrowed big, but it has not helped its success.A modern country built on a glorious ancient civilization is on the brink of national financial disaster.And some EU members that helped bail it out are no longer happy with the anti-crisis measures taken by Athens."We can't just show solidarity and then say that these countries can continue as before," said German Chancellor Angela Merkel. "We can't have a common currency where some get lots of vacation time and others very little. That won't work in the long term."To the people of Greece, already suffering from severe job and wage cuts, this statement was a slap in the face.Although many believe that Greeks are those guys who lie in the sun and do not work, the reality is very different, claims Stavros Stavrides, a professor of architecture at the National Technical University."There is very serious statistics produced by the European Union that proves that Greeks work at least as much as other Europeans and sometimes even more. In the period of crisis if your salary is too low, you must find some way to compensate for that, and so you have to work in other jobs also," he says."The idea of the German government is that we should shell [out] everything to them, because we owe to them. It's kind of a situation that in the end produces a very uneven relationship inside the supposedly union of states that were meant to form common policies and some kind of solidarity – their kind of solidarity," said Stavros Stavrides.Though even the slightest rumors that Greece might leave the euro have been flatly denied by Athens and Brussels, some experts believe this would be best for the EU – even claiming it could be less painful than being warned."Experts from abroad try to make [it] clear [to us] that no country that has debts should escape the euro area, because they would lose money," says Dr Eike Hamer. "But this shouldn't be the problem of the wealthier European countries. Our research says that Greece could leave the euro area without any big problems."But the Greek people are facing big problems, as the total out of work is expected to hit around 800,000 this year.With an unemployment rate of 40 per cent among the young, it seems people strolling through the city's markets are just putting on a brave face."Sometimes you see Greeks drinking coffee outside and you say – is this a country in a crisis? But it's the only thing left – just have a coffee outside and avoid being always in a kind of despair," Stavros Stavrides says.The despair is evident in the shuttered stores all across Athens.Ironically, it seems that this time, it is the Greeks who should have been aware of those bearing gifts.The EU bailout of 110 billion euros has mired the country in crippling debt and caused a developing political chasm between Athens and its European partners over what is to happen next.The rising tension between the two is causing fault-lines which some say now threaten the entire unity of the European Union itself.Member of the European Parliament from Denmark, Morten Messerschmidt, shares the view that Greece should quit the Eurozone, saying the move would be beneficial for both Athens and the rest of the block. "I think that the Euro must limit its members. It's unavoidable that those countries, which can't and won't reform into the same economical life that we see in Germany, Finland, the Netherlands and other like countries, simply won't belong there because they'll never have the economical challenges or requirements, which are necessary in order to maintain or keep up the speed with the German economy. And therefore, if they remain in the euro they would permanently be behind and be depending on the money from other countries' taxpayers. Obviously, that's quite unsatisfactory even for these countries who are receiving the money, and especially, of course, for those countries whose taxpayers are paying the bill," Messerschmidt said.  "So there's only one way if you want to rescue the euro in a realistic world, and that is to exclude (or, even more positively, freely let them go) these counties in the south, which obviously should have never been in the euro from the beginning," he added.
You can share this story on social media: