Gonchar, Malkin advance in Stanley Cup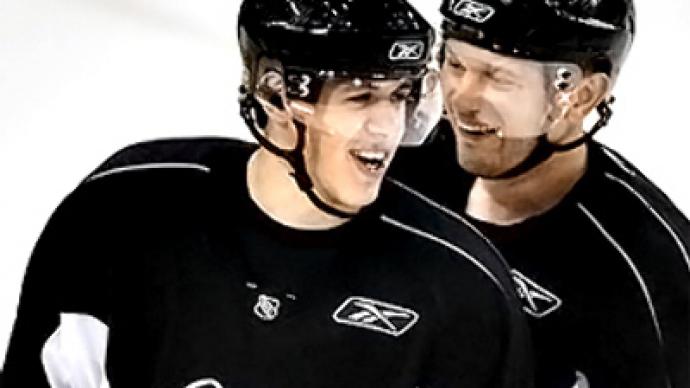 In the Stranley Cup play-offs, the Pittsburgh Penguins have rallied from a three-goal deficit to beat Philadelphia 5-3, and clinch the series in six games.
Russia's Sergey Gonchar and Evgeny Malkin helped the Penguins advance to the next round, with the first scoring the winning goal, and the second being named the star of the match.
The Penguins have become the second squad to get into the last four in the East. Earlier, the Boston Bruins reduced Montreal to powder in their best- of-seven series.
Elsewhere, in the West, Detroit and Vancouver are through to the next round, while Evgeny's Nabokov's San Jose Sharks, the regular season champions, are having trouble in their series against Anaheim. On Saturday night, they could earn just their second victory, 3-2 in OT, and are now 2-3 down in the series.
Meanwhile, New York Rangers Coach John Tortorella has been suspended for one game by the NHL for squirting a fan with water, and throwing a water bottle into the crowd Friday night at the Verizon Center.
Tortorella will miss Sunday's Game Six at Madison Square Garden, where the Rangers will be aiming to close out Ovechkin's, Fedorov's and Semin's Washington Capitals.
You can share this story on social media: