Going out in Moscow: 06.07-08.07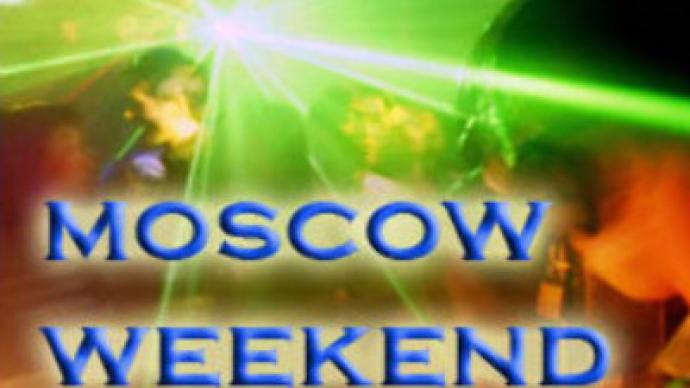 There's never a shortage of activities in Moscow, especially during the long, warm days of summer. The hardest part of deciding what tickles your fancy!
Music.
All music lovers are well catered for over the coming weekend. George Michael, world-famous pop-star, during the Russian leg of his '25 Live Europe' tour, will perform at Moscow's Olimpisky Sports Complex. The gig starts at 1900 on Friday, July 6.
Another notable event for music fans is a performance of New York's 'Antony & the Johnsons' band in B1Maximum club on July 6. And on Saturday the club welcomes its visitors for a Jazz Night with Erik Truffaz. The Swiss-born French contemporary jazz trumpeter, mixing elements of different music styles, is best known for his improvised style of playing.
Address: Ordzhonikidze street, 11, Metro 'Leninsky Prospekt' or 'Shabolovskaya', tel. 648-67-77
Kitajsky Letchik Jao Da, one of the best Moscow live music clubs, has prepared a varied programme for the coming weekend. St Petersburg's 'Polyusa' band performs here on Friday. Rock-n-roll, rockabilly, psychobilly trio 'The Beat Devils' is on the club's stage on Saturday, July 7. An interesting Congolese-Russian 'Kimbata' project playing really positive music based on African ethnic themes is here on Sunday evening.
Address: Lubyansky proezd, 25. Metro 'Kitaj-gorod', tel. 623-28-96. All concerts start at 2300. Entrance fee is 200-300 roubles.
A major Moscow contemporary art centre, Winzavod hosts Gauloises Avant Fest – an annual music festival that brings together modern industrial, alternative, disco, indie, and rock musicians both from Russia and abroad. To name just a few groups, Mudhoney (U.S.), God is an Astronaut (Ireland), ShitDisco (UK), The Ladybug Transistor (U.S.), Silence Kit, Punk TV, Jazzlobster, will play at a concert on the open lot of the art centre on July 7.
Those preferring classical music may be interested in attending 'Soli Deo Gloria' – an all-Russian festival-contest of young organists – taking place in the Roman Catholic Cathedral (of the Immaculate Conception of the Blessed Virgin Mary). Concerts start at 2000 on Friday and Saturday and the closing gala-concert is at 1730 on Sunday.
Address: Malaya Gruzinskaya st., 27/13, Metro 'Ulitsa 1905 goda', 'Belorusskaya' or 'Krasnopresnenskaya'.
Arkhangelskoe Estate Museum offers its visitors a chance to both rest outdoors enjoying sights of the parks and architecture ensemble and listen to classical music concerts being held here. Acclaimed Russian pianist Yury Rozum will play Beethoven's sonatas at Arkhangelskoe on July 7 at 1700. And on Sunday, 'The Freddy Cole Quartet' from the U.S. performs here at 1900.
Address: Metro 'Tushinskaya', bus 549, tel. 363-13-75
Exhibitions.
Undoubtedly one of the most exciting events for all car lovers - the biggest automobile show in Russia with up to 4,000 unusual or even unique cars, 'Autoexotica 2007' is on Moscow's Tushino Aerodrome from July 6 to July 15. The programme includes jeep-trials, entertaining competitions, a bike-show, and discothèque with top Russian DJs and a laser-show in the evenings.
Address: Metro 'Tushinskaya'.
Also, the State Historical Museum presents a unique exhibition entitled 'Gold. Metal of Gods and God of Metals.' An outstanding collection representing two past millenniums includes art works and household items, orders and medals, jewellery and amulets, antique dinner-sets, weapon and a lot more.
Address: Krasnaya Ploshchyad (Red Square), ½, Metro 'Teatralnaya', 'Okhotny ryad' or 'Ploshchyad revolutsyi'.
"Strength, Magic and Colours of Brazil" can now be seen at the Moscow Modern Art Museum. The exhibition of paintings by Adelio Sarro opens a window to the present day of the Latin American country: its nature, natural culture, sport, music. The artist, however, also refers to modern problems, such as poverty, rainforest clearance, and crime, drawing public's attention to those issues.
Address: Zurab Gallery, Tverskoy boulevard, 9, Metro 'Tverskaya', tel. 694-28-90
Festivals.
The Moscow Beer Festival that started on June 30 continues at Luzhniki Olympic Complex throughout the weekend. The closing ceremony and concert will take place on Sunday till 2230.
Meanwhile, a major annual open air music festival, 'Emmaus 2007', kicks off on Saturday. For two days visitors will enjoy listening to Russian rock bands, including legendary 'Alisa', 'Taimeout', 'Aria' and others. In addition, various events such as night rave parties, sports competitions, 'Big Fire' project, discussion clubs and master-classes have been prepared by the organisers for those who manage to get to the site – the festival will take place 151KM from Moscow by Moscow-St.Petersburg highway.
Location: Emmaus village, Tverskaya Oblast.
Theatre.
From May 30 to July 29, Russia's capital hosts VII Chekhov International Theatre Festival.
The main feature of this year's festival is "The season of the Canadian theatre". Russian audience will get a chance to see four productions by outstanding contemporary director Robert Lepage. And this week on Friday and Saturday Lepage's 'The Far Side of the Moon' presented by 'Ex-Machina' theatre company is on the stage of Chekhov Moscow Art Theatre.
Address: Kamergersky pereulok, 3, Metro 'Teatralnaya', tel. 629-87-60, 692-67-48
At the Pushkin Theatre, Britain's 'Cheek by Jowl' company will perform William Shakespeare's "Cymbeline". This new production completes Declan Donnellan and Nick Ormerod's cycle of Shakespeare's four romances, which began with Pericles (1983) and The Tempest (1988) for Cheek by Jowl, and The Winter's Tale (1997) for the Maly Drama Theatre of St Petersburg.
Address: Tverskoy boulevard, 23, Metro 'Pushkinskaya', 'Tverskaya', tel. 694-12-89
Cinema.
There's not a very wide choice for Anglophones in Moscow's cinemas this weekend.
Dome Cinema, located in The Renaissance Hotel near 'Prospekt Mira' metro station, shows comedy animation 'Shrek the Third'. Another comedy, 'Evan Almighty,' which is a sequel to the 2003 'Bruce Almighty', is also on from Friday to Sunday. All the films are featured in English with Russian translations through headphones or subtitles.
35 MM will screen 'Planet Terror'. Robert Rodriguez's full-length horror movie is a segment of his double feature with Quentin Tarantino entitled 'Grindhouse'.
Address: Pokrovka street, 47/24. Metro 'Kurskaya' or 'Krasnye Vorota', tel.917-18-83
You can share this story on social media: