Global Frackdown action: LIVE UPDATES
Activists from 26 countries are taking to the streets on Saturday to protest fracking technologies that extract hydrocarbons by pumping pressurized chemicals underground. They say fracking contaminates groundwater and hastens climate change.
Sunday, October 20
01:45 GMT: Demonstrators gathered in Roseland, New Jersey, holding signs saying: "NJ is not a fracking dump."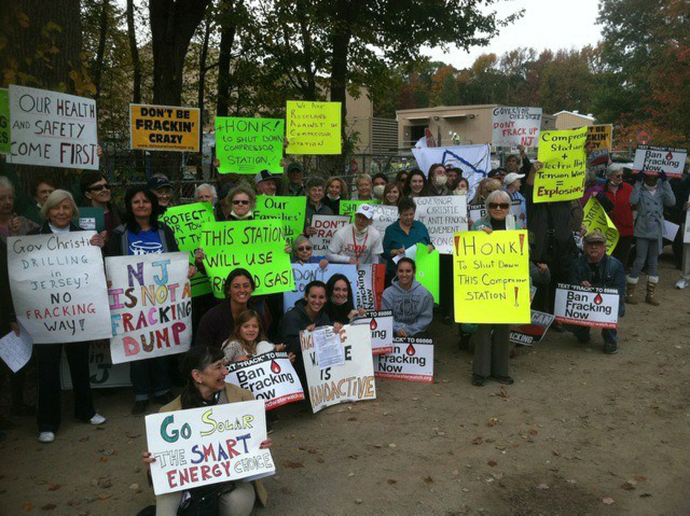 01:34 GMT: Around two dozen protesters demonstrated on Global Frackdown day in Buffalo, New York. Activists gave speeches, played music, and held signs.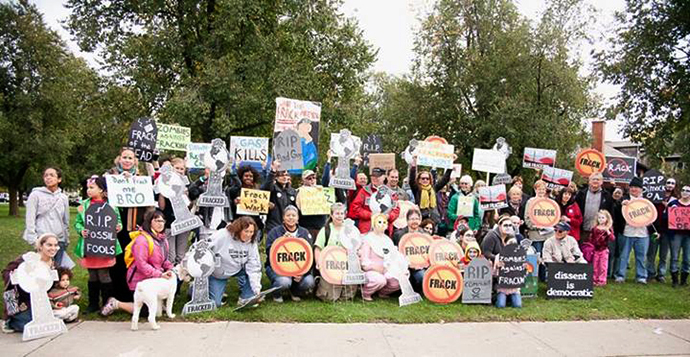 01:32 GMT: Ohio's Greenfield Township joined in the global protest against fracking.
Saturday, October 19
22:03 GMT: Residents of Pittsburgh, Pennsylvania stand in solidarity with Canada's Elsipogtog First Nation, which is protesting against fracking.
Powershift rally in Pittsburgh, PA. Photo by Bryan Parras #Elsipogtog#GlobalFrackdownpic.twitter.com/XJ9MQrdewm

— lastrealindians.com (@lastrealindians) October 19, 2013
21:13 GMT: Demonstrators gather near Raritan River in New Jersey, US to take part in the Global Frackdown action.
Rallying across the Raritan River to #banfracking@GovChristie#globalfrackdownpic.twitter.com/NqDxoR955I

— Jim Walsh (@jimrwalsh) October 19, 2013
21:09 GMT: Activists in the US state of California participate in the march and a bike event to protest against fracking near Ballona Creek.
Walking march & bike group meet over Ballona Creek, potential site for additional toxic discharge. #globalfrackdownpic.twitter.com/bJHsQqGIpd

— Gary Kavanagh (@GaryRidesBikes) October 19, 2013
20:52 GMT: Canadians along with the Elsipogtog First Nation gather in Rexton, New Brunswick to demonstrate against fracking.
Five of the protesters reportedly seized a news vehicle and a camera, according to local media.
Earlier on Saturday, protesters blocked Highway 11 near Rexton.
Unity Camp Route 134 Rexton today Oct 19 #Elsipogtog#globalfrackdownpic.twitter.com/FGnjJeXPjQ

— Jacqueline Brown (@JazzabelleJb) October 19, 2013
19:41 GMT:

The people are marching through the streets of Pittsburgh today for #GlobalFrackdown. | pic.twitter.com/5V3aRR3DZn | #ElsipogtogSolidarity

— ¤ProletarianDissent¤ (@Anon4justice) October 19, 2013
19:40 GMT: The locals in the Romanian village of Pungesti, who protest against plans by US energy giant, Chevron, to drill for shale gas in the area, say they are ready to fight against fracking till the end for the future of their children.

"We hope to stop them, even if it means paying with our lives; even if they want to send the army, we will die if it is fated for us to die, so let it be. But we won't give up until they outlaw fracking in Romania," one of the locals told RT.

"I am so afraid of this kind of gas exploitation. People say there will be big problems for our animals because the water will be affected. And the soil and the food for animals and for us and our children as well. We have children and grandchildren," another villager added.

19:27 GMT:

Things are getting started in Oakland CA #globalfrackdownpic.twitter.com/iUef2bSa9T RT @foodandwater

— FrackingTestSubject (@gardencatlady) October 19, 2013
19:13 GMT:

Supporting the campaign to #banfracking in #LosAngeles#globalfrackdown in Veterans Park pic.twitter.com/Xo59DTQcvP

— Palms NC (@PalmsNC) October 19, 2013
18:55 GMT:

Residents of Gloucester County gather to Walk for Water at Alcyon Lake Park #GlobalFrackdown#BanFrackingNowpic.twitter.com/ANbmaWry8m

— Emily Reuman (@EmilyReuman) October 19, 2013
18:42 GMT:

We sent @larryfarnese a wake up call today: stop fracking in PA! In rittenhouse sq #philly#GlobalFrackdownpic.twitter.com/kcRjW9v7sR

— Sam Bernhardt (@slbernhardt) October 19, 2013
18:32 GMT:

About 75 people at today's Global Frackdown peaceful protest in #Yellowknife. #cbcnorth#frackingpic.twitter.com/tUWPwt0uNP

— Alyssa Mosher (@ammosher) October 19, 2013
17:51 GMT: WWF Scotland has welcomed the new policies by the country's government, aimed at protecting communities from controversial energy projects.
"This is without doubt a setback for those hoping to exploit shale gas in Scotland. We welcome this commitment and hope it is just the first of several steps ministers will take to begin to close the door on all new fossil fuels developments in Scotland," Lang Banks, WWF Scotland director, told the Scotsman paper. "In the interests of tackling climate change and delivering climate justice we urgently need to be leaving fossil fuels, including shale gas, in the ground."
The new Scottish planning policy, which comes into force next year, reinforces the need for environmental and community protection when considering projects to extract oil and gas by unconventional methods.
In addition, it will introduce the need for an "adequate" buffer zone to be established around any such projects, and make clear that the planning system must "minimize the impacts of extractions" on communities.
17:11 GMT:

NYC #globalfrackdown@nygovcuomo#dontfracknypic.twitter.com/nhPYNuaj0F

— Catskill Citizens (@FrackNo) October 19, 2013
17:07 GMT:

More than a 1000 in NYC. People still gathering for the #globalfrackdown! pic.twitter.com/ZijOTacWvy

— Wenonah Hauter (@WenonahHauter) October 19, 2013
17:03 GMT: An anti-fracking rally took place in the city of Kerch at Ukraine's Crimea peninsula as several activists gathered in front of a gas station, owned by Anglo–Dutch multinational oil and gas company, Shell.

The campaigners, wearing gas masks, warned that the company, which received permission to explore shale gas from the Ukrainian government, possesses threat to the country's ecology.

16:59 GMT:

RT @camillaborn Frack off, renew our future! Brussels youth support #GlobalFrackdown@foeeuropepic.twitter.com/kLng33txP9#fracking#occupy

— EnviroEdgeNews (@EnviroEdgeNews) October 19, 2013
16:47 GMT: Around 1,000 protesters rallied in the northeastern Romanian village of Pungesti against plans by US energy giant, Chevron, to drill for shale gas. The protesters, including people in national dress, chanted "Chevron, go home" and "We say no to shale gas."
The company suspended activities in the region after three days of protests, but villagers have continued to occupy the site where the company plans to drill its first exploration well.
"We have won a battle, but not the final victory. I want my seven great-grand-children to grow up in a safe environment," 88-year-old protester Emil Dobarteanu told AFP.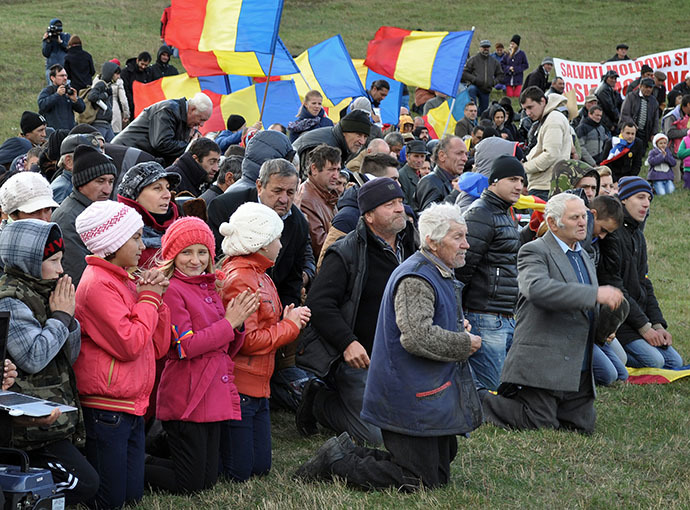 15:35 GMT:
10/19/13 #GlobalFrackdown Spain Join today in Pittsburgh @ 2 Convention Center anti #fracking march & rally pic.twitter.com/5b4PHquNXM

— marcellus protest (@marcellus_SWPA) October 19, 2013
15:15 GMT:

Let's be fossil fuel free #banfracking@GovChristie#globalfrackdownpic.twitter.com/v9P8oUCUwh

— Jim Walsh (@jimrwalsh) October 19, 2013
15:05 GMT: Fracking is more widespread and frequently used in the offshore platforms and man-made islands near some of California's most populous and famous coastal communities than state officials previously believed.
Off the shores of Long Beach, Seal Beach and Huntington Beach — some of the region's most popular surfing and tourist areas — oil companies have used fracking at least 203 times at six sites over the last 20 years, according to interviews and drilling records obtained by The Associated Press through a public records request.
There is currently no evidence that offshore hydraulic fracturing has led to any spills or chemical leaks in the region. The practice, however, has occurred occurs little state or federal oversight of the operations.
Amidst an ongoing state investigation into the extent of fracking in both federal waters and those closer to the California coast, environmental groups have called for a moratorium on the practice until a law increasing oversight of fracking takes effect in 2015.


14:55 GMT:
A wave from the Irish planters in a Manor #leitrim growing a frack free future together. #globalfrackdownpic.twitter.com/23gKMTPc0Z

— Love Leitrim (@LoveLeitrim) October 19, 2013
14:50 GMT: American Against Fracking say there are currently 250 different actions in 30 countries for the #globalfrackdown on Saturday.

14:20 GMT:

Anti- fracking demonstration happening now, people gathering on the Main St. overpass in Sackville #nbpic.twitter.com/CRMWXqHVTR

— Jessica Doria-Brown (@JDoriaBrownCBC) October 19, 2013
14:05 GMT:
anti #Chevron& RMGC protest in Campeni, Romania; thousands protest against #fracking and gold mining #rosiamontanapic.twitter.com/wpgDTiIj92

— ambra blu (@ambrablu) October 19, 2013
13:35 GMT: Anti-fracking protesters from all over Romania have been galvanized US energy giant Chevron's plan to start drilling outside the village of Pungetsi. While the energy firm has Bucharest's blessing, people have come together to take a stand against the potential health and environmental risks of hydraulic fracturing in the region.
13:10 GMT: Young Friends of the Earth issued a press release calling on Lord Browne of Madingley to resign from his position in the House of Lords due to his vested interests in profiting from hydraulic fracturing. The group called

"Lord Browne was former BP oil chief and is now head of the fracking firm Cuadrilla, which started drilling in Balcombe this summer resulting in huge anti-fracking protests," the group said.

"This amounts to an enormous conflict of interest because of his influence in government."

The UK-based group, comprised of young people aged 18-30, protested outside of Riverstone House, an energy and power-centered private investment firm where Lord Browne is a key partner.
13:00 GMT:
Amazing #globalfrackdown actions already in Spain, France, Romania, UK. Its on! Follow us and @foodandwater for tweeted photos.

— AAF (@USagainstFRACK) October 19, 2013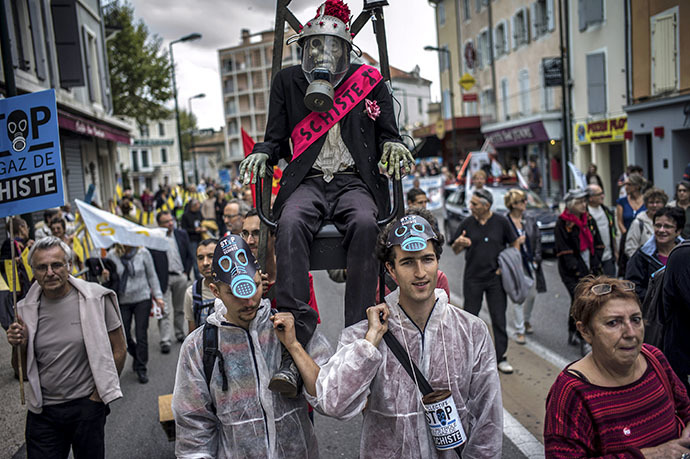 11:30 GMT: The benefits of hydraulic fracturing in terms of job creation and meeting energy demands have been drastically exaggerated, while the consequences of the controversial practice could prove cataclysmic, geopolitical commentator Ian Crane told RT. Crane says that while only a minute number of jobs will be created over the next two days as a result of fracking, the ecological consequences will be far graver.

"I think the thing that should be put above everything else is the protection of the water supply. Because if we don't have access to fresh water, we're talking about the potential end of all life. As for the jobs and as for the gas…at what price? The end of ecology or the end of life on earth as we know it?"

11:15 GMT:
No Fracking Northern Ireland #globalfrackdown@foe_nipic.twitter.com/rX1Jgf1D0Z

— Ban fracking in N.I (@BANfrackingNI) October 19, 2013
10:45 GMT: Anti-fracking activists are gathering in London. They are going to picket Lord John Browne's company, a businessman and advisor to the UK government, who champions the idea of 'dash for gas'.
"We're now writing messages to Lord Browne asking him to resign from the cabinet office and stop fracking our future," the protesters tweeted.
London Protest outside Riverstone HQ Message to Lord Brown "Don't #frack our future" @FOEYoung#GlobalFrackdownpic.twitter.com/B0YrHkvhJV

— You and I Films (@youandifilms) October 19, 2013
At least 13 separate protest gatherings are scheduled for Saturday in UK cities, including Belfast, Glastonbury, Manchester and Preston.
10:00 GMT:
Romanians protesting against shale gas exploration in Pungesti, Romania #frackingpic.twitter.com/Lfxo4Alfpf

— Polly Boiko (@Polly_Boiko) October 19, 2013
09:10 GMT:
Fracking means polluted water, lorry-clogged roads, industrialised countryside and a wrecked climate. Let's not go there #globalfrackdown

— Keith Taylor Office (@Keith_Office) October 19, 2013
09:10 GMT: An online petition calling on the Royal Canadian Mounted Police, which used pepper spray and tear gas against First Nations anti-franking demonstration, to pledge it will not use excessive force against peaceful protest, has been signed by over 21,000 people since its publication on Friday.
05:56 GMT: Developing fracking technologies and extracting previously inaccessible hydrocarbon reserves is the absolutely opposite direction to where the world should move, environmental activist Rose Braz told RT.
You can share this story on social media: