'We say no to shale gas': World unites against fracking
Activists from 26 countries participated in around 250 protests on Saturday to demonstrate against fracking technologies, which they say contaminate groundwater and hasten climate change.
Global Frackdown, an annual event that takes place on October 19, targets fracking – a process used to extract hydrocarbons by pumping pressurized chemicals underground.
Hundreds of demonstrators took to the streets of cities across the globe.
10/19/13 #GlobalFrackdown Spain Join today in Pittsburgh @ 2 Convention Center anti #fracking march & rally pic.twitter.com/5b4PHquNXM

— marcellus protest (@marcellus_SWPA) October 19, 2013
Around 1,000 protesters in Pungesti, Romania protested against US oil giant Chevron's plan to start drilling outside the village. Although the energy firm received permission from the local authority, concerned locals have come together to take a stand against the potential health and environmental risks posed by hydraulic fracturing in the region.
The protesters shouted, "Chevron, go home" and "We say no to shale gas."
Chevron suspended work on Thursday in response to three-day protests in the area. Still, activists continue to demonstrate.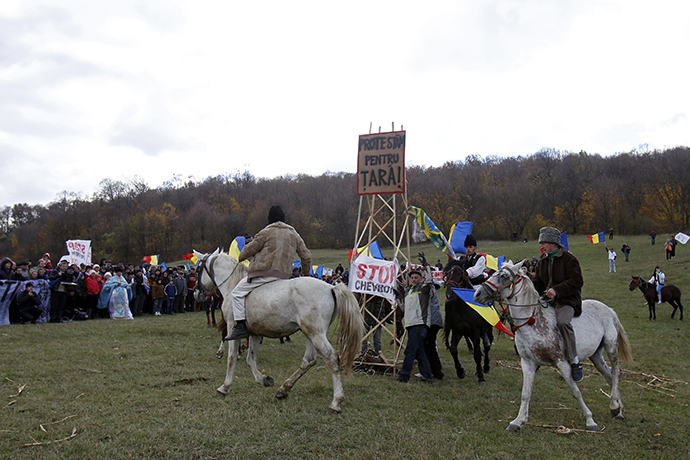 Peaceful anti-fracking protests were also held in the northern Canadian town of Yellowknife.
Around 250 demonstrators gathered in three Canadian cities in New Brunswick. Approximately 100 protesters blocked one lane of the highway near the town of Rexton.
Unity Camp Route 134 Rexton today Oct 19 #Elsipogtog#globalfrackdownpic.twitter.com/FGnjJeXPjQ

— Jacqueline Brown (@JazzabelleJb) October 19, 2013
Tensions also rose in New Brunswick on Thursday when the Royal Canadian Mounted Police (RCMP) moved in to take down barriers erected by members of the Elsipogtog First Nation tribe, arresting at least 40 people. Activists and local aboriginals have held demonstrations for a week to protest shale gas exploration in the region.
Dozens of demonstrations were also held across the US on Saturday. Residents of Pennsylvania stood in solidarity with Canada's Elsipogtog First Nation in their fight against fracking. Dozens of protesters took to the streets near Raritan River in New Jersey, while others gathered in New York.
new yorkers getting down with the #globalfrackdown@NYGovCuomo@BarackObamapic.twitter.com/eRMDH10w37

— Betta (@bettabroad) October 19, 2013
California activists marched and participated in a bike event to protest against fracking near Ballona Creek. A demonstration was also held in the city of Oakland.
Walking march & bike group meet over Ballona Creek, potential site for additional toxic discharge. #globalfrackdownpic.twitter.com/bJHsQqGIpd

— Gary Kavanagh (@GaryRidesBikes) October 19, 2013
Earlier in the day, activists joined protests in the UK, Spain, France, and Ireland.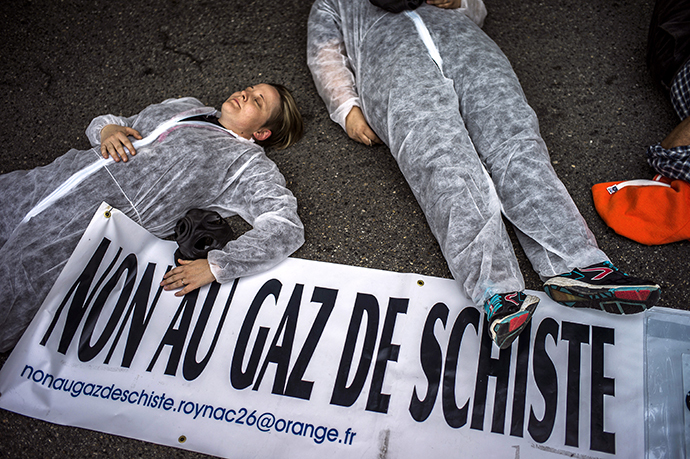 At least 13 separate demonstrations were held throughout UK cities on Saturday, including Belfast, Glastonbury, Manchester, and Preston.
Experts have been weighing in on the issue. Geopolitical commentator Ian Crane told RT that the benefits of hydraulic fracturing in terms of job creation and meeting energy demands have been drastically exaggerated – and that the consequences of the controversial practice could prove cataclysmic.
"I think the thing that should be put above everything else is the protection of the water supply. Because if we don't have access to fresh water, we're talking about the potential end of all life. As for the jobs and as for the gas…at what price? The end of ecology or the end of life on earth as we know it?"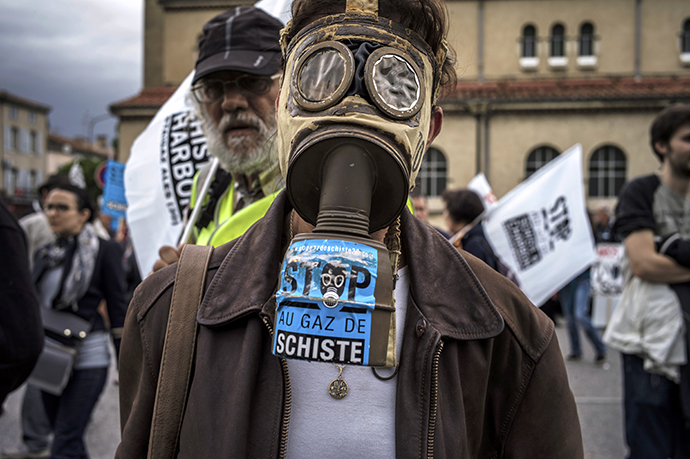 You can share this story on social media: