Gazprom CEO: Shale gas not Russia's concern this century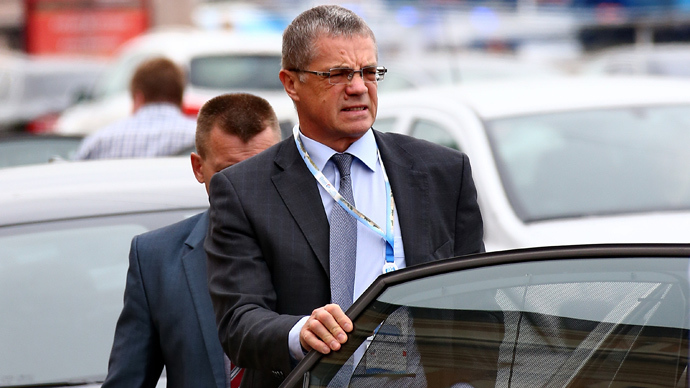 While the booming 'shale revolution' is being increasingly criticized by environmentalists, Russia shouldn't care too much about it, at least this century, says Gazprom Chief Executive Aleksandr Medvedev.
Has Russia misjudged and misinterpreted the shale revolution and is it being left behind by new rivals? What's there for Russia in a 'shale revolution'?
RT's Sophie Shevarnadze discusses this with Gazprom Export CEO Aleksandr Medvedev on the SohpieCo show.
RT:Igor Sechin, chief executive of state oil company RosNeft and one of President Putin's closest advisors says Gazprom was too late to realize the threat posed by the US shale gas, and Russia is now risks losing the race for the gas markets if it fails to act – do you feel like you've slept through the shale revolution?
ALEKSANDR MEDVEDEV (AM): We always are monitoring all the modern tendencies in the gas and oil market, and other energy markets connected with gas and oil. It's very strange to hear that we have missed the shale gas revolution. We've always been involved in accommodating our activities to the market realities, but I believe that it may be a nice word – "revolution" – which these tendencies influence the situation on the American gas market, and also, indirectly, have a certain influence European markets, but we are not sleeping, we have done what we believed necessary to be done to stay competitive.
RT:So you feel like Russia is not missing out on anything, as far as shale gas is concerned?
AM: First of all, I would not exaggerate the influence of the shale gas on our activity. Obviously, we should change the approach to the American market, because the target market for our Shtokman project was the North American market. Now, the US looks to be targeting to be self-sufficient, or even considering to export energy, but we are well prepared to stay competitive and the events of the current year are just confirming how we are restoring our competitiveness, which actually was not even damaged.
RT:But like you said, US shale gas production is booming, while European countries prohibit it one by one. Why such extreme points of view? Why such a difference?
AM: In my opinion it was booming and now we are seeing a slowdown, not only in production but also in the speed of drilling, and many companies are forced to sell their assets in shale gas production. Actually, with the current level of price in the US, it's not possible to have a profitable production in the majority of shale gas fields. I would like to quote the president of France, who said that as long as he's president, he will not allow the production of shale gas in France, and there are quite a number of reasons behind this opinion. I'm rather sure that the French president was supplied with all the available information about shale gas potential and problems, and number one is that the cost of production of shale gas in Europe is incomparably higher than in the US and also the situation with the environment is different, because in the US its main production is in unpopulated areas, which are quite available in the US, but in Europe we can't find such big unpopulated areas with reach to the water. We shouldn't also close eyes on the environmental risks involved, and there are quite a number of disturbing facts associated with production of shale gas. It's not surprising that in Poland all the majors actually stepped out of the shale gas exploration.
RT:So you feel like the environmental issues are of secondary importance for the US?
AM: In Europe, where the problem of drinking water is very important to put it at risk, the water horizons is the number one priority, and as I said, there is the environment plus the cost factor, because production of traditional gas in Europe, and I mean first of all Russia, is incomparably more competitive than production of shale gas – if it will ever happen.
RT:But for us – for Russia – we're not interested because of environment or because we just have enough gas as it is, we don't need to extract it, or is it also costly in the technological drag? What's the reason?
AM: Russia is very rich with shale gas resources, and probably in the next century the time will come when shale gas production will be considered in Russia, but currently, for the current century, we have enough reserves of traditional resources, and new areas of offshore fields – not to forget the Arctic, and I'm rather sure that cost effectiveness for these reserves will be unbeatable, and that's why we are rather sure that we were, are, and will stay competitive on the oil and gas market.
RT:Meanwhile, as you said, not only America has become self-sufficient in natural gas, but is also about to challenge Middle East and Russia in exporting gas to Europe. Did you expect that the US would turn into a national gas exporter so quickly?
AM: There is a certain investment cycle before any project can be realized, if you are thinking about the potential of exporting of Azeri gas, it is targeted to start in 2019, and the volume is marginal compared to our current annual export. This year we are planning to export more than 152 BCM, so that's why, especially in view of declining production in Western Europe, which is happening quicker than expected, we are not afraid of appearance of gas – if it will appear – from any other sources.
RT:We still get a sense that with the arrival of the American gas, plus the Mideast share Europe is ready to manipulate the energy prices – some have already started, like Bulgaria has negotiated 20% discount.
AM: It was normal price negotiation procedure which is included in our contracts; both buyer and seller have a right to call for price revisions in the certain periods of time, subject that it is justified by development of the market conditions. And that's why it is absolutely normal to see price revision negotiations on both sides. In our practice we have reached agreements on the prices, when the price was low and when price was high, and during negotiations in order for us to be in position to keep our market share, and also that the market will continue to develop to correct the price. I don't see any problem in making a correction of the price, depending on from which level this correction is done.
RT:You just mentioned Azerbaidzhan, recently a consortium was chosen to path gas from Azerbaijan to Western Europe, further reducing dependence on Russian supplies – are you not concerned at all, because people are getting the sense the world is sort of trying to push Russia out of the competition.
AM: I'm rather sure that the share of Russian gas in gas consumption in Europe can only grow and we believe that from the current level of 26% of our share in gas consumption in Europe would grow up to 30 or maybe even a higher percentage. It again is a reflection of the fact that we have a portfolio of our long-term contracts which on the level of take-or-pay – not on an annual contractual volume, but on a take-or-pay level – it is exceeding 4 trln cubic meters of gas, and with the validity beyond 2030-2035. So the share of import will inevitably grow in the European gas consumption and among suppliers Russia has the best ability to deliver additional volume of gas, subject that our buyers will claim this additional volume.
RT:What if the European economy goes down?
AM: We are calculating these forecasts based on the conservative scenario, and we see that Europe is experiencing serious economic problems after 2008, and, actually, we don't see a lot of factors for potential recovery, some people even speak about the potential "Sunset of Europe" in the sense of industrial production, due to the lack of competitiveness. And energy is one of the major factors of the competitiveness, and if Europe would like to keep economic growth, they should seriously consider increasing the share of natural gas in the energy balance not to throw billions and billions of euros to subsidize alternative renewable sources of energy.  And we already see the negative result of these subsidies on the budgetary situation of many European countries, not only small but also big.
RT:Just a bit more about Europe . As it is, you are accused of unfair competition – of doing business like a monopoly by the European Commission. Do you feel pressured to change your strategy in Europe?
AM: We deserved to be named the pioneers of competition in the European gas market. Nobody gave us gifts of the market share, we have the largest market share in European countries by investing in infrastructure, in underground storages, in systems and people, and as a result, for example in Germany, our joint venture WinGas has acquired current market share in the local general market exceeding 50% - but we can't run away from the situation that there's a limited number of producers – and you can't artificially create competition. Competition starts in the market and in order to compete you should have product in your hands, and when the European commission is trying to limit us with the possibility to deliver our product to our customer, I believe it will not increase competition, it could deteriorate competition.
RT:As far it is concerned, Gazprom has always been a partner that fulfilled its supply obligations – why is Europe still distrustful?
AM: It was a strange approach – because again, starting from the first supplies til the last supplies, Gazprom was always in compliance with its obligations. We experienced two trading crisises with Ukraine, but it was absolutely the responsibility of Ukraine. We have done everything in order to avoid any problems with our supply, but Ukraine prevented us from supplying our gas to the customers. And then the mass media actually presented the situation in an absolutely wrong way, avoiding the facts which were presented by us. I believe it's a reflection of a very [short-sighted] attitude in respect to the role of Russia in the modern world. It's an old dilemma of what is best for the world – a weak Russia or a strong Russia? And unfortunately some politicians still believe that a weak Russia is better than a strong Russia – but it's the wrong attitude because the stronger Russia would be economically, the better it would be for the world.
RT:Will we see more gas wars with Ukraine – after all this is of crucial importance for your image and reputation abroad?
AM: You should easily check our reputation with our partners, the leading off-takers of Russian gas or small customers in European countries. I am 100% sure that you will not hear any complaints about us from the people who are involved in the business . So actually the intets to deteriorate the image of Gazprom and Russia was a bland campaign around the Ukrainian events.
RT:Your company also wants to claim 15% of the world's LNG market in the future – what particular markets do you have in mind at this point?
AM: LNG production and export is part of our strategy. LNG is a flexible pipeline which allows for the optimization of our export portfolio, together with the pipeline gas and currently we are producing energy in our Sakhalin-2 project, and we have launched Vladivostok LNG project, with the potential capacity of 15 mln tons, and the final investment decision is already taken, and just recently, we have launched a project under the name Baltic LNG in the European part of Russia, near St. Petersburg, where the gas will come from our unified gas transportation system. Also, we are considering potential expansion of Sakhalin-2 for another 5 mln tones. Overall, capacity of our own production, plus LNG from the third party projects could bring us to the target figure which you mentioned, 15% of the world market. We are rather sure that we will execute these projects in due time and the LNG will be absolutely competitive.
RT:Do you feel that right now you are a little behind the rest of the world on that? We only have one LNG plant so far.
AM: We don't consider that we are behind the tendency, the window of opportunity is still open and we will utilize this window in the most effective and efficient way.
RT:Gazprom is one of the few Russian companies allowed to drill in the Arctic – what volumes are you hoping to tap there?
AM: It's too early to say, because we are in the exploration or even pre-exploration stage, but the volume of reserves is huge. Obviously, new technologies will be required to work in the Arctic and not to damage the very sensitive environment of this part of world, but in view of the huge interest in Arctic development of many countries and that technologies are either already developed or will be developed. I'm rather sure that Russian scientists and technologists will bring the achievements in order for them to be properly utilized in Arctic development, so currently we are preparing a special program for Arctic development, and we see that also in many countries the Arctic area is of great interest.
RT:What is your guess – can the Arctic turn into a new Mideast of mineral extraction, with so much fuzz around it especially?
AM: Let's have a discussion on this topic in acouple of years when we will have more data and more information about this part of our development.
RT:A deal to deliver pipeline gas to China was expected to be signed in June. You recently played down prospects for it being signed even in September – what is the realistic date? And aren't you actually worried that America may beat you to China or is the Chinese market not important enough for Gazprom?
AM: No. We consider the Chinese market as well as markets of other countries in the Asia-Pacific region as the most dynamic and the most attractive. The reason why it took so much time to negotiate – and we still don't have a result – is very simple, because in China gas prices are still regulated and subsidized. If it was a market economy situation, then it could have been easier to negotiate. But the gap between internal prices and the prevailing market prices in the area, including LNG import prices, doesn't actually allow China to find proper solution with us which would be mutually beneficial. The price situation in China is not adequate to the market conditions.
You can share this story on social media: