Gazprom looks to expand, both east and west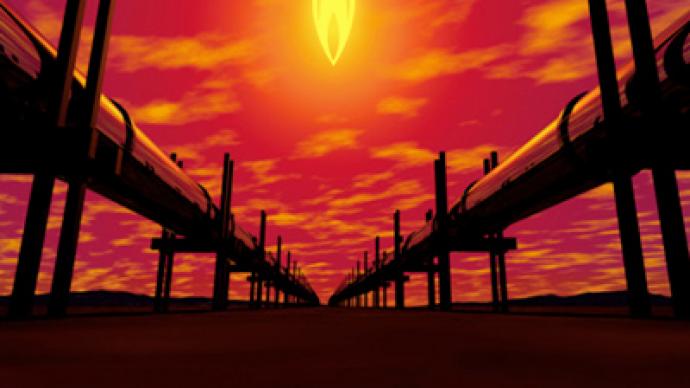 Russian gas giant Gazprom is seeking a larger share of the European energy market in the wake of the Fukushima disaster and German vow to shut down all of its nuclear power plants. Meanwhile, supplying the Chinese market is also high on the agenda.
RT caught up with the Deputy Chairman of the Management Committee of the Russian gas company Gazprom, Aleksandr Medvedev, who is also the Director General of the company's export arm, to get his vision of the future of gas.RT: Germany's decision to abandon nuclear power altogether and switch to natural gas – this is quite a big decision, to say the least. Is Gazprom looking to fill the gap in that market and how significant will that participation be?Aleksandr Medvedev: We really appreciate the decision of the German government, because it opens for us additional opportunities to deliver gas to our traditional European market, in which we have everything to meet the demand. We have gas, we have a transportation system, which we are developing with the new projects like Nord Stream and South Stream and we have [the] "know how", not only how to deliver gas to the border of Germany and other European countries, but also to market gas [up to] the final customer. The most important [thing is] that we could deliver as much gas to Europe as Europe could need. RT:Well, let's now talk about South Stream. The presentation in Brussels you considered a success, however the EU energy commissioner did say that the South Stream is not their top priority and he did have a lot of questions, although he said it is valuable to EU. He was asking, for example, who can ship gas in the project  – is it only going to be Gazprom, is it going to be the only player? Now, what do you think? What arguments will you be making to your European consumers to make sure that this project goes along, knowing the arguments they have against it?AM: We really have a straightforward target with South Stream to diversify the routes of delivery of Russian gas to Europe in order to minimize the risk associated with technological, seasonal, weather or even political risks. And in this respect we don't consider any other project as a competitor to us, because other projects are targeting to diversify sources of supply. But in order to diversify the source, you should first find the source. And to be sure that this source could be economically delivered to [the] final destination. In our country we have certain legislation, several export channel laws and agreements, irrespective of the source. And in our gas transportation system, you can't separate the volume of gas produced by Gazprom from the volume of gas produced by [an] oil company or by the independent producer. So physically the gas of other suppliers is also delivered to Europe, but actually I don't see any need in order to let somebody else in the Magistral pipeline to deliver additional gas, because we are the best supplier of the gas and currently access to the gas transportation system in [the] internal market is absolutely crystal clear, and nobody can complain that they can't get access to the transportation system of Gazprom. But the only company who's carrying the cost associated with modernization, renovation and expansion of this system is Gazprom. So that's why our monopoly position in this respect is justifiable. RT: From your perspective it is justifiable, from their perspective it's just like putting all eggs in one basket or depending too much on Russia. How would you address this? This is the reason why they keep looking for diversification, separating, as you say, transportation from the source. What's your take on their position?AM: Actually this dependence is a two-way dependence, because we are as heavily depending on the hard currency revenue stream from our partners as they are depending on us. And also it's a very simple question to be asked. What's the critical level of dependency? Is 25 per cent sufficient, is acceptable? Or [is] 33 or 30 per cent already not? It's a very naïve approach and again, we are interdependent, we are connected in this market for more than 40 years and, in spite the change of the political map, of the different "color revolutions", financial crises, we have been a hundred per cent committed to deliver gas to our customers, because it's necessary for us to continue business, to make money and to continue our investment activity. RT:Let's talk about price, which is usually a point of contention between countries. What are your price expectations, given your forecast for European demand as well as a China deal, which is very close at hand now?AM: We are monitoring the following tendency that the price of crude oil and respectively of the oil products which are basic elements of our price formulas has a growing tendency, and it would mean that the gas prices in the medium and long term run will grow, which allows us to go to new, more difficult reserves. And actually we are not dreaming of skyrocketing prices. We would like to have a so-called "fair price", which would allow us to have a reasonable return on our investments in upstream, midstream. Minimum return on our investment in upstream is around 15 per cent.In view of the growing cost of exploration, production, transportation in order to meet this benchmark it is necessary to have justifiable prices. We should not forget that if we compare natural gas and oil, and oil products, through [the] very simple parameter of colorific value, the gas is still undervalued. And if we take into account environmental advantages of the gas, actually the gas should be sold at premium top crude oil, not at a discount, but our gas is sold with substantial discount to crude oil, which is not fair. RT: Well, some people would disagree with that, but let's move on now about your plans for LNG. [Liquefied natural gas]. We've seen increased volumes, especially going to Japan after the crisis, and we've also seen some of Europe looking to Qatar – they are always big on this diversification argument. What are your plans for LNG to meet the demands of the market?AM: We as a global company [are] 100 per cent sure that LNG is important to our portfolio and besides, Sakhalin 2, which is already in operation for several years, we are planning to accomplish several projects both in Russia and outside Russia. In Russia with the Shtockman project, we anticipate comprehensive investment decisions both on pipeline gas and LNG [by] the end of the year. Recently, [the] board of directors of [the] Shtockman development company approved [the] technical concept and now we are moving [at] full speed to the targeted day for the final investment decision which, I believe, will take a positive decision not only to produce pipeline gas but also to make an LNG plant. RT: Do you see any threat with the moves towards shale gas, especially in the US and EU?AM: Like in every process we should separate the reality and the myths around. To the global gas market, [the] appearance of the shale market in the US at the end is a positive sign, because it provides to [the] US more belief that in [the] worst–case scenario they will be always in a position to produce local gas from the shale reserves, but from other sides the cost of extraction of the shale gas in [the] majority of the reserve places in the US should be high and it would mean that LNG will compete with local shale gas production. But if we analyze the quality of the resources of the shale gas in Europe and we also analyze big difference in the land legislation, population situation, as well as situation with the water supply, it would be quite clear that in Europe expectations of the shale gas boom is absolutely unrealistic and even in the US and Canada it's a growing concern in respect of the environmental consequences. We believe that shale gas will take a complementary role in the gas market and for the development of the gas in view of the recent tragic events in Japan, actually as a backup resource, costly resource. Nevertheless it will have a positive influence over overall interest to the gas.RT:Let's talk about China. You're very close to a deal, you've agreed on a formula, however, prices are still not agreed upon and there's been a deadline given. How is this negotiation going to happen with one side wanting higher prices, the other lower prices? Who is going to be the tie-breaker?AM: It's a natural desire to sell high and to buy cheap, but in the market there are certain rules already established for more than 40 years, and the price system in different parts of the world is different. But the most important [thing is] that we have a product which China needs. We could find a compromise which will allow us to sign a contract and to start execution of the construction projects both on China's territory and in Russia. We should not forget that in every price mechanism, in every contract there is a regulation which allows [parties] to call [for] justifiable price revision, and both seller and buyer could call it if the conditions of the market are changing. It's like a marriage – if you would like to have a happy family, you should sacrifice certain interests.RT: So, will Gazprom be doing that?AM: But we've already made a lot of steps in the direction of China, as well as our Chinese partners made lots of steps in our direction. If we speak in the marathon terms, probably the last hundred meters are left.