Chevron halts search for shale gas in Romania following public outrage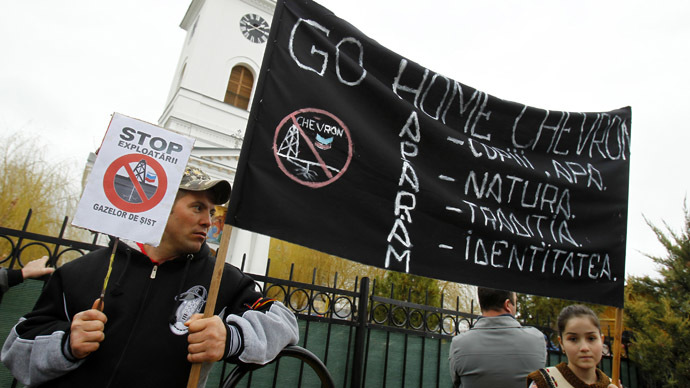 US oil giant Chevron says the company has suspended the search for shale gas in Romania after anti-fracking protests took place across the country.
"Chevron can today confirm it has suspended activities in Silistea, Pungesti commune, Vaslui County," the company said in a Thursday statement.

The company's priority was to "conduct these activities in a safe and environmentally responsible manner."

Over the past few days, hundreds of locals have protested at the location where the company planned to search for shale gas. Villagers blocked access to the site.

Around 200 people stayed overnight, equipped with food, warm clothes, and tents. They were accompanied by NGO representatives from across Romania.

Approximately 2,000 people also took to the streets in the country's capital of Bucharest.

The demonstrators clashed with police, making it the most violent protest to take place in the capital since the beginning of September, when the series of street rallies began.

Environmentalists say that pumping water and chemicals at high pressure into deep rock formations to free oil and gas could contaminate groundwater, AP reported.

Local authorities are set to hold a non-binding referendum in November on whether to allow Chevron to explore the site. The oil giant said it has all the necessary permits for the exploration.

The US Energy Information Administration pointed out that Romania could potentially recover 51 trillion cubic feet of shale gas, which would cover domestic demand for more than a century, according to Reuters.
You can share this story on social media: