Give us this day our daily bread – can't afford to buy it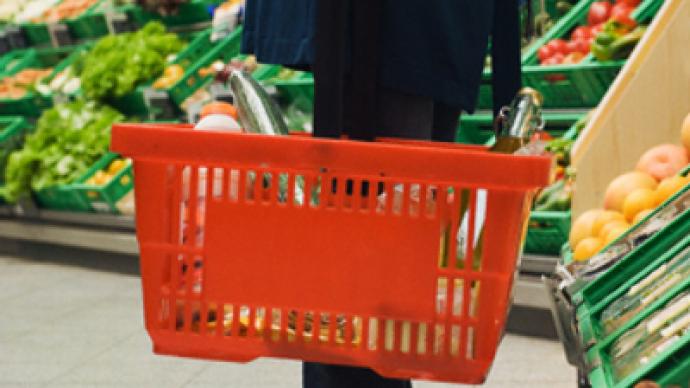 The price of an individual food basket in the Russian Federation in 2008 grew by 17.5 %, the Federal Agency of the State Statistics in Moscow reports.
Cost of the minimum set of foods for one person for a month increased on average across Russia for December, 2008 by 1.1 % and reached 2,116 roubles ($US 53) by the end of the month, the agency reported on Sunday.
In 2008 the food basket price has rose by 17.5 % (in comparison, in 2007 the price rose by 22.3 %).
The most expensive individual food basket among Russian regions in December was again in Russia's Far East. In Chukotka the price was 5,630 roubles ($US 192); in Magadan it reached 3,466 roubles ($US 118), in Kamchatka 3,443 roubles ($US 117), on Sakhalin 3,389 roubles ($US 115), while in Yakutia it cost 3,267 roubles ($US 111) for the same set of foodstuffs.
Tatarstan turned out to be the cheapest region. There the price for the food basket was 1,750 roubles ($US 59). In the Ulyanovsk region people needed to spend 1,783 roubles ($US 60) monthly, in Mordovia 1,806 roubles ($US 61), and in the Tambov region 1,824 roubles ($US 62).
The food basket cost in Moscow at the end of December reached 2,340 roubles ($US 79). From the beginning of 2008 the price had increased by 14.3 %, while in St. Petersburg the price had reached 2,311 roubles ($US 78) meaning that from the beginning of year it had grown by 19.9 %.
The leader in price growth is wheat, with the average cost of bread up by 25.9% in the past year, and pasta up 33.8%.
Meat and poultry saw 22.2% growth, just a little ahead of sunflower oil, which is widely used in cooking in most Russian households.
You can share this story on social media: