Turkish court gives go-ahead to demolish Gezi Park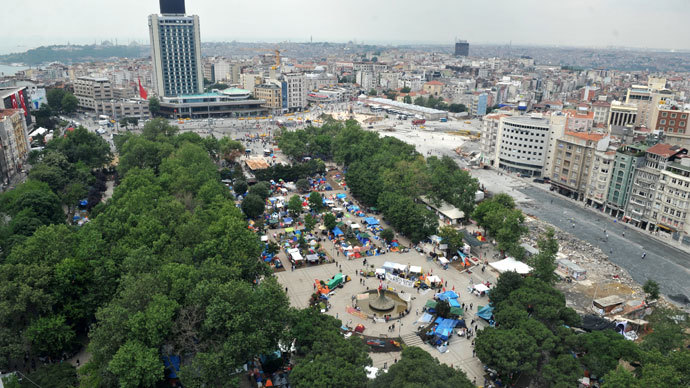 Istanbul's administrative court gave a green light to demolish city's Gezi Park, which was at the center of heated nationwide protests sparked by the decision to get rid of the park and turn it into a monument to the Ottoman Empire.
An Istanbul administrative court overturned a lower court's ruling to stop the Turkish government's plan to redevelop Istanbul's Gezi Park after the Culture and Tourism Ministry appealed the verdict.

The new development includes the rebuilding of the Ottoman artillery barracks, which will have a shopping mall inside one of the buildings. The protests against the construction spread nationally since late May, growing into a larger opposition by those unhappy with Erdogan's "authoritarian style of rule."

The park has turned into a cradle of anti-government unrest, where the protests quickly became violent as police used teargas and water canon to disperse protesters.
The demonstrations, which went on throughout most of June, resulted in the death of four people and around 7,500 injured.
A police officer has also died after falling from a bridge while in pursuit of fleeing protesters in Adana.
Turkish Prime Minister Recep Tayyip Erdogan took a hard stance against anti-government demonstrators, calling them "marauders" and repeating the claims of protesters drinking alcohol in mosques and attacking women in hijabs.
Erdogan also focused on a foreign supported conspiracy, claiming the Turkish government has "all the evidence needed" of the "traitor scheme" behind the protests.
He also praised the police, saying that Western countries and Russia had been even tougher in cracking down on protests and used "bullets," while the Turkish police have been "patient."
During protests Turkish police fired teargas at close range directly at people, causing serious injuries, said a report by the Human Rights Watch. Those hit by canisters lost eyes and received life threatening skull fractures.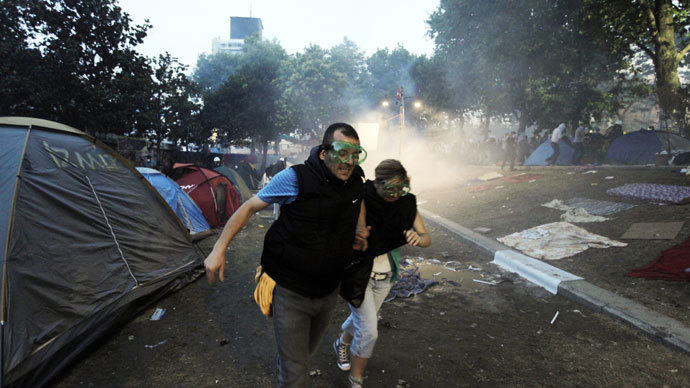 At least 11 people lost an eye after being hit by a teargas canister or a plastic bullet in Turkey up to June 27, said the statement by the Medical Association quoted in the report. Dozens of others received serious head or upper body injuries.
Reports said that the Turkish police used 130,000 teargas canisters over three weeks in June. In total, Turkey imported 628 tons of tear gas and pepper spray between 2000 and 2012, Turkish newspaper Sozcu reported, quoting Customs and Trade Minister Hayati Yazici.
On July 16, 2013, the European Court of Human Rights ruled in the case of Abdullah Yaşa and Others v. Turkey that "improper firing of tear gas by Turkish police directly at protestors, injuring a 13 year old, had violated human rights," and called for stronger safeguards to minimize the risk of death and injury resulting from its use.
You can share this story on social media: